Boys in mini-skirts, "hot" lesbian "b*tches," it's all a part of government-promoted GLBT "youth pride" Boston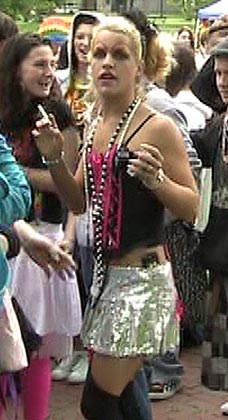 Kevin Jennings' Legacy: Boston "Gay Youth Pride": The photo at left is of a young man dressed as a woman marching in Boston's annual, government-supported homosexual "Youth Pride Parade."  Shame on homosexual activist Kevin Jennings [in small black-and-white photo at right], founder of GLSEN (Gay, Lesbian, Straight Education Network) and President Obama's new appointee to head up the "Safe Schools" program in the Department of Education. Jennings is a vicious anti-Christian bigot (he said "[F--k] 'em and "Drop dead!" to the "religious right") who capitalized early on the idea of promoting homosexuality in schools under the guise of "safety." One very "unsafe" event that should have resulted in Jennings' banishment from the world of education was "Fistgate" [warning: very graphic language"] All photos courtesy of MassResistance.org.
TAKE ACTION: Call Education

Secretary Arne Duncan at 202-401-3000 and urge him to withdraw Jennings' appointment as Assistant Deputy Secretary for the Office of Safe and Drug Free Schools. Or e-mail him at: arne.duncan@ed.gov. Also, contact President Obama at 202-456-1414 and your U.S. Senators and Congressman (202-224-3121/202-225-3121) and urge them to press for the withdrawal of Jennings' appointment. We don't want radical, anti-Christian bigots setting policies affecting America's schoolchildren.
_______________________________
Folks, these pictures from MassResistance and the YouTube video below from the annual homosexual "Youth Pride" parade in Boston are part of radical homosexual activist and new Obama political appointee Kevin Jennings' legacy in promoting homosexuality and transsexuality to young people through the organization he founded, GLSEN (Gay, Lesbian, Straight Education Network). Thanks to the great work that MassResistance does every year to expose this travesty, there is an extensive record for all the world to see of the results of government-promoted "gay youth pride."