Americans for Truth offers items for sale. Purchases may be made with credit card via PayPal™ or by mailed payment in the form of check or money order. Checks or money order may be sent to: AFTAH, P.O. Box 340743, Columbus, OH 43234. If purchasing via mail, please be sure to specify which item(s) you are purchasing.
We currently have available copies of THE GAY AGENDA and THE GAY AGENDA IN THE PUBLIC SCHOOLS. Price for the set is $25.00 (or $15.00 for one), postpaid.
To purchase your copies via check or money order, please write to:
P.O. Box 340743, Columbus, OH 43234
The Gay Agenda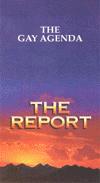 See the video that helped stop President Bill Clinton's plan to open up the U.S. Armed Forces to open homosexuality.
Item #TGA-123
The video made national news when the commandant of the Marine Corps arranged a screening for the Joint Chiefs of Staff. The video has also been distributed to members of Congress and state legislators.
The Gay Agenda in the Public Schools
Watch the video that exposed how homosexuality is being taught to our youth as "normal and moral."
Item #TGA-IPS
"We shall sodomize your sons, We shall seduce them in your schools, in your dormitories, in your gymnasiums, in your locker rooms, in your youth groups, Your sons shall become our minions and do our bidding. They will come to crave and adore us. All laws banning homosexual activity will be revoked. Instead, legislation shall be passed which engenders love between men. Our writers and artists will make love between men fashionable…. We shall raise vast, private armies…to defeat you. The family unit….will be abolished. Perfect boys will be conceived and grown in the genetic laboratory….All churches who condemn us will be closed. Our only gods are handsome young men. All males who insist on remaining stupidly heterosexual will be tried in homosexual courts of justice and will become invisible men. Tremble, hetero swine, when we appear before you without our masks."
February 15, 1987 issue of Gay Community News