AFTAH Exclusive: Homosexual hero also extols 'harder-core pornography,' says phrase "sexual perversion' is meaningless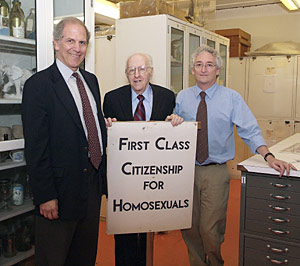 Homosexual activist icon Frank Kameny (center) donated his 1965 protest signs to the Smithsonian Institution's National Museum of American History last year. Smithsonian Photo: Harold Dorwin.
By Peter LaBarbera, AFTAH Exclusive
Frank Kameny — the "gay" pioneer revered by homosexual activists for his role in pressuring the American Psychiatric Association to effectively reclassify homosexuals as normal — now says that sex with animals is OK "as long as the animal doesn't mind."
Kameny responded to AFTAH's article reporting on the sale of bestiality videos (and other hard-core pornography) at the recent "International Mr. Leather" convention — by defending sex with "consenting animals" and encouraging the use of "more and better and harder-core pornography" as manifestations of "Americanism in action."
In his e-letter to Americans For Truth, Kameny, 83, stated:
"Bestiality is not my thing … But it seems to be a harmless foible or idiosyncrasy of some people. So, as long as the animal doesn't mind (and the animal rarely does), I don't mind, and I don't see why anyone else should."
We have many questions for Kameny, the first being: how exactly does an animal signal his or her "consent" to have sex with a human?
Last year, Kameny — a leader in the pressure campaign to declassify homosexuality as a psychiatric mental disorder — was honored by the Smithsonian Institution. His 1965 protest signs (and button with the "Gay Is Good" slogan he coined) will be displayed at the National Museum of American History, and his papers will be archived at the Library of Congress.
AFTAH criticized the notion that Kameny should be honored as an American civil rights hero. This writer has had several interactions with Kameny over the years, and I have interviewed him at length. He is civil but not afraid to confront "the enemy," usually in stinging letters to pro-family leaders after watching them debate a "gay"-related issue in the media. Click HERE to read Wikipedia's sympathetic bio of Kameny.
Read the rest of this article »