"I will never give up on God's truth." — Peter Huizenga
By Peter LaBarbera
Peter Huizenga, one of the finest men I have ever met (or will meet), passed away last month (May 2) and is now with his Savior, Jesus.
Peter was an amazing man, and I simply was not prepared to hear the news that he would no longer be with us.  I don't handle death very well, especially since my mother passed away suddenly 12 years ago from leukemia without us even being able to talk.  So I've been ruminating on what I would like to write about Peter, but here is a start.
I have such tremendous respect for Peter Huizenga, from whom I learned so much.  Mostly I learned COURAGE.  Because after getting to know Peter over the years as an Illinois pro-family activist, I came to assume and trust that Peter would always be on the side of aggressively defending Truth.  In a world gone mad, that was very reassuring.
I loved Peter Huizenga, and he loved Americans For Truth.  He and his lovely wife of 50 years, Heidi, faithfully and generously supported us over the years.  Peter embodied the wholesome, industrious, God-honoring roots of his Dutch ancestry. His grandfather, Harm Huizenga, immigrated to the United States from The Netherlands in 1893 at age 23 and settled in Chicago.  Entering the garbage business along with other Dutchmen, his entrepreneurial spirit and hard work laid the groundwork for the Waste Management, Inc. empire that spans the world today.
Peter was a man possessing straightforward, no-nonsense moral clarity and convictions of the sort that are sorely lacking in today's America—especially in the business community in which he and his family thrived.  In an age in which corporate execs finance "gay" groups and events willy-nilly so they can check off the pro-LGBTQ box to score "diversity" points, Peter never flinched from helping those fighting this destructive, anti-Christian social revolution.  What a rarity in the business world–which itself speaks volumes about why America is in such desperate spiritual and moral straits.
Another thing about Peter is that he actually cared.  He never stopped working to push Illinois' notoriously dysfunctional GOP in a more conservative direction, a thankless task if there ever was one. Peter had a brilliant mind and he was a good strategist, but most importantly he never wavered from his conviction that the organized homosexuality ("gay") movement was against God.  In that sense, we were kindred spirits.  He liked how AFTAH fought the LGBTQ agenda directly and non-defensively, bereft of politically correct pretending that somehow the battle is not about homosexuality.  It is.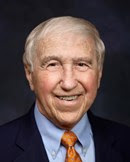 At the last AFTAH banquet that Peter attended, two years ago at John Kirkwood's Grace Gospel Fellowship church in Bensenville, IL, we spoke afterward outside the church.  I thanked him for so faithfully standing with AFTAH, and with me.  Then he said matter-of-factly, "I will never give up on God's Truth."  I'm not quite capturing the specialness of the moment, but it was vintage Peter Huizenga.  In a world of sellouts, he wouldn't even consider such treachery to his God.  That's how I want to be, and I hope that's how you want to be.  I'm getting chills just recalling that conversation in the dark of night, and it will forever live in my memory.
Why is it that more Christian men do not love biblical truth enough to live it out like Peter did, and see it as their duty to stand with God, even when the going gets tough in a culture spiraling downward?  I suppose it's because we sinners are comfortable and weak, and usually we care more about what others think as opposed to what the Lord says clearly in His Word. we
My friend Jim Finnegan, a pro-life stalwart and another of those old-timers who never had to be persuaded to fight a movement that glorifies sexual perversion as a "civil right," had this to say about Peter Huizenga:
"A good and holy man. I had last seen him here in Naples [Florida] for a fund-raiser for [conservative Illinois gubernatorial candidate] Jeannie Ives against "Rotten Rauner" [Illinois' socially liberal Republican governor, Bruce Rauner]. A huge loss for the pro-life, pro-marriage, pro-freedom of speech movement, and more. This one hurts."
A huge loss, indeed, but now he has triumphed in passing on to paradise with Jesus.  Peter, I will miss you.  I wish I had a chance to say good-bye, but we will meet again.  My condolences to Heidi, their four children, and the extended Huizenga family, whose existence is another lasting legacy of this very good man who touched the lives of so many others.
"Be on the alert, stand firm in the faith, act like men, be strong. Let all that you do be done in love."

(1 Corinthians 16:13-14, NASB)