"When society reaches the point where you're deemed anathema if you simply point out that a man can't really become a 'woman,' and vice versa, then is it safe to say that–unless there's a popular revolt against this 'woke' nonsense–we're toast?" #TransInsanity #RachelLevine"—Twitter post by @PeterLaBarbera, Jan 19, 2021, deemed "hateful conduct" and ordered removed by the social media platform.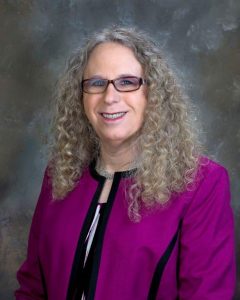 By AFTAH, Feb. 3, 2021
Social media giant Twitter demanded January 19 the removal of an allegedly "hateful"  tweet by Americans For Truth President Peter LaBarbera questioning "transgender" ideology–that a man can become a "woman"–following the appointment by President* Biden of a male-to-female transsexual Dr. Rachel (formerly Richard) Levine to a high-level post at the Department of Health and Human Services (HHS). 
Dr. Levine, a pediatrician and father of two who divorced his wife of 30 years as he "transitioned" to a the "gender identity" of "transgender woman," was appointed by Biden to be the Assistant Secretary of Health at HHS. He will need to be confirmed by the U.S. Senate to take the position.
Below is the "Remove Tweet" notice that Twitter sent LaBarbera, suspending him for 12 hours for posting this tweet that allegedly violates the social media corporation's "Hateful Conduct" policy: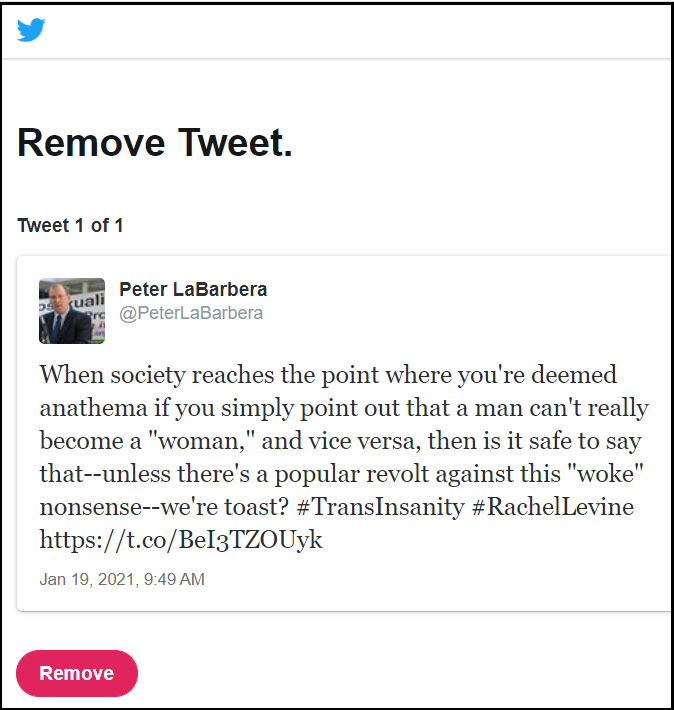 Below is the text of the tweet, which linked to an article about Dr. Levine's appointment:
"When society reaches the point where you're deemed anathema if you simply point out that a man can't really become a 'woman,' and vice versa, then is it safe to saw that–unless there's a popular revolt against this 'woke' nonsense–we're toast? #TransInsanity #RachelLevine"
Twitter has ramped up its banishments, expulsions and censorship of conservative accounts following ongoing claims by former President Trump that he actually won the election on November 3, but was robbed by massive Democrat electoral fraud in six battleground states: Pennsylvania, Michigan, Wisconsin, Georgia, Arizona and Nevada. See former Trump official and Harvard economist Peter Navarro's reports making the comprehensive case that the election was stolen HERE.
After hundreds of pro-Trump zealots rioted at the U.S. Capitol January 6–as a massive pro-Trump "Stop the Steal" rally in Washington, D.C. was going on with Trump speaking–Twitter shut down the sitting president's Twitter account in what many conservatives (and even some foreign leaders) regarded as an extraordinarily galling act of corporate arrogance. Facebook also suspended Trump, and later Twitter permanently banned the 45th president.
Democrats have sought to blame Trump for allegedly "inciting" the Capitol incursion as an "insurrection," but in his D.C. rally speech he called on his followers to "peacefully and patriotically" march to the Capitol, where some Republican lawmakers were challenging the election returns from the battleground states tainted by voter fraud.
Trump was still speaking as people entered the Capitol, as throngs broke through weak police barriers. One Trump supporter, Air Force veteran Ashli Babbitt, was shot and killed in the melee, and dozens of police were injured.
Subsequent investigations revealed that the assault was pre-planned and coordinated by right-wing militia (and anti-government) groups, discrediting that idea that it sprang up from the reckless words of the president. Nevertheless, Democrats and 10 Republicans voted in the House Jan. 13 to impeach the president over the events. The impeachment will likely die in the Senate, where 45 Senators have voted that to "impeach" a president who has already left office is unconstitutional.
Twitter advances Left's false 'hate' narrative
LaBarbera had published many "Stop the Steal"-oriented tweets after Nov. 3, but his account had long been harassed and punished by Twitter due to his moral opposition to the LGBTQ (Lesbian, Gay, Bisexual, Transgender, Queer) political and cultural agenda.
Twitter maintains an expansive "hateful conduct" policy that proscribes "incitement" against people-groups based on specific criteria, including "sexual orientation" and "gender identity." However, LaBarbera has long said he opposes homosexual (and LGBTQ) behaviors, which do not define the person and which can be overcome. For decades, LaBarbera has been on the receiving end of considerable angry and sometimes hateful attacks by homosexual militants like Wayne Besen for defending the existence of "ex-gays," people like Stephen Black who have left homosexuality and "gay" identity behind (mostly through born-again conversion to Jesus Christ).
Since the inception of Lambda Report, the newsletter that spawned Americans For Truth About Homosexuality (AFTAH), LaBarbera has condemned all violence against homosexuals, as well as hateful vilification like the notorious "God Hates Fags" campaign of the Kansas-based Westboro Baptist Church–whose followers deny the redemption and forgiveness through Christ of people caught up in "gay" and other sexually immoral lifestyles. 
Nevertheless, Americans For Truth has been deemed a "hate group" by the far-left Southern Poverty Law Center, which has tremendous influence in the media buttressing the Left's tendentious narrative that organizations opposed to the normalization of disordered and sinful LGBTQ behaviors are ipso facto guilty of malice, "hatred" and "prejudice" against the "LGBTQ community." The most sinister aspect of that narrative is that "hostile speech" breeds violence against people, a rationale that self-styled "progressives" increasingly use to call for legal and corporate bans on so-called "hate speech."
Rooted in this false narrative, the Twitter policy is worded in such a way that it not only (appropriately) demands punitive action against accounts that encourage actual "violent threats" against "marginalized and historically underrepresented communities," but also prohibits "inciting behavior that targets individuals or groups of people belonging  to protected categories."
One of those "incitements" is speech that "spread(s) fearful stereotypes about a protected category." Here's where it gets fuzzy, because one man's traditional or biblical morality–or refusal to contradict biology through nonsensical pronouns–is another man's "hateful slur" against an aggrieved "sexual minority."
Twitter, media enforce 'transgender' ideology
In fact, Twitter has stepped up its "anti-hate" enforcements against those critical of "transgender" ideology–the idea that sex (gender) is not fixed from birth but is fluid and changeable, e.g., that a biological male like (then-) Dr. Richard Levine can become the "woman" he believes he really is, Rachel, and thereby henceforth should (must) be called a woman and never be referred to with the male pronouns that match his inborn sex.
Along those lines, Twitter's "Hateful Conduct" policy reads:
"We prohibit targeting individuals with repeated slurs, tropes or other content that intends to dehumanize, degrade or reinforce negative or harmful stereotypes about a protected category. This includes targeted misgendering or deadnaming of transgender individuals."
Here is how the left-wing, anti-conservative group Media Matters describes "misgendering":
Misgendering a transgender person violates journalistic guidelines established by the Associated Press, New York Times, GLAAD, and the National Lesbian & Gay Journalists Association, which all instruct journalists to refer to transgender people by their preferred  pronouns.
"Deadnaming" is calling a "transgender" person like Dr. Rachel Levine by his former name that matches his actual inborn sex, in this case, Dr. Richard Levine. While many conservatives do use the post-"transition" name for "transwomen" like Dr. Levine, they draw the line at referring to them with female pronouns or calling them actual "women."