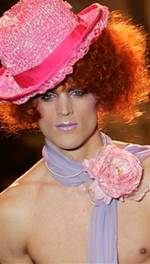 What would John Wayne have said about this?
We certainly concur with Phil Magnan of Biblical Family Advocates, who observed regarding this story on gender-bending fashion trends: "I tell you the world has gone mad." More "progress" from the Human Wrongs (not  "gay/transgender rights") Movement:
Men's Paris Fashions Blur Gender Boundaries
By JOELLE DIDERICH, Associated Press Writer
PARIS – The French menswear collections ended on Sunday in a sea of sequins, silk and all things pink, challenging the adage that boys will be boys.
Fine fabrics like silk, gazar and crepe de Chine crept into the male wardrobe for spring-summer 2009 as Paris designers increasingly blurred gender boundaries.
"The most striking thing is the amount of crossover from women's collections that seems to be happening," Michael Roberts, fashion director of Vanity Fair magazine, told The Associated Press.
"A little bit of that goes a long way as far as I'm concerned. I just find it a little bit annoying that I'm supposed to be here for a week watching men's shows, and I keep having to pinch myself to remind myself that I'm not in the women's pret-a-porter," he added.
Case in point: the Dior Homme show, where models paraded in gold-sequined pants with bright jewel appliques, or a metallic bomber jacket in this season's ubiquitous fuchsia pink.