Victim of harassment lawsuit tells his story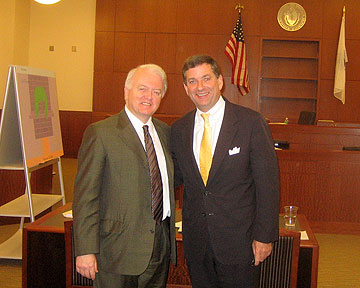 Larry Cirignano (right) in courtroom with Michael Gilleran, the attorney who helped him beat bogus charges by ACLU activist Sarah Loy that he assaulted her after she disupted his pro-marriage rally. Click HERE for more on the case, and HERE to read about a Worcester, Mass. reporter who helped smear Cirignano but who refuses to recant his discredited story. For MassResistance's comprehensive account of Cirignano's trial and Sarah Loy's fraud, click HERE.
By Larry Cirignano
This week we celebrate All Saints Day and All Souls Day.  The Catholic Church venerates saints as role models for all of us to emulate, and to encourage us to strive to defend our faith and principles as they did, despite each of them being a sinner.
In early American history, back in 1597, five Franciscan friars were martyred, in what is now Georgia, for standing up against polygamy and defending marriage.
In early church history St John the Baptist, St John Fisher and St Thomas More were all beheaded for standing up for marriage. 
If we are going to continue as a society, we need to stand up for marriage as these brave saints did, by promoting families raising children, and by protecting our children as our most precious resource.
The family is an essential building block for society.  Families are the first protectors of children as the first providers of food, shelter, health care and education. The home is the domestic church and serves as the first hospital, school and restaurant that most kids will know.
Read the rest of this article »