'Gay' Ret. Brig. Gen. Keith Kerr allowed to critique Republican candidates' answers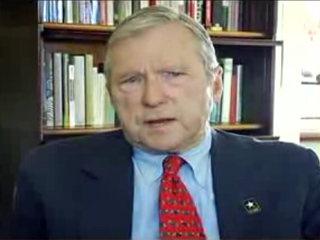 CNN flew in Retired Brig. Gen. Keith Kerr — a homosexual activist and Log Cabin Republicans member who now crusades for allowing admitted homosexuals in the U.S. military — to its GOP presidential debate Wednesday, so he could CRITIQUE the candidates' responses to his question about "Don't Ask, Don't Tell." At left is how Kerr — who calls the GOP candidates "partisanly homophobic" — appeared on video during the CNN/YouTube Republican debate. CNN also had another Log Cabin activist ask a pro-homosexual question at the debate. Photo: CNN/YouTube.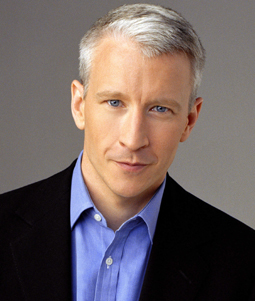 CNN's pro-homosexual presidential debate was moderated by Anderson Cooper. A major homosexual magazine, OUT, has "outed" Cooper as one of the nation's most influential homosexuals. Though Cooper is mum on his "sexual orientation," his pro-"gay" bias is abundantly clear at CNN, as it was again at Wednesday's debate. Homosexual activists would come harder after Cooper if his reportage was not so "gay"-friendly. See AFTAH's adjoining story, "Does CNN's Anderson Cooper Have a Conflict of Interest on 'Gay' Issues?"
TAKE ACTION: Write CNN News at www.cnn.com/feedback/forms/form5.html?92 and/or Anderson Cooper at http://www.cnn.com/feedback/forms/form5.html?10 to comment on their egregious pro-homosexual and anti-Republican bias and lack of professionalism in the CNN/Youtube presidential debate Wednesday.
____________________________
By Peter LaBarbera, www.americansfortruth.org
Dear Americans For Truth Reader,
The liberals over at CNN are so committed to open homosexuality in the U.S. armed forces that they flew in a retired homosexual Brig. Gen. Keith Kerr to participate in their Republican presidential debate Wednesday — so he could critique the GOP candidates' responses to HIS OWN loaded YouTube question opposing "Don't' Ask, Don't Tell."
Is it just me, but could you in your wildest imagination picture CNN recruiting Stephen Bennett, a pro-family, EX-"gay" Christian, to ask Democrat presidential candidates a question opposing homosexuality, and then flying him in to critique their responses?
If Kerr's sneak attack wasn't bad enough, CNN followed it up a second YouTube question from a homosexual activist — this time it was David Cercone, a Florida Log Cabin Republicans member who, it turns out, is backing [another democratic presidential contender].
Needless to say, no conservative questions on the homosexual issue were heard from the floor or YouTube at the debate.
Read the rest of this article »