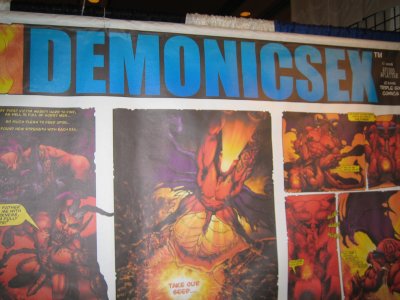 Truth in labeling from one comic book vender at IML 2006.
WARNING: *** NOT FOR CHILDREN ***
Graphic photos below with offensive depictions of real-life homosexual depravities
By Peter LaBarbera
TAKE ACTION:
1) MOST IMPORTANT: Contact Hilton Hotels Corporation World Headquarters in Beverly Hills, California, and Hilton CEO Stephen Bollenback ([email protected]; 310-278-4321) and politely express your dismay that Hilton would allow its good name to be associated with the sadistic sexual perversion-fest known as "International Mr. Leather." If you feel so led, tell them that you will certainly never stay at the Palmer House Hilton — who would knowing that disgusting homosexual orgies have gone on in their rooms? — and you also will not be staying at other Hilton hotels while this deviant association continues.
I also spoke with a nice Hilton HQ executive, Trina Owens ([email protected]; 901-374-5041), to whom you can also express your concerns over Hilton promoting perversion. Here's the full contact information: Hilton World Headquarters, CEO: Stephen Bollenbach: Fax: 310-205-7655; phone 310-278-4321), Brand Performance & Franchise Development, 9336 Civic Center Drive, Beverly Hills , CA 90210; Development Hotline: 800-286-0645; or call 1-800-HILTONS.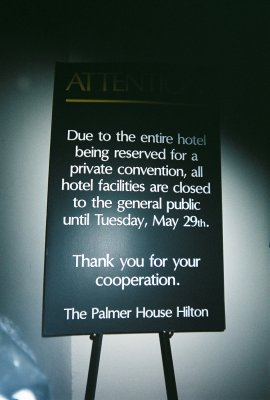 Sign reads: "Due to the entire hotel being reserved for a private convention [International Mr. Leather], all hotel facilities are closed to the general public until Tuesday, May 29th. Thank you for your cooperation. The Palmer House Hilton."
2) Write or call Palmer House Hilton General Manager Peter Lynn ([email protected]); phone 312-726-7500 (ask for Peter Lynn's office); ask him how they sterilize their rooms after the perverse IML orgies, and express your outrage that they would profit off this sadism spectacle through 2009. Fax: 312-917-1707; 17 East Monroe Street, Chicago , Illinois , United States 60603.
3) From now on, book your hotel through www.cleanhotels.com (hotels that are porn-free), so you can rest easy knowing that you are not rewarding the pornography industry through your stay.
The following are photos — there are others that we could not publish — from the "vendor fair" at International Mr. Leather 2006 and 2007, held on Memorial Day weekend (both years) at the Palmer House Hilton Hotel in Chicago. The photos were taken by this writer, walking through the IML vendor fair, which was open to the public: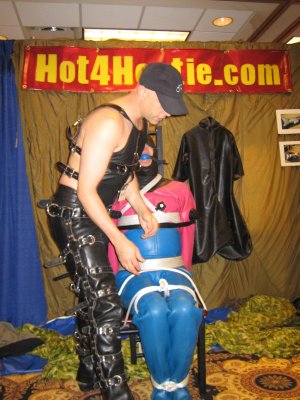 Man gets tied up in IML 2006.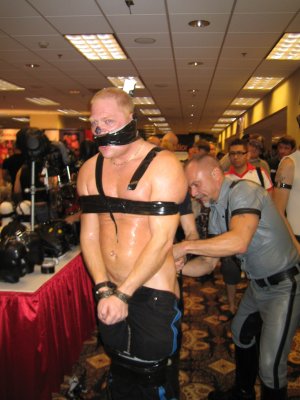 This man at IML 2006 was bound and gagged and bounced around with bunny ears on from one Palmer House room to another, to satisfy some twisted fetish.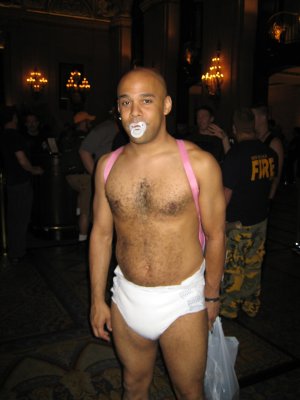 Diaper fetish. The "orientation" of this grown man in a diaper and sucking on a baby pacifier is "infantilism." He was photographed in the lobby of the Palmer House Hilton at IML 2006.
Read the rest of this article »