Unfair, Unbalanced and Afraid:
Fox News' Growing Pro-Homosexual Bias and the National Gay & Lesbian Journalists Association
This is a Special Report published by America's Survival, Inc.; www.usasurvival.org; 443-964-8208 (Cliff Kincaid, president), and authored by AFTAH President Peter LaBarbera, in advance of ASI 's August 20, 2013 conference, "The Crisis in American Journalism and the Conservative Response." Following is an HTML version of the ASI report, or see the PDF version here: Fox_Report-PDF. The Endnotes contain live web links. Click on photos and graphics to enlarge.
_____________________________
Unfair, Unbalanced, and Afraid: Fox News' Growing Pro-Homosexual Bias and the National Lesbian & Gay Journalists Association
By Peter LaBarbera, exclusive to America's Survival
Twitter: @PeterLaBarbera; for a printable PDF version of this report, click HERE
It is difficult to overstate the impact of wide-scale liberal media bias in the advancement of the pro-homosexual and pro-"transgender" revolution in American society. In the last two decades, media imbalance (and de facto censorship) on the issue has morphed into frequent media celebration of homosexuality — thus leaving citizens starved for impartial and accurate information on this critical topic. "Journalism" has become pro-homosexual propaganda, with many media stories appearing as if they were written by LGBT (Lesbian, Gay, Bisexual, Transgender) activists. By effectively joining the "gay" activists' crusade, major media outlets – and even "conservative" Fox News — have contributed greatly to the growing pro-homosexual political correctness in U.S. culture. This in turn has fueled even more aggressive militancy among pro-LGBT groups and bloggers who are lobbying the media to block social conservatives from TV appearances, etc., on the grounds that such anti-homosexual-agenda voices are "hate groups." The result is the further degradation of journalism that has contributed to Republican and conservative ambivalence on issues like same-sex "marriage" and allowing open homosexuals in the military. So bad is the media groupthink on homosexuality that even self-described "conservatives" like Glen Beck and Tucker Carlson have either endorsed or made positive soundings on "gay marriage," or gone silent on LGBT issues.1
The degree to which the "mainstream" media have become promoters of the homosexual- and transgender activist movements is astonishing. Below is a graphic from a recent Pew Research Center study analyzing media coverage surrounding the U.S. Supreme Court's hearing in March 2013 of two cases related to homosexual "marriage." Pew labeled a story as "supportive" of homosexual "marriage" if it included at least twice as many pro-"gay marriage" statements as opposing statements – and vice versa for stories labeled "opposing"2:
Note the extreme one-sided bias in favor of homosexuality-based "marriage" in most of the categories – and the finding that all media (including Fox News) except conservative talk radio were heaving biased toward "gay marriage."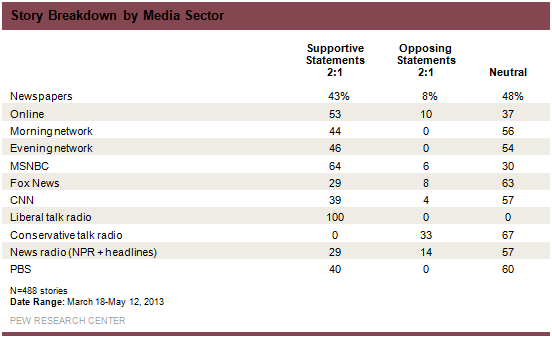 With pro-"gay" attitudes dominating newsrooms, few journalists seem willing to pursue stories that might offend America's powerful and well-funded homosexual activist lobby.3 This would include investigating:
how escalating "gay power" represented by pro-LGBT "nondiscrimination" laws subject even very young children to inappropriate pro-homosexual "lessons" in school, thus undermining both children's innocence and parental rights4;
the growing HIV crisis among "gay youth" (a study of young "men who had sex with men" in 21 cities found that one in 10 tested positive for HIV in 2008);5 and
how pro-homosexual laws including legalized "civil unions" and homosexual "marriage" negate Americans' cherished religious and First Amendment liberties.
On the latter point, there is now a large and growing body of evidence that pro-homosexual laws and corporate "diversity" policies oppress Americans' freedom of conscience to oppose homosexualism and live out their religious and moral beliefs, including the once universally-held Western idea rooted in the Judeo-Christian teachings that marriage is between one man and one woman (see below).
Schieffer gets a lesson on the growing 'gay' tyranny
A recent appearance by Tony Perkins, president of the Family Research Council, on CBS' "Face the Nation," exposed how ill-informed the major media are when it comes to the threat that government-backed "gay marriage" (and pro-homosexual "sexual orientation") laws pose to religious liberty. Perkins writes that with the Supreme Court's de facto invalidation of California's Proposition 8 amendment defining marriage as one-man, one-woman [emphasis added]:
"…people are about to experience (if they haven't already) the profound loss of liberty that accompanies this march down the same-sex "wedding" aisle. … "Face the Nation" host Bob Schieffer — like so many Americans — was surprised to hear that business owners (and wedding vendors in particular) are being persecuted, and in some cases prosecuted, for refusing to participate in a same-sex "marriage" ceremony. .. "I must say this is under my radar," Bob told me. "I haven't — I haven't heard this." And he's not alone."[6]
Perkins writes that "the media isn't covering the stories of these victims — not because they don't exist — but because liberals recognize their potential to swing the debate." See this footnote for the examples he provided of moral-minded Americans whose freedom has been jeopardized by their opposition to homosexual "marriage" and State-enforced "gay rights."[7]
This report for America's Survival, Inc., documents the rampant and often egregious media bias in favor of the homosexual-bisexual-transgender activist agenda. It puts special focus on the growing (and sometimes radical) pro-homosexual bias of Fox News personalities like Megyn Kelly and Bernie Goldberg. Why concentrate on Fox? Because Fox News has inordinate influence with conservative Americans and with the Republican Party — which is also retrenching its opposition to "gay rights." And because Fox holds itself to a high standard of being "Fair and Balanced" – i.e., not sharing the notorious bias of the dominant liberal media.
This report will also investigate the role of the National Lesbian and Gay Journalists Association (NLGJA; motto: "We're Here, We're Queer, We're on Deadline") in distorting and molding news coverage on homosexuality- and transgender-related issues. Like other major media, Fox News through its parent company, News Corp., is a long-time funder of the NLGJA.
Read the rest of this article »