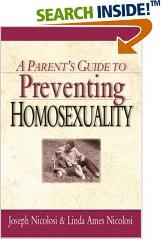 Amazon.com carries Joe Nicolosi's book, A Parent's Guide to Preventing Homosexuality; does your local library?
The following appeal was sent out by PFOX (Parents and Friends of Ex-Gays & Gays). Americans For Truth will be working with PFOX and other pro-family groups and ministries to attain — at the very minimum — balance in the selections that libraries carry on the homosexual issue. There is no logical or common sense reason why taxpayer-funded public libraries should make available every latest "gay"-affirming book — including those designed to open up young minds to the false and dangerous notion that homosexuality is normal — while NOT carrying faith-based and ex-"gay" books that oppose a pro-homosexual ideology. — Peter LaBarbera
_________________________
Ex-Gay Books in Your Library
Please ask your county, school, or city library to order ex-gay books. Many public libraries have book order forms on their website which allow you to request specific books for the libraries to buy. Most local libraries stock gay books, but not ex-gay books. According to the American Library Association, libraries cannot support censorship and a librarian's professional code requires them to seek out books that represent a wide range of viewpoints. Below is a letter from a PFOX Dad on how to ensure that your local library is not censoring ex-gay books:
Dear Parents and Friends,
Good day to you all and thank you for taking the time to read this letter. It is of critical importance, not only to us as parents and friends, but to all the families that are affected by SAME SEX ATTRACTION (SSA) to get involved with helping others.
Recently, while looking at our public library website for something totally not related to SSA, my wife pointed out all the pro-gay information on the local library web site. After some diligent searching, it became apparent there was little to no information on unwanted SSA. Material on how homosexuality originates was absent. Any resources to help people overcome their SAME SEX ATTRACTION were also absent.
Read the rest of this article »