Rally against radical new IL "civil unions" law today in Chicago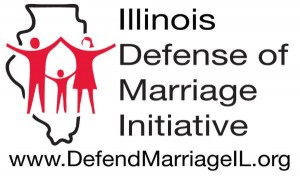 Today a coalition of Illinois pro-family and pro-life advocates launch the Illinois Defense of Marriage Initiative (IDMI; www.DefendMarriageIllinois.org), at a rally in Chicago's Loop this sponsored by my friend Dick Walsh and Americans For Life [Rally begins at 11:00 AM at St. Peter's Church, 110 W. Madison Ave.; we will march to the Thompson Center]  IDMI is a statewide effort to preserve the historic, traditional definition of marriage in the Land of Lincoln. IDMI needs to gather almost 300,000 signatures of registered Illinois voters by next April 2012 – to put an Advisory Question on the 2012 ballot asking the Illinois General Assembly to pass a Constitutional Amendment stating:
"To secure and preserve the benefits of marriage for our society and for future generations of children, the union of one man and one woman in marriage shall be the only agreement recognized as a marriage or similar union for any purpose."
To accomplish this goal – and have Illinois join the 31 other states whose citizens have stood up for real marriage at the ballot box – we aim to gather 600,000 signatures by next year. This could help us avoid an expensive legal challenge by homosexual activists and the ACLU – who will go to any extreme to deny Illinois voters an opportunity to have their voices heard on traditional marriage. Join our campaign by sending an e-mail to DefendMarriageIL@gmail.com.
Click HERE to download the printable citizen petition to protect marriage

Click HERE to download printable circulator instructions

Come to the Pro-Marriage Rally in Chicago Friday, May 27th at 11 a.m. in the Loop at St. Peter's Church, 110 West Madison Ave., Chicago.
Click HERE for More Information on the rally including free bus rides to Chicago from the suburbs