July 11th, 2018
Folks, here is Liberty Counsel Founder and Chairman Mat Staver's take on Brett Kavanaugh, President Donald Trump's nominee to replace retiring Supreme Court Justice Anthony Kennedy. The monumental question before us is this: how would a future "Supreme Court Justice Kavanaugh" decide on past cases like Roe v. Wade (coupled with Doe v. Bolton: Court-imposed nationalization of abortion-on-demand) and Obergefell v. Hodges (Court-imposed nationalization of homosexuality-based "marriage"), both of which relied heavily on an activist-minded judicial approach that displaced the legislative process?
Also, please note in the media discussions about Kavanaugh that commentary on the potential repeal of Obergefell is muted, despite it being only three years (as opposed to 45 for Roe) since the Court invented a new "constitutional right" by radically redefining marriage–effectively blocking the American people's voice and votes in dozens of states from preserving real and natural marriage. — Peter LaBarbera, AFTAH; Twitter: @PeterLaBarbera
Press release by Liberty Counsel, July 10, 2018:
Kavanaugh's Judicial Philosophy
WASHINGTON, D.C. — President Trump nominated D.C. Court of Appeals Judge Brett Kavanaugh to fill retiring Justice Anthony Kennedy's vacancy on the Supreme Court.
Judge Kavanaugh, who has written over 300 judicial opinions, said in his nomination speech last night that his judicial philosophy has been "straightforward. A judge must be independent and must interpret the law, not make it." Kavanaugh also stressed he believes in interpreting statutes and the Constitution as they are written, "informed by history and tradition and precedent."
In his speech, "From the Bench: The Constitutional Statesmanship of Chief Justice William Rehnquist" that Kavanaugh presented for the 2017 Walter Berns Constitution Day Lecture at the American Enterprise Institute about Chief Justice Rehnquist, he said Rehnquist was "his first judicial hero." Kavanaugh's lecture focused on the impact that Rehnquist had on the Supreme Court, noting that the "Court unquestionably changed and became more an institution of law, where its power is to interpret and to apply the law as writing, informed by historical practice, not be its own person and policy predilections."
Regarding the Supreme Court's abortion decisions, he pointed out that Rehnquist dissented from the 1973 Roe v. Wade decision and the 1992 Planned Parenthood v. Casey decision. In Casey, Rehnquist was originally writing the majority opinion to overrule Roe, but 30 days into the writing phase, Justice Kennedy changed his vote from striking down Roe to upholding Roe. The opinion was now removed from Rehnquist who then found himself in the dissent.
Rehnquist believed a judge must apply the law, not create it. He believed that fundamental rights must either be enumerated in the Constitution (like free speech) or deeply rooted in history and tradition. Abortion was neither an enumerated right nor deeply rooted in history and tradition. While Rehnquist's views on abortion never became the majority opinion, he did write the majority opinion in the 1997 so-called "right to die" case known as Washington v. Glucksberg. Writing for the 5-4 majority, Rehnquist said that the "right to die" was neither an enumerated right nor deeply rooted in history and tradition. Here, Rehnquist's originalist views did prevail.
Read the rest of this article »
June 29th, 2018
"I will never give up on God's truth." — Peter Huizenga
By Peter LaBarbera
Peter Huizenga, one of the finest men I have ever met (or will meet), passed away last month (May 2) and is now with his Savior, Jesus.
Peter was an amazing man, and I simply was not prepared to hear the news that he would no longer be with us.  I don't handle death very well, especially since my mother passed away suddenly 12 years ago from leukemia without us even being able to talk.  So I've been ruminating on what I would like to write about Peter, but here is a start.
I have such tremendous respect for Peter Huizenga, from whom I learned so much.  Mostly I learned COURAGE.  Because after getting to know Peter over the years as an Illinois pro-family activist, I came to assume and trust that Peter would always be on the side of aggressively defending Truth.  In a world gone mad, that was very reassuring.
I loved Peter Huizenga, and he loved Americans For Truth.  He and his lovely wife of 50 years, Heidi, faithfully and generously supported us over the years.  Peter embodied the wholesome, industrious, God-honoring roots of his Dutch ancestry. His grandfather, Harm Huizenga, immigrated to the United States from The Netherlands in 1893 at age 23 and settled in Chicago.  Entering the garbage business along with other Dutchmen, his entrepreneurial spirit and hard work laid the groundwork for the Waste Management, Inc. empire that spans the world today.
Peter was a man possessing straightforward, no-nonsense moral clarity and convictions of the sort that are sorely lacking in today's America—especially in the business community in which he and his family thrived.  In an age in which corporate execs finance "gay" groups and events willy-nilly so they can check off the pro-LGBTQ box to score "diversity" points, Peter never flinched from helping those fighting this destructive, anti-Christian social revolution.  What a rarity in the business world–which itself speaks volumes about why America is in such desperate spiritual and moral straits.
Another thing about Peter is that he actually cared.  He never stopped working to push Illinois' notoriously dysfunctional GOP in a more conservative direction, a thankless task if there ever was one. Peter had a brilliant mind and he was a good strategist, but most importantly he never wavered from his conviction that the organized homosexuality ("gay") movement was against God.  In that sense, we were kindred spirits.  He liked how AFTAH fought the LGBTQ agenda directly and non-defensively, bereft of politically correct pretending that somehow the battle is not about homosexuality.  It is.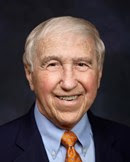 At the last AFTAH banquet that Peter attended, two years ago at John Kirkwood's Grace Gospel Fellowship church in Bensenville, IL, we spoke afterward outside the church.  I thanked him for so faithfully standing with AFTAH, and with me.  Then he said matter-of-factly, "I will never give up on God's Truth."  I'm not quite capturing the specialness of the moment, but it was vintage Peter Huizenga.  In a world of sellouts, he wouldn't even consider such treachery to his God.  That's how I want to be, and I hope that's how you want to be.  I'm getting chills just recalling that conversation in the dark of night, and it will forever live in my memory.
Why is it that more Christian men do not love biblical truth enough to live it out like Peter did, and see it as their duty to stand with God, even when the going gets tough in a culture spiraling downward?  I suppose it's because we sinners are comfortable and weak, and usually we care more about what others think as opposed to what the Lord says clearly in His Word. we
My friend Jim Finnegan, a pro-life stalwart and another of those old-timers who never had to be persuaded to fight a movement that glorifies sexual perversion as a "civil right," had this to say about Peter Huizenga:
"A good and holy man. I had last seen him here in Naples [Florida] for a fund-raiser for [conservative Illinois gubernatorial candidate] Jeannie Ives against "Rotten Rauner" [Illinois' socially liberal Republican governor, Bruce Rauner]. A huge loss for the pro-life, pro-marriage, pro-freedom of speech movement, and more. This one hurts."
A huge loss, indeed, but now he has triumphed in passing on to paradise with Jesus.  Peter, I will miss you.  I wish I had a chance to say good-bye, but we will meet again.  My condolences to Heidi, their four children, and the extended Huizenga family, whose existence is another lasting legacy of this very good man who touched the lives of so many others.
"Be on the alert, stand firm in the faith, act like men, be strong. Let all that you do be done in love."

(1 Corinthians 16:13-14, NASB)
June 28th, 2018
"I never wanted to be heterosexual," says former "transgender" who once "married" a woman.
Folks, here is Rev. Grace Harley's speech at AFTAH's June 26 "Repeal Obergefell" press event in front of the Supreme Court, to mark the three-year anniversary of the judicial travesty of the Obergefell "gay marriage" decision. Every day I am confronted by LGBTQ activists who insist that "sexual orientation" cannot be changed. And yet my friend Grace testifies to the opposite–saying [go to 4:25] that she hasn't had a lustful sexual thought about women since her Christian conversion 26 years ago. Grace, like all of us, cannot change her skin color but she praises the Lord that through His grace and power she radically changed her sexual thoughts and disordered "transgender" lifestyle. (Her reference to the "MCC" is for the Metropolitan Community Church, a "gay activist" church catering to unrepentant homosexuals.)
This video was shot by Cliff Kincaid of America's Survival; note that I'm a contributor to the new AS book advertised in the video, "Permanent Revolution: The Secret Life and Legacy of Barack Hussein Obama"; my chapter is on the bizarre childhood and potential homosexual background of Obama, and his deceptive flip-flop to help usher in "gay marriage" in the United States. — Peter LaBarbera, AFTAH; @PeterLaBarbera
June 28th, 2018
The following is CBN's (Christian Broadcasting Network) coverage of Americans For Truth's "Repeal Obergefell" press conference at the Supreme Court June 26, 2018–the third anniversary of the Court's Obergefell v. Hodges decision, which effectively forced the recognition of homosexual "marriage" on the entire nation. We'll have much more on the event,  including videos of our excellent speakers, in future posts. — Peter LaBarbera, AFTAH; @PeterLaBarbera
_______________________________
'I Was Living a Lie Until Jesus Delivered Me': Ex-Gays Reflect on Historic Gay Marriage Ruling
By John Wesley Reid, Jenna Browder, 6-26-18, CBN.com
WASHINGTON – Three years have passed since the US Supreme Court validated gay marriage as the law of the land in the landmark case Obergefell v. Hodges.
To mark the three-year anniversary of this case, Americans For Truth About Homosexuality (AFTAH) stood outside the Supreme Court to denounce the decision and demand a repeal.
But this wasn't only about a judicial conflict. Joining the protest were a group of ex-LGBT people who credited Jesus with pulling them from their former lifestyles.
"I was enslaved to homosexuality for 30 years until I prayed to Jesus and He told me where my true identity was," one speaker told the crowd. "I was living a lie in who I thought I was until Jesus delivered me!"
Kathleen Crank, Republican pro-family advocate and a candidate for the Maryland House of Delegates, expressed the challenges often felt with advocating biblical truth.
"Exposing the darkness is no fun and can be frustrating and frightening as I have learned." Crank said. "Even though it's frustrating and frightening to keep telling the truth, we have to keep doing it because the right side of history is true."
Read the rest of this article »
June 25th, 2018
Contact: Peter LaBarbera: 312-324-3787; americansfortruth@gmail.com
June 25, 2018
WASHINGTON, D.C. — Americans For Truth About Homosexuality (AFTAH.org) is sponsoring a press event in front of the U.S. Supreme Court tomorrow, Tuesday, June 26, 2018 to mark the third anniversary of the Obergefell v. Hodges ruling that radically redefined natural "marriage" to accommodate homosexuality and effectively imposed it on all 50 states.
Details:

Who: Pro-family leaders defending natural marriage (one-man, one-woman) against the 2015 Supreme Court-imposed fiction imposing homosexual "marriage" on the nation.

When: Tuesday, June 26, 2018, 11:00 AM – the third anniversary of the Obergefell v. Hodges decision.

Where: In front of the U.S. Supreme Court, Washington, D.C.
"The Obergefell judicial travesty is right up there with Roe v. Wade and Dred Scott as among the most unconstitutional and misguided Supreme Court decisions in American history. It tramples over marriage-protection amendments–passed overwhelmingly by voters in dozens of states–while attaching the noble and godly institution of marriage in U.S. law to homosexuality, a sexual perversion that is clearly proscribed in Scripture," said Americans For Truth president Peter LaBarbera.
"Obergefell put a gas pedal to America's already-accelerating moral decline and the LGBT-leftist war against religious freedom. It also makes it easier for schools to indoctrinate children in sex-and-gender confusion in the name of 'equality.' Americans who care about truth, virtue and liberty must never accept this Court-imposed lie. We must work and pray for its reversal. People of faith simply must never give in to the false version of reality and nature that Obergefell attempts to normalize," LaBarbera said.
Participants include:
Charlene Cothran – Christian evangelist; ex-lesbian, former "gay" activist
William J. Olson, Esq. – General Counsel, Conservative Legal Defense & Education Fund
Grace Harley – former "transgender," founder, One Solitary Voice
Mike McManus – Founder, Marriage Savers
Mario Diaz, Esq. – General Counsel, Concerned Women for America
Diane Gramley – Executive Director, American Family Association of Pennsylvania
Matt Trewhella – pastor and author, The Doctrine of the Lesser Magistrates: A Proper Resistance to Tyranny and a Repudiation of Unlimited Obedience to Civil Government
Doug Mainwaring – writer, LifeSiteNews; in 2015 he originated and co-authored an amicus brief for SCOTUS titled, "Same-Sex Attracted Men and Their Wives."
Eugene Delgaudio – founder, Public Advocate
Brian Fitzpatrick – Board Member, Americans For Truth
Coach Dave Daubenmire – founder, Pass the Salt Ministries
David Arthur – ex-transgender/former homosexual prostitute; founder, I Belong, Amen! Ministries
Rabbi Noson Leiter — Torah Jews for Decency
June 23rd, 2018
Ex-"gay" leader Stephen Black also booted from Revoice conference that affirms celibate homosexuals as "sexual minority" in the Church
Dear AFTAH Readers,
Over the many years I've been booted out of various "gay" activist conferences–though I've never sought to disrupt them–but never from a self-styled "Christian" conference. Yet that's what happened June 17 when I received the following email note (see graphic at right) from Nate Collins, founder of "Revoice," a new movement that seeks to reconcile the recognition of LGBT "identities" with faithful Christianity:
nate@revoice.us

From: nate@revoice.us [Nate Collins, Revoice]

To: me [Peter LaBarbera]

Date: [June 17, 2018]

Dear Mr. LaBarbera,

Based on publicly available information, we believe that your presence at the inaugural Revoice conference would work against the stated mission and purpose of Revoice. We are refunding your registration fee in full, and would be happy to answer any further questions you might have.

Grace and peace,

Nate Collins, PhD

President and Founder of Revoice

Author of All But Invisible
Revoice defines celibate LGBT-identified Christians as a "sexual minority" (more on that later). Its mission for the debut July 26-28 conference is: "Supporting, encouraging, and empowering gay, lesbian, same-sex-attracted, and other LGBT Christians so they can flourish while observing the historic, Christian doctrine of marriage and sexuality."
I emailed the following email letter June 18 responding to Collins. At presstime (June 23), I had received no response back, despite Collins' statement that he would be "happy to answer any further questions you might have."
From: Americans For Truth [Peter LaBarbera]

To: nate@revoice.us

Date: June 18, 2018

Dear Dr. Collins (is it OK if I call you Nate?),

I am troubled by your decision, although it is not unexpected. Though of course I am on the more "orthodox" (conservative) side of things surrounding this debate, I was deeply interested and intellectually curious about your conference, and was looking forward to attending. I had no plans to disrupt it in any way but wanted to learn more. I think banning a smattering of "dissenting" voices (on the Right) at the outset is a bad idea, hurts your credibility among Christians and the wider public, and encourages the suspicion among critics that yours is an ideological ("pro-gay"), rather than a spiritually faithful, endeavor. So I hope you reconsider, and I would like to keep the lines of communication open. You can call me at [312-324-3787].

For the record, if yours was billed as an explicitly "gay activist" or "gay advocacy" event, I could better understand your expelling conservative critics (it has happened to me at various LGBT events), but that is not how you define Revoice. You say it is a "Christian" enterprise, yet you are keeping Christians who defend age-old biblical teaching against homosexuality out, which seems problematic.

Along those lines, I do have some questions regarding access to Revoice:

1) Will you allow LGBTQ activists to attend Revoice who do NOT share your belief against acting out homosexually (e.g., religious activists with groups like Human Rights Campaign)? Have any registered to attend?

Read the rest of this article »
June 12th, 2018
Folks, you're not going to want to miss this year's AFTAH dinner-banquet, featuring Walt Heyer, a man who once identified as a "woman," so much so that he went through body-disfiguring "sex reassignment surgeries" to match his body with his delusion. But the Lord had other plans for Walt, and you will be blessed to hear his astonishing story in person!
The AFTAH event is Saturday, October 6, 2018, and our host is the Church of Christian Liberty (affiliated with the Christian Liberty Academy in Arlington Heights, Illinois), pastored by my friend, Calvin Lindstrom. Tickets are $25/person.
Walt is the author of several books and the website, SexChangeRegret.com. God is using him worldwide in amazing ways to respond to the "transgender insanity" that is all the rage in the leftist media, Hollywood and academia. Back in 2011, AFTAH was one of the first pro-family groups to interview Walt about his compelling life story, so we are very excited to have him now as our speaker. Tickets are just $25 per person; buy a table of 10 for $250. Pay safely online HERE (the donation page is not yet updated for the Oct. 6, 2018 banquet–just note "2018 banquet" in the Comment box). Or mail your payment to: AFTAH, PO Box 5522, Naperville, IL 60567-5522. Please plan to be there! — Peter LaBarbera, AFTAH; @PeterLaBarbera
PS. Here is a short video of Walt being interviewed by the conservative Heritage Foundation's online publication Daily Signal:
June 9th, 2018
"One wonders how the case would have come out if the Colorado Commission had not been overtly hostile to Jack Phillips."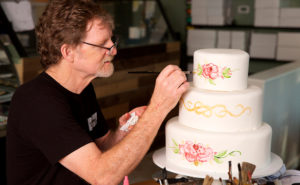 By William Olson and Herb Titus, first published June 5, 2018, by Restoring Liberty
[On June 4], the Supreme Court ruled in favor of cake maker Jack Phillips in the Masterpiece Cakeshop case. Justice Kennedy wrote the decision for the Court, joined by six other justices, both liberal and conservative. Justices Gorsuch and Alito concurred, Justices Thomas and Gorsuch concurred, Kagan and Breyer concurred, and Justices Ginsburg and Sotomayor dissented.
There is very little principled analysis in any of the Court's five opinions except for that of Justice Thomas, who concluded that Phillips was denied his freedom of speech.
Justice Kennedy's majority opinion focused mainly on the despicable treatment Phillips received in front of the Colorado Civil Rights Commission. In particular, Justice Kennedy noted that the Commission ruled against Phillips for his refusal to bake a pro-gay cake, but ruled in favor of three other bakers who refused to bake anti-gay cakes.
The significance of the majority opinion is nicely summed up in its last paragraph: "The outcome of cases like this in other circumstances must await further elaboration in the courts, all in the context of recognizing that these disputes must be resolved with tolerance, without undue disrespect to sincere religious beliefs, and without subjecting gay persons to indignities when they seek goods and services in an open market."
In other words, this decision is essentially confined to his facts — ruling for Jack Phillips because the Colorado commission was openly hostile towards Phillips' religious beliefs. Every future case involving such a state "public accommodations" law, however, will be a balancing act, conducted by federal judges, pitting homosexual "dignity" against sincere religious beliefs.
Read the rest of this article »
---
---
---
---
---
Copyright © 2006-2011 Americans for Truth. All Rights Reserved.