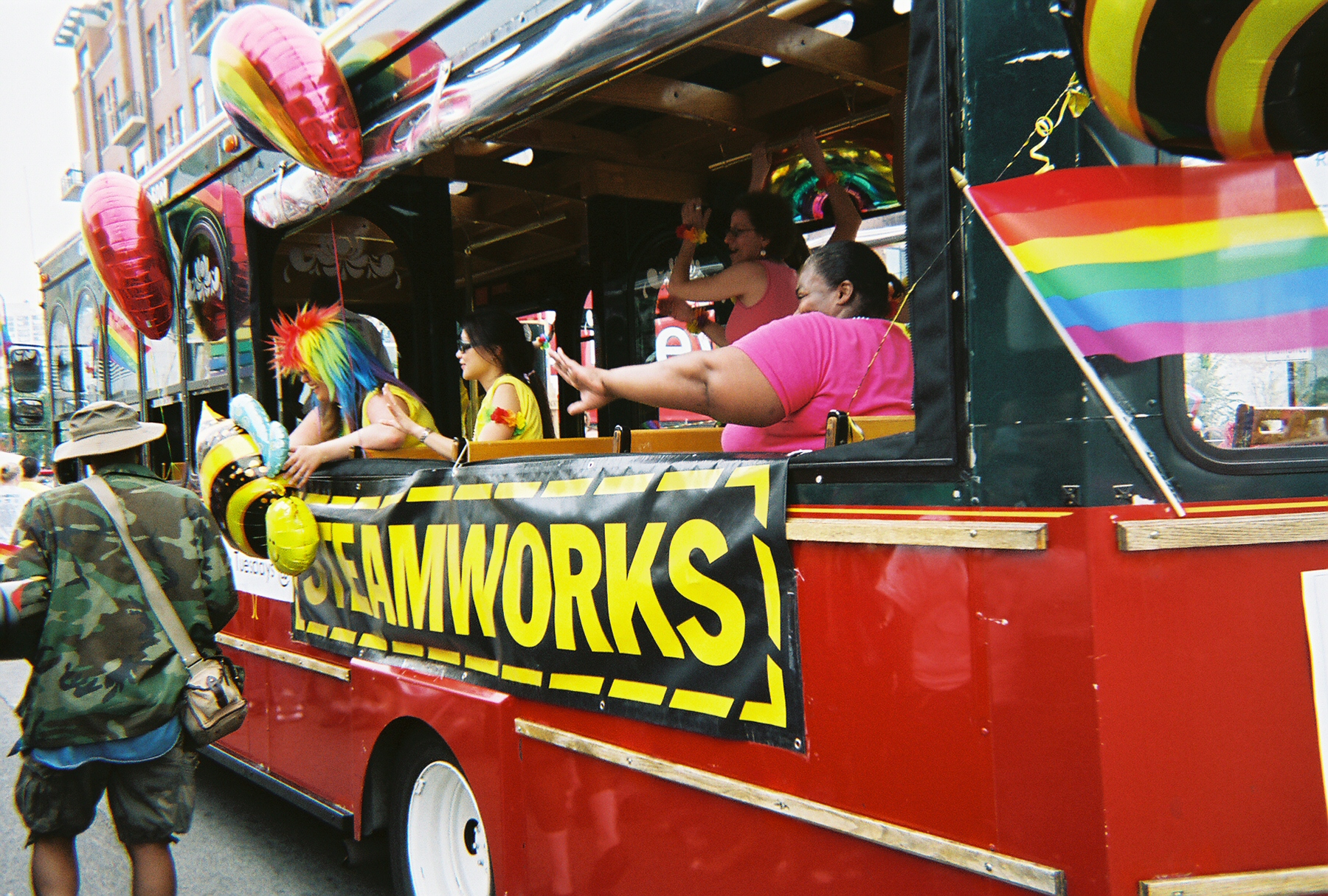 Whoever heard of a sex club float at a parade? Proud homosexuals, that's who. Above, a bus float for "Steamworks," a 24/7 bathhouse in Chicago's ("gay") Boystown neighborhood — where men go to commit anonymous sodomies with other men — rides in the Chicago homosexual "pride" parade June 24. Many young children watched or participated in the Chicago parade. 
The lawless hate God. The name of Jesus is an affront to sinners. The [Columbus "gay pride" parade] crowd cheered the apostate churches as they displayed their man-made signs declaring their man-man opinion of Jesus' acceptance of sin. They cursed and spat upon those who held a sign that displayed the Word of God, "If a man also lie with mankind, as he lieth with a woman, both of them have committed an abomination."

 

Christian men are afraid to stand up for Jesus. They act just like women, striving to be "nice" to everyone. They won't fight for their communities, won't protect their children from indoctrination, and won't storm the gates of hell.
— Coach Dave Daubenmire, "Have You Visited a Gay Pride Parade?" 
TAKE ACTION: Send Americans For Truth a $10 donation (postpaid) or make a $10 gift online and we will send you a "Truth Packet" that reveals some cold, hard realities about the homosexual agenda — including our booklet, "The Homosexual Agenda Targeting Children." The Truth Packet will guide you on simple steps you can take to start standing up for truth against the pro-homosexual issue in your community. You'll be shocked to see how the "GLBT" lobby is converting the next generation to their ungodly cause. Send $10 (postpaid) to AFTAH, P.O. Box 5522, Naperville, IL 60567-5522, or go online to give HERE. 
___________________________
By Peter LaBarbera
I'd like to call your attention to a wonderful call-to-arms from Coach Dave Daubenmire, who is a great American and a spiritual treasure for this deeply troubled nation. As one who has observed a bunch of "Gay Pride" parades over the years — they now call them just "pride" parades to mask their real purpose: celebrating homosexuality (perversion) — I echo Coach Dave's call for Christian men to get off their comfortable keisters and observe firsthand the moral disintegration of this country.
Coach Dave is a man's man, and his frank observations are, well, too gut-real for some even in the "pro-family" movement. American Christianity has been feminized, or perhaps emasculated — or even "psychologized" — to such a degree that we shy away from bold truth-telling. We rationalize our withdrawals from the culture wars, sometimes using theology to justify our cowardice. In his article, "Have You Visited a Gay Pride Parade?", the Coach shows us the end-game of "tolerance" and "diversity": the glorification of sin, churches parading in support of behavior that God condemns, and the promotion of ungodly lifestyles to innocent kids. 
Do we hate sin?
It's funny. Guilt-ridden Christians talk a lot about how they don't hate "gays." That should be a given: we are commanded to love sinners supernaturally — even to suffer for the sake of the Gospel, as my friend Dan Musick and Joe Christopherson did at Chicago "Pride" last Sunday.  But I'm wondering: do we hate homosexual behavior like God does? (Can I say that? — alert the Thought Police immediately.)
No, we don't. The result is that men who should be out contending with the evils of the day — and surely this is one — are instead fretting over not appearing "intolerant," overly "judgmental," or too radical. Or they withdraw into the business world and reading their stock reports, to prepare for a retirement in which they can retreat even further from the culture wars that we are already losing, badly.
Why is it that the wicked (in this case, homosexual activists) can give 150 percent to their their cause, but we who claim the "Truth" adopt a defensive posture and are saddled with doubt and apathy in the fight for godly values?
Guys, Jesus was radical. He was a man's man. If you can't bring yourself to join Americans For Truth in confronting the homosexual lobby in the culture and public policy, then get out on the streets and witness the Gospel to people headed for hell in the name of "pride" (oops, I said the H-word: another speech code violation…).
Read the rest of this article »