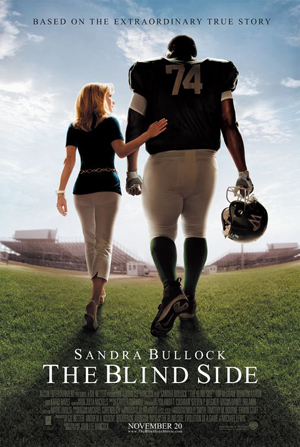 Folks, I encourage you to see The Blind Side, which I caught over the holiday weekend. It is a very moving film. But Star Parker is right below:  it's too bad Blind Side ignored the public school system's utter failure to serve Michael Oher. The incompetence of public educationists on many levels is appalling, yet the schools get "affirmative action" treatment in the media. The best hope for America is that the public school monopoly would be broken wide open through the growth of home schooling and vouchers so that all inner-city parents can give their children an opportunity to attend schools that actually educate and thus give them a chance at success in life. — Peter LaBarbera, www.aftah.org
___________________________
Parker writes:
'The Blind Side' should trouble as well as inspire
Oher's story is about private individuals, about personal choices and responsibility, and about Christians
The Blind Side" is a beautiful new film based on a magnificent and heartwarming true story.
But I hope that the many who see it do not simply walk out all aglow. It should also produce concern.
This story about hopelessness transformed into achievement should be a typically American story. We should be concerned that, increasingly, this is not the case. That this is the exception that should be the rule.

Michael Oher's story has already received much attention. How a homeless black 15-year-old winds up in a Christian private school and how a white Christian couple adopted him and helped him develop to get the grades to stay in school, become a star athlete, an All-American football player and a multimillion-dollar NFL draft pick.
Our wake-up call should be that the factors that saved and transformed Michael Oher's life stand in stark contrast to the government solutions we hear from Washington about dealing with our problems relating to poverty and education.
Read the rest of this article »