Promoting LGBTQueer "Pride" at the expense of children's innocence: AFTAH in the News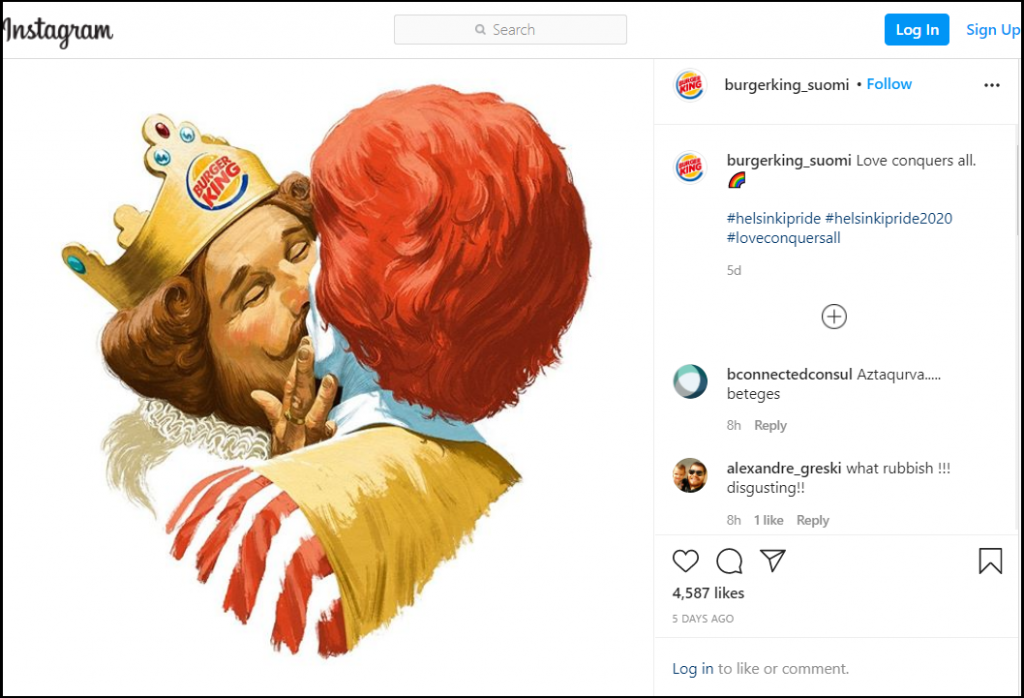 This story by One News Now is the perfect illustration of how evil is pushed on the public in the name of "equality." See Breitbart's coverage of this indecent, anti-children corporate stunt HERE. American For Truth is featured below:
___________________________
Burger chains confusing love and perversion
First printed: 9/15/202, One News Now, by Charlie Butts
In Finland, where Burger King is running an ad campaign featuring its mascot kissing Ronald McDonald, one conservative activist says the restaurant chain has made another assault on youth and the culture.
Peter LaBarbera of Americans for Truth About Homosexuality (AFTAH) and The Center for Morality tells OneNewsNow Burger King is promoting sexual deviance in the name of love with its new "Love Conquers All" slogan.
"It's sad because woke corporations are now in the vanguard of cultural Marxism," LaBarbera laments. "This stunt by Burger King has nothing to do with selling burgers and fries and everything to do with selling perversion and the left's sexual agenda."
He points out that Burger King has a long history of supporting the LGBT movement, but the new ad takes it to a new level by interpreting homosexuality as perfectly natural love.
"This isn't about love," the AFTAH founder reiterates. "This is about perversion. And the question is will cultural Marxism and sexual perversion conquer truth and our biblical Judeo/Christian values that have made America strong but are now under withering attacks by these leftists."
By using the Burger King and Ronald McDonald mascots, LaBarbera says the corporation is clearly targeting children and youth. But what makes him especially angry is that the corporate left is corrupting every icon that can be seen as wholesome, all-American, or innocent to sell their agenda.