As the new Congress convenes in January, hate crimes legislation and ENDA (employment non-discrimination) are high on the priority list. Read on to see where similar legislation has taken our British friends…
Excerpted from Homophobia Spies in the Classroom, published Dec 28, 2006, by Evening Standard:
Schools that fail to show enthusiasm in rooting out prejudice against homosexuals should be reported to the police by pupils and parents, a Home Office report recommended yesterday.
It called for parents and children to identify schools that ignore "homophobic" language in the playground and teachers who produce "homophobic" lessons.
And it called for head teachers to bring lessons about "homophobia" on to school timetables and to involve their pupils in gay "awareness weeks".
The advice from Home Secretary John Reid's officials comes at a time of deep concern among churches that new gay rights laws due next spring will bar traditional teaching on sexual morality in schools and force them instead to include gay rights dogma in lessons.
The paper on "homophobic hate crime" is aimed at guiding police forces, local authorities, social services and schools among other public bodies.
…Urging that school incidents be reported to a "hate crime co-ordinator"…It called for reporting systems to "allow pupils and parents to make referrals direct if they feel the school is not taking the issue seriously."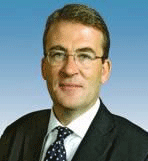 The report added: "The seriousness of using homophobic language is not fully appreciated in schools…"
Home Office minister Tony McNulty [Minister for Police & Security, pictured right] said: "…People who commit homophobic crime need to know their prejudices and actions will be tackled…"

…Colin Hart (pictured left) of the Christian Institute think tank that backed the Roberts said yesterday: "There is an element of desperation about this advice. No-one wants to see any kind of bullying in schools. But this is not about bullying of pupils who others think are homosexual. It is about punishing schools unless they try to stop pupils using "gay" as a perjorative word."
…The Home Office guidance also said that gay lobby groups could set up "third party reporting centres" to pass to police details of "homophobic" incidents which gay individuals themselves have been too scared to report to police.
Police should then record the names and details of individuals passed on by gay lobby groups, it said.