November 26th, 2014
Bean gave $1 million to HRC; also founded Gay & Lesbian Victory Fund; is largest Oregon donor to Obama; envisioned and funded HRC's D.C. headquarters building; HRC finally comments on case after five days of silence
By Peter LaBarbera
Folks, once in a while a story with such sordid and shocking details breaks through the leftist media's pro-"gay" censorship to reveal the stark truth about the perverse lesbian-gay-bisexual-transgender-"queer" (LGBTQ) movement. The child-sex arrest of Terry Bean–a founder of both the Human Rights Campaign (HRC) and Gay & Lesbian Victory Fund; Obama money-man; and major Democratic power-broker–is one of those cases. Below is a TV news collage– including commentary by pro-family leaders Scott Lively and Bryan Fischer–of the story of the 66-year-old Bean's arrest last Wednesday for committing sodomy with a 15-year-old-boy.
Williamette Week reports on the charges against Bean:
"Law enforcement sources familiar with the case say Bean will be charged with two counts of sodomy in the third degree, a felony, and sex abuse in the third degree, a misdemeanor. He will be arraigned later in Lane County, where the crimes allegedly occurred in 2013."
Human Rights Campaign, the world's largest and best-funded homosexual lobby organization (Executive Director Chad Griffin makes more than $400,000 annually), took the time to condemn the grand jury's non-indictment of Ferguson, Missouri policeman Darren Wilson, and celebrate the "Transgender Day of Remembrance," among other blog posts–but has yet to post anything on its website on the sex-crime arrest of Bean, who reportedly has donated more than $1 million to HRC. Bean has been removed from HRC's Board of Directors pending the adjudication of his case.
AFTAH will carry multiple stories on this case and the twisted reality–dating back to ancient homosexuality–of older adult "homosexual" men sodomizing teenage boys. How telling is it that HRC–which routinely and recklessly castigates conservative, Christian pro-family groups like AFTAH–took five days to issue a bland, non-condemnatory statement on its predatory benefactor Bean? His arrest puts the powerful homosexual lobby group in a very tight spot: Bean, after all, is so central to the "gay" lobby's success that he came up with the idea of HRC constructing of a swank headquarters building in Washington, D.C. More details and photos showing Bean's enormous clout in Democratic circles follow the video after the jump:
Here are the arrest mugshots of Bean and Lawson, the former boyfriend four decades his junior, who was also arrested on sex-crime charges involving sodomy with a 15-year-old boy at a hotel in Eugene, Oregon. Various news and commentary links about the Bean sex-crime case follow the photo: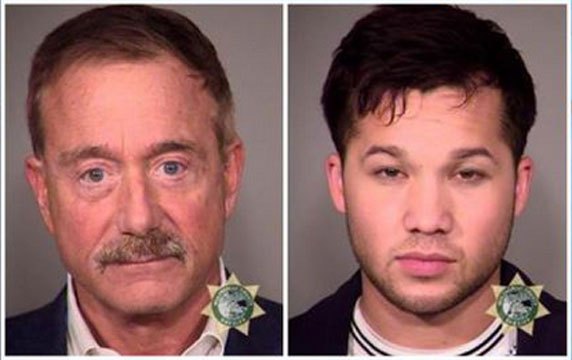 News Links: Round-up on Terry Bean arrest:
____________________________


Read the rest of this article »
November 11th, 2014
Thanks to the guys at LiberalLogic101.com for this cartoon: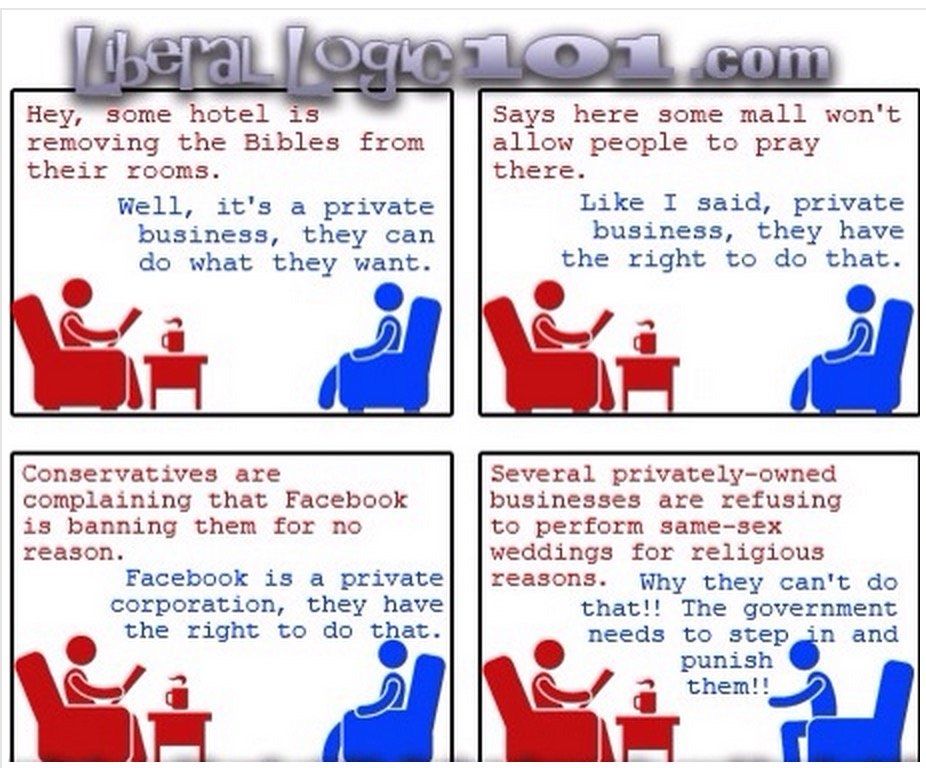 November 7th, 2014
More great news from Election Day: reports of the death of the Defense-of-Marriage movement as proclaimed by the media and homosexual advocates alike have been greatly exaggerated, to paraphrase Mark Twain. Candidates who stood for marriage as between a man and woman–like those who supported the pro-life cause–did well on Election Day. Here is Family Research Council (FRC) President Tony Perkins' takeaway on the election and "gay marriage."--Peter LaBarbera, AFTAH
P.S. It is worth noting that Perkins himself has been on the receiving end of: countless acts of "gay hate"; "progressive" slanders; and LGBT lies for his defense of marriage–and especially for not backing down against in the culture war over the normalization of homosexuality. We commend him for that.
_______________________
Perkins writes (emphasis added):
Republican voters don't just support natural marriage — they expect their candidates to! That was abundantly clear Tuesday, when local exit polls starting streaming in. For conservatives, the data was a gold mine on social issues that will help debunk the Left's tall tales about the popularity of same-sex "marriage." In state after state, voters refused to give an inch on marriage – and instead exposed how exaggerated the cultural shift has been.
Despite what the media would have you believe, the public opinion battle has been a bigger one than the Left bargained for — with most Americans' views barely budging on an institution the courts are so anxious to redefine. A month after a Pew poll showed support for same-sex "marriage" dipping, the issue was front and center in a few key Senate races — including North Carolina, Iowa, and Arkansas.
[North Carolina Senator-elect] Thom Tillis, who, just weeks ago, was down in his race, starting picking up steam when he took a public stand to defend the Tarheels' marriage amendment (which 57% still support). That's consistent with the stories in Kansas with Senator Pat Roberts (R) and Iowa, where Joni Ernst never wavered on a topic too many moderates run from. As much as the Republican Establishment hates to admit it, marriage was a key ingredient in the recipe to defeat Democrats.
"The numbers bear that out in at least seven states where pollsters asked the question. Seven out of 10 voters in my home state of Louisiana said they opposed same-sex "marriage," which is almost identical to their northern neighbors in Arkansas, where 69% rejected the idea. In Virginia, where candidate Ed Gillespie stood with marriage, 53% of Virginians stood with him and disagreed with the move to redefine marriage. South Carolina, home of newly-elected social conservative Senator Tim Scott (R), two-thirds of voters identified with him on marriage. Georgia (62%) and Ohio (a majority) echoed the pro-marriage refrain. Of the exit stats we could find, only Florida was competitive — with the two sides dead even (48% to 48%) on the question.
Of course, this is all consistent with what Americans have said with their ballots — both for and against marriage amendments in their home states. For all the Left's hype, only three states have actively voted to redefine marriage — which barely adds up to about 5% of the population — hardly the consensus liberals claim it is. Rasmussen, Fox News, and even Politico polling have all shown the debate holding steady despite — or maybe because of — the assault from the courts. As plenty of Tuesday's candidates will tell you, supporting marriage doesn't just put you on the right side of history — but the right side of the win column too!
(Tony Perkins' "Washington Update," "Voters to GOP: Don't Falter at the Alter," Nov. 6, 2014)
____________________________
Election Webcast: FRC Action produced an excellent webcast Nov. 5 to analyze the 2014 midterm election results from a pro-life and pro-family perspective. Former Congresswoman Marilyn Musgrave describes how the pro-life issue won—and the Democrats' bogus "war on women" polemic failed—helping fuel the GOP landslide. CNSNews.com editor-in-chief Terry Jeffrey offers wise counsel to the GOP on the need to defend the sanctity of marriage–and in so doing to inspire young people to pursue virtue and truth. Click HERE to listen to the one-hour webcast.
November 7th, 2014
Pro-family leaders who fight back against Big Gay Inc. elected to state house in CO and MI
Telling the Truth in Politics Is Not 'Hate': the above YouTube is of a 2010 robo-call made by AFA-Michigan president Gary Glenn–which was cited by the left-wing website "Right-Wing Watch" as supposed proof that Glenn is on the "fringe." Glenn exposed openly lesbian Democratic House candidate and "gay" activist Toni Sessoms, who ended up losing her election. In the aftermath of the Republican electoral landslide Tuesday, RWW quickly slammed the victories of Republicans Glenn [HERE] and Chaps Klingenschmitt [HERE]
___________________________________
By Peter LaBarbera
Folks, the pro-LGBT Left–which should never be accused of timidity in crusading for its dubious agendas—despises Christian conservatives who fight back in defending Truth and God-ordained marriage. And fighting back is exactly what two pro-family warriors who were victorious Election Day—Republicans Gary Glenn in Michigan and Gordon "Chaps" Klingenschmitt in Colorado—are all about.
"Chaps" Klingenschmitt won by a landslide in his race for state representative in Colorado Springs and AFA-Michigan president Glenn won 55-45 in his bid to represent Midland and Bay Counties in the Michigan State House. Both men are routinely and aggressively attacked by homosexual activists–who often take their words out of context. And so the predictable leftist and "gay" hit-pieces came quickly following the Democrats' electoral nightmare on Nov. 4. [See, for example, this "Right-Wing Watch" piece and this "Think Progress" piece.]
The two pro-family leaders are also occasionally ostracized by GOP "establishment" types who eschew and undermine defenders of moral values in the Party. Both Glenn and Klingenschmitt have worked closely with Americans For Truth About Homosexuality (AFTAH). [See AFTAH's interviews with Glenn [Part One HERE], and our interview with Chaps [Part One HERE.] Their victories give the lie to the LGBT mantra that pro-family advocates who stand boldly for traditional marriage and against the homosexual agenda are "extreme," unpopular, and incapable of garnering voter support.
The LGBT propaganda line that pro-family advocacy–electoral or otherwise–is an attack on ("gay") "civil rights"–and hence anathema–is so much baloney. Just because homosexual activists routinely and shamelessly try to rip off the noble Black civil rights movement to gain legitimacy for their Sin Movement does not give them an ounce of moral authority–nor any reasonable basis upon which to demand the banishment of pro-family defenders of natural sexuality and marriage from media and the Public Square, as is their wont.
Of course, Glenn and Klingenschmitt will spend the vast majority of their time on issues unrelated to homosexuality (and abortion). But as long as there are well-funded lobby organizations like Human Rights Campaign (see their hit-piece on the two Republicans HERE) and LGBT activists fighting to ADVANCE sexually immoral and gender-confused agendas, we will need brave and bold men and women to resist them in legislative chambers. Congratulations to Gary Glenn and Chaps Klingenschmitt on their victories! – Peter LaBarbera, AFTAH
November 7th, 2014
The following release was put out yesterday by CCV Action, the legislative action arm of Citizens for Community Values. Finally, some good sense and humility out of a federal court on the same-sex "marriage" issue! [Read the full decision HERE.]  We reprint Judge Jeffrey Sutton's words below because they represent such a stark contrast to those of other federal judges who, like so many "progressives" and judicial elitists, relish "making history" on homosexuality-based "marriage" even if it means invalidating millions of votes and disenfranchising millions of American citizens on this critical moral and social issue.
Judge Sutton said:
"Of all the ways to resolve this question, one option is not available: a poll of the three judges on this panel, or for that matter all federal judges, about whether gay marriage is a good idea. Our judicial commissions did not come with such a sweeping grant of authority, one that would allow just three of us—just two of us in truth—to make such a vital policy call for the thirty-two million citizens who live within the four States of the Sixth Circuit: Kentucky, Michigan, Ohio, and Tennessee."
The 2-1 majority decision continues:
"This case ultimately presents two ways to think about change. One is whether the Supreme Court will constitutionalize a new definition of marriage to meet new policy views about the issue. The other is whether the Court will begin to undertake a different form of change—change in the way we as a country optimize the handling of efforts to address requests for new civil liberties.

"If the Court takes the first approach, it may resolve the issue for good and give the plaintiffs and many others relief. But we will never know what might have been. If the Court takes the second approach, is it not possible that the traditional arbiters of change—the people—will meet today's challenge admirably and settle the issue in a productive way?"
What a concept: let 'We the People' have our say on one of the most controversial issues of our time–rather than imposing a "solution" through the dubious application of laws and amendments intended to correct societal racism to reinventing marriage itself.
Congratulations to Phil Burress and CCV–and pro-family advocates in the other states–for all their hard work in defending marriage as what it is: a sacred union between one man and one woman. – Peter LaBarbera, AFTAH
_______________________________
FOR IMMEDIATE RELEASE
Contact Phil Burress, President
513-403-7441
By a 2-1 vote, the U.S. Sixth Circuit Court has ruled that the marriage laws of Michigan, Ohio, Kentucky, and Tennessee do not violate the federal Constitution. Judge Jeffrey Sutton, joined by Judge Deborah Cook, wrote the majority opinion.
November 6th, 2014
Folks, I would add to this excellent compilation by my friend and stellar Texas education activist Donna Garner, the very good news that two pro-family leaders against the aggressive homosexualist agenda were elected to state house (in Colorado and Michigan). Gordon "Chaps" Klingenschmitt won in a landslide in Colorado Springs and Gary Glenn of AFA-Michigan won 55-45 in Midland and Bay Counties in Michigan. America is on her way back! – Peter LaBarbera, AFTAH
______________________________________
By Donna Garner, 11.6.14, reprinted from Education Views
U. S. SENATE
28 Democrats who voted for ObamaCare are now gone from the U. S. Senate.
As of midnight on 11.4.14, the Republicans had won 52 Senate seats; and the Democrats had won 44.
Louisiana is still to be decided and is a probable win for the Republicans; that would make 53 Senate seats.
Alaska and Virginia have not been called yet and could easily become seats 54 and 55 for the Republicans. [Editor's Note: there is a good chance Democrat Mark Warner will win Virginia, so the best likelihood is that the GOP will control the Senate with 54 votes after the Louisiana run-off election.]
It is possible that some Democrats and/or Independents might also flip to become Republicans because of the landslide victories of last night.
Republicans picked up 8 Senate seats — Alaska, Arkansas, Colorado, Iowa, Montana, North Carolina, South Dakota and West Virginia.
Four incumbent Democrats were defeated — Begich, Pryor, Udall, and Hagan.
There are 100 Senators in the U. S. Senate.  Only 51 are needed to pass a bill.
U. S. HOUSE
The U. S. House is made up of 435 members.  A majority is 218 seats.
At last count, Republicans took 246 seats with more to be decided.  Right now, that is the largest Republican majority in more than 60 years.
GOVERNORS
As of this election, 31 out of 50 states have Republican Governors (even in Mass., Illinois, Maryland)
STATE LEGISLATIVE CHAMBERS
Democrats lost their super-majorities in the California Senate, the Vermont House and the Maryland Senate.
Republicans now control 67 state chambers while the Democrats control 28. Before Tuesday, Republicans had a 57-41 advantage.
Republicans have complete state control – both chambers and the governor's mansion – in 23 states, compared to six states for the Democrats.
November 3rd, 2014
Houston pastors' victory shows "Gender Identity" laws should influence elections 
By Donna Miller
The Houston pastors' response to their power-grabbing lesbian mayor Annise Parker's recent acts of intimidation has been an event from which we should learn far-reaching lessons. A national controversy erupted after Parker issued subpoenas for the sermons of city pastors who sued her after her administration dubiously blocked a citizens' petition campaign to repeal a pro-homosexual/-transgender "equal rights" ordinance she strongly supported. This historic incident:
taught pastors worldwide

how to stand against government tyranny and abuse of power;

removed the mask off presumably positive anti-discrimination ("gender identity") laws that, in fact, discriminate against women; and
educated citizenry worldwide on "bathroom bills."
While these so-called "anti-discrimination"/"gender identity" laws are presented to limit discrimination, these radical laws and policies discriminate against women by forcing them to endure public indecent exposure.  Do you know any other law or policy that a sets apart rules for less than 1 percent of the population (transgenders), but another huge portion of the population (women and girls) are told that they must endure men's publicly indecency – all in the name of civil rights?
Since America is having national elections tomorrow (November 4), it is important to see which politicians support a national bathroom bill (affecting every community in America), the Employment Non-Discrimination Act (ENDA).
The U. S. Senate passed this horrendous law in 2013, and Americans can verify how their senator voted at this link. The U. S. House of Representatives introduced this bill, and the sponsors by every local representative of this bill can be found at this link.
In America, at least 18 states plus the District of Columbia have enacted statewide bathroom bills.  Again, these bills were presented as warm and fuzzy 'inclusive' anti-discrimination laws. I would love to see the reaction of a politician's wife who experienced a biological man in her bathroom. After all, men are taught since little tykes that public bathrooms are not a private situation. For women, however, a bathroom is one of the most private places in the universe – and it should stay that way!
Bathroom attacks of women and children are at epidemic level. Most of these attacks are by predators. After studying predators for years, I have learned that they use anything to gain an advantage on their victims.
October 31st, 2014
Pro-family advocates reject plea bargain to lesser "trespass" charge in free speech case
Media Links:
Regina Leader-Post: "Anti-gay activists awaiting decision on mischief charge"
CTV News: "Regina judge reserves verdict in trial for two anti-gay activists"
CBC: Anti-gay activists Bill Whatcott, Peter LaBarbera on trial in Regina
CKOM Radio: Whatcott, LaBarbera trial begins at Regina Provincial Court
______________________
REGINA, Saskatchewan, Canada—Regina Provincial Judge Marylynne Beaton said Thursday that a written decision on the criminal "mischief" charge against pro-family activists Peter LaBarbera and Canadian Bill Whatcott will be handed down on December 22—after a day-long trial that pitted arguments for the free dissemination of ideas against bureaucrats' desires to enforce a pro-"gay" "Respectful Workplace" policy at the University of Regina.
Crown Prosecutor James Fitz-Gerald sought to portray Whatcott as a disruptive force who believed himself above the law. "It's the Crown's position … that the University of Regina owns and occupies that property, that land…I say the university was completely within its rights to (ask them to leave). Mr. Whatcott and … Mr. LaBarbera were not within their rights to refuse," reported the Regina Leader-Post.
But Michael Weger, defense attorney for LaBarbera and Whatcott, argued that the "mischief" charge was unwarranted—as the two men did not disrupt students ability to go to class—and said it contains a free speech provision for communicating ideas that should have kept police from bringing the charge in the first place.
"Communicating information is exactly what happened on April 14 …," Weger said, according to the Leader-Post. "Isn't university about different ideas and different viewpoints? As soon as we get to a point when we start sending young adults to an institution that tells them exactly how they must think and what to think, then our students stop getting an education."
University of Regina Provost Thomas Chase testified that Whatcott and LaBarbera violated the school's "Respectful Workplace" campus policy that bans discrimination and harassment based on sexuality. After making a secular "affirmation" to tell the truth rather than swear on the Bible (he was the only witness to do so), Chase said he could not recollect a single student or U-R staff member complaining about the Whatcott-led small pro-family protest at U-R.
U-Regina Director of Security Pat Patton testified that she made the call to eject Whatcott and LaBarbera—in consultation with Chase and others—in consultation with Chase and others–after seeing Whatcott's placard: "Sodomy Is a Sin." Patton also cited as violating the Respectful Workplace policy the tee-shirt worn by LaBarbera and Whatcott decrying—as she recalled–"the murder of a young lady by a homosexual," and a paper passed out expressing "concerns about homosexuals and gay persons."
The tee-shirt was actually one provided by Whatcott condemning the murder of pious Chicago middle-aged Catholic Mary Stachowicz by a homosexual (bisexual) man, Nicholas Gutierrez. The paper she referred to was a two-page flier passed out by LaBarbera laying out the health risks of homosexual behavior.
Patton's testimony revealed that it was predominantly Whatcott's and LaBarbera's advocacy against homosexuality—rather than abortion—that touched off the move to expel them leading to their arrest.
Whatcott: One Canadian who won't back down
In a testy trial exchange with Fitz-Gerald, Whatcott demonstrated the unbending determination to get out his pro-life and anti-homosexual-agenda messaging that has made him Enemy Number One of Canadian social leftists and "gay"-affirming government officials alike. Although this was LaBarbera's first free speech trial, Whatcott has gone through more than a dozen to defend his right to pass out literature and hold signs in Canada opposing abortion and homosexualism.
The exchange began with the Crown prosecutor referring to a previous case in which Whatcott's campus truth fliers were called "litter" by university. Fitz-Gerald dismissively referred to Whatcott's "litter" case—and Whatcott shot back that he was exonerated in the case, thus negating that description.
Fitz-Gerald restated his main argument that Whatcott had thrice refused a request to get off "private" property—and Whatcott responded that as a Canadian citizen he has a Charter right to get his message out at a public university.
Then the Crown prosecutor asserted that Whatcott was aware that he was in violation of the University's "Respectful Workplace" policy. Whatcott responded that the University's implementation of that policy discriminated against his religious viewpoint by disallowing him to rent a table at the Student Union to present his views.
On Wednesday, Whatcott and LaBarbera rejected a plea bargain offer of a lesser "trespassing" charge that would have treated the alleged offense as less than a misdemeanor while admitting still guilt. Whatcott said the offer shows the weakness of the Crown's case.
More coming on this story.