April 19th, 2014
Facts show that Nature discriminates against homosexual behavior
The following is adapted from a one-page flier passed out by AFTAH President Peter LaBarbera at an April 14, 2014 protest at the University of Regina in Saskatchewan, Canada [see this excellent video commentary by Canadian pundit Brian Lilley]. At the protest. led by Canadian pro-family/pro-life activist Bill Whatcott, both he and LaBarbera were arrested on the charge of "mischief" for not abandoning their peaceful sign protest against homosexuality and abortion. In explaining why the university felt the need to eject Whatcott and the three other protesters, U or R provost and vice-president Thomas Chase said, "The materials were graphic and the materials were disturbing," he told the Regina Leader-Post. "The materials, we felt, could harm members of this campus community who we have a duty to protect and support."
______________________________
Is All Love 'Equal'?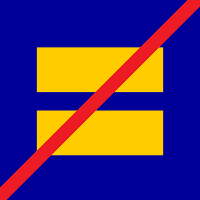 "Love is Love," same-sex "marriage" advocates are fond of saying. At a recent protest in Weyburan, Saskatchewan, Canada, a pro-"gay" activist said, "It doesn't matter who you love, it just matters that you love." The implication is that homosexual sex and relationships are equivalent—morally, practically and health-wise—to natural sex and relationships (i.e., marriage) between a man and a woman. But is that true?
Capacity to Produce Life
Sex between men or between women alone can never produce children.  "Gay parenting" requires a previous heterosexual relationship by one or both of the same-sex partners, or adoption or artificial means to acquire a child.  That child will then intentionally be denied a father or a mother.  In contrast, heterosexuality and natural marriage produce children, families and future generations.
'HIV Is a Gay Disease'
Homosexual sex between men is the biggest risk factors for HIV/AIDS. A stunning 94-95 percent of all HIV diagnoses in 2011 among boys and young men were linked to homosexual sex, the Centers for Disease Control (CDC) reports.[1] A 2008 CDC study of "gay" men in 21 major cities found that nearly one in five were HIV positive while 44 percent of those did not know it. [2] Facts like these have led some homosexual activists to admit that, "HIV is a gay disease."[3] Yet students rarely are educated on the heightened health risks associated with homosexual behaviors.
Viral Hepatitis and High-Risk Homosexual Sex                         
"Among adults, an estimated 10% of new Hepatitis A cases and 20% of new Hepatitis B cases occur in gay or bisexual men," the CDC reported in October 2013. The disproportionate risk is linked to high-risk sexual behaviors by "men who have sex with men" (MSM). The CDC reports: "Hepatitis A is usually spread when a person ingests fecal matter—even in microscopic amounts—from an infected person. Among men who have sexual contact with other men, Hepatitis A can be spread through direct anal-oral contact or contact with fingers or objects that have been in or near the anus of an infected person."[4]
Sex Practices Common Among Homosexual Men Are 'Highly Efficient Ways of Transmitting Disease,' Says 'Gay' Writer 
"Some practices common among gays–especially rimming [mouth-to-anus sex] and anal intercourse–are highly efficient ways of transmitting disease."–"Gay" writer Jack Hart, Gay Sex: A Manual for Men Who Love Men [5]
Domestic Partner Violence Higher for Gays, Lesbians and Bisexuals
"Rates of some form of sexual violence were higher among lesbian women, gay men, and bisexual women and men compared to heterosexual women and men," the CDC reported in 2010.
"Forty-four percent of lesbian women, 61% of bisexual women, and 35% of heterosexual women experienced rape, physical violence, and/or stalking by an intimate partner in their lifetime…
"Four in 10 gay men (40%), nearly half of bisexual men (47%), and 1 in 5 heterosexual men (21%) have experienced SV [sexual violence] other than rape in their lifetime. This translates into nearly 1.1 million gay men, 903,000 bisexual men, and 21.6 million heterosexual men." [6]
Anal Cancer
"The incidence of anal cancer in gay men is approximately 80 times that of the general population." [7]
Syphilis
 "In 2012, 75% of the reported primary and secondary syphilis cases were among men who have sex with men (MSM)/" the CDC reported. [8]
Anus: 'Highest Risk Place for STDs," Says Homosexual Doctor 
"[An] anus is the highest risk place for STDs [sexually transmitted diseases]."–Dr. Stephen Goldstone, The Ins and Outs of Gay Sex: A Medical Handbook for Men [9]
__________________________________
Sources:
1. "CDC: 94 to 95 Percent of HIV Cases among Boys and Young Men Linked to Homosexual Sex," AFTAH website, September 11, 2013 [link HERE]; links to CDC [Centers for Disease Control and Prevention] presentation, "HIV Surveillance in Adolescents and Young Adults," National Center for HIV/AIDS, Viral Hepatisis, STD and & TB Prevention, Div. of HIV/AIDS Prevention: http://www.cdc.gov/hiv/pdf/statistics_surveillance_Adolescents.pdf.
2. CDC Press Release: "1 in 5 men who have sex with men in 21 U.S. cities have HIV; nearly half unaware," National Center for HIV/AIDS, Viral Hepatitis, STD, and TB Prevention; "The CDC study tested 8,153 MSM in 21 cities participating in the 2008 National HIV Behavioral Surveillance System (NHBS)." [link HERE]
3. Sharon Bernstein, "HIV Ads Embrace, and Stun, Audience," Los Angeles Times, September 30, 2006: "the L.A. Gay & Lesbian Center had embarked on a controversial ad campaign with this stark declaration: 'HIV is a gay disease,' with the tag line 'Own It. End It.' on billboards and in magazines." [story link HERE].
4. CDC, "Viral Hepatitis: Information for Gay and Bisexual Men," October 2013; http://www.cdc.gov/hepatitis/Populations/PDFs/HepGay-FactSheet.pdf.
5. Jack Hart, Gay Sex: A Manual for Men who Love Men (Revised & Updated, Second edition, October 1998). Published by [now defunct] Alyson Books (Los Angeles, New York), pages 194, 212-213. [AFTAH link HERE] Full quote by Hart, a homosexual, is below:
"Many sexual transmitted diseases (STDs) occur more often among gay men than in the general population. Several factors contribute to this difference: Gay men have the opportunity to engage in sex with more people than do most heterosexual men, and some practices common among gays–especially rimming [oral-anal perversion*] and anal intercourse–are highly efficient ways of transmitting disease…."
6. NISVS: "An Overview of 2010 Findings on Victimization by Sexual Orientation," The National Intimate Partner and Sexual Violence Survey (NISVS), 2010: http://www.cdc.gov/violenceprevention/pdf/cdc_nisvs_victimization_final-a.pdf
7. HIV Essentials 2013 (Sixth Edition), by Paul E. Sax , Calvin J. Cohen, Daniel R. Kuritzkes, (Jones & Bartlett Learning: Burlington, MA, 2013), p. 132. [Amazon book link HERE]
8. CDC, "Syphilis & MSM (Men Who Have Sex With Men) – CDC Fact Sheet; page last updated: January 7, 2014. http://www.cdc.gov/std/syphilis/STDFact-MSM-Syphilis.htm
9. Dr. Stephen Goldstone, The Ins and Outs of Gay Sex: A Medical Handbook for Men, (Dell: 1999), p 16; in the passage, Dr. Goldstone, a homosexual and "gay" advocate, is urging condom use. For more quotations by Goldstone, see this AFTAH article. [Amazon book link HERE]
__________________________________
Copyright: Americans For Truth About Homosexuality (www.AFTAH.org), a Chicago-based organization that defends natural, biblical sexual morality and opposes the LGBT activist movement. Permission to reprint provided credit is given to "AmericansForTruth.org"; AFTAH, PO Box 5522, Naperville, IL 60567-5522.  Phone: 312-324-3787.  E-mail: americansfortruth@gmail.com.
April 18th, 2014
Here is an address to send gifts for the defense of Americans For Truth President Peter LaBarbera and Canadian Bill Whatcott, who were arrested Monday for holding a peaceful protest against abortion and sodomy at the University of Regina in Saskatchewan (SK), Canada. [See AFTAH story HERE; Canadian pundit Brian Lilley's superb commentary on the arrests HERE; and pro-family advocate Janet Porter's radio commentary HERE.] Our able Canadian attorney, Tom Schuck, can be reached by phone at 306-842-4654.
On behalf of Bill Whatcott, thank you to all those who have contributed to our defense and are praying for us! Please pray that these charges will be dropped and that the free speech to defend God's truth and justice will be preserved–in Canada and in the United States:
Bill Whatcott and Peter LaBarbera Defence Fund
NSWB Law Firm
Box 8
319 Souris Ave.
Weyburn, SK 
Canada S4H2J8
April 18th, 2014
The following commentary by Sun News "Byline" host and Toronto Sun columnist Brian Lilley aired April 15, 2014, regarding the arrest at the University of Regina (in Saskatchewan, Canada) Monday of Canadian pro-family/pro-life activist Bill Whatcott and American AFTAH President Peter LaBarbera:
April 16th, 2014
AFTAH Canada Controversy in the News: AFTAH President Peter LaBarbera has left Canada and is now safely back in Chicago. There has been a lot of media coverage of his arrest Monday by Canadian police–as well as the previous controversy surrounding LaBarbera's near-denial of entry into Canada on the basis that he would violate Canada's "Hate Propaganda Law." Here are a few stories:
LifeSiteNews: "American pro-family activist LaBarbera arrested in Canada" [click HERE]
CBC: "U.S. Anti-gay activist Peter LaBarbera arrested in Regina" [click HERE]
Regina [Saskatchewan Leader-Post: "Whatcott, LaBarbera arrested on U of R campus (with video)" [click HERE]
Barbwire.com: "U.S. Christian Peter LaBarbera arrested in Canada" [click HERE]
Montreal Gazette: "Anti-gay American speaker allowed entry into Canada after appeal" [click HERE]
Regina Leader-Post: "Anti-gay activist LaBarbera says he seeks civil debate" (with video)  [click HERE]
WND.com: "Christian speaker's entrance to Canada threatened" [click HERE]
____________________________________
Dear AFTAH Readers,
I'm back home in the Land of the Free (well, at least we're freer than Canada!)…Just a quick note here to let you know that I'm OK after being arrested in Saskatchewan, Canada, for standing up for free speech at a public university (U. of Regina) with Canadian pro-family/pro-life hero Bill Whatcott.
I will have an in-depth report tomorrow, but here are some key facts. I arrived home in Chicago late last night after cutting my week-long visit to Canada short to avoid a second hearing with Canadian Border Service agents on whether I could stay in the country.
The "Pro-Gay Thought Police" seemed to follow me wherever I went in Canada. When I entered the country through Regina [Saskatchewan] Airport last Thursday around 10:00 PM, I was detained for more than three hours  as Border Security agents rifled through my luggage, laptop–and even my cell phone–searching for material that would violate Canada's "Hate Propaganda" law. I hope that most Americans would be as shocked as I was to see government bureaucrats searching through my personal items for evidence of ideas and advocacy it wants to ban (in this case Judeo-Christian morality opposed to homosexual sin).
After the long wait and further questions (including reviewing the AFTAH website), I was formally denied entry into Canada, but elected to appeal the decision with the help of a Canadian attorney. The next day, as Whatcott and I went to the Border Security office at the airport prepared to make our appeal, we quickly discovered that the decision to overturn my entry ban was a done deal. Later we learned that political pressure had been brought to bear on Customs by some conservative Members of Parliament.
A huge THANK YOU to all who prayed for me and offered help to get me into Canada so I could honor my speaking commitment and thwart the arrogant political bullying of leftists who attempted to decide for EVERYONE who could speak at the pro-life event!
Once approved to enter Canada. I stood outside the airport before an array of Canadian reporters and showed them my passport allowing me to stay in Canada until Thursday, April 17 (tomorrow), as long as I did not violate any Canadian laws.
Pro-Life Hero Supports AFTAH
I gave my speech at the Saskatchewan Pro-Life Association and it was well-received, except by a group of protesters outside with signs–who were graciously allowed to attend the conference by SPLA organizers despite their previous attempt to block me as a speaker.
Many attendees expressed their gratitude at being able to hear a presentation on the homosexual agenda, and I was thrilled to have the support of Canadian pro-life hero Linda Gibbons, who has spent many months in jail for refusing to honor "bubble zone" speech codes outside abortion mills. I stressed that Christians need to be as principled against the homosexual activist agenda–including homosexual "marriage"–as they are in defending unborn life.
Arrested at U. of Regina
On Monday, I ventured out with Bill Whatcott to be part of his peaceful pro-life and anti-homosexual-agenda protest at the University of Regina. I brought along an AFTAH flier titled,' "Is All Love 'Equal'?" to educate students on the disproportionate health risks of LGBT behaviors (e.g., "The incidence of anal cancer is approximately 80 times that of the general population."–HIV Essentials).
Immediately upon entering the campus, we were informed by a U.-Regina official that we were not welcome and ordered to leave. Bill responded that he had a right to be at the public campus under the Canadian Charter of Rights and Freedoms and that he would not leave. Whatcott's right to protest at college campuses had already been affirmed twice by Canadian courts.
Two hours later, police arrived to inform Whatcott that if he did vacate the premises, he would be arrested. Ten minutes after that, Bill and I were being led away by police in hand-cuffs. I felt someone needed to join Bill in standing up for the simple right to speak in defense of biblical truth at a publicly-funded university. We were charged at first with trespassing but later it was changed to "mischief."
April 13th, 2014
Folks, today I spoke at the Saskatchewan Pro-Life Association, as planned–after winning my appeal of Thursday's Canadian Border Security Agency decision to deny my entry into Canada as a potential violator of the country's "hate propaganda" law. According to several attendees at the conference, conservative Members of Parliament used their influence to have the entry ban against me lifted. That explains why the reversal of the entry ban was a "done deal" when Canadian pro-family activist Bill Whatcott and I arrived Friday at Regina International Airport Customs to appeal the decision–without us even having to make our case.
The following is an excerpt of an article about the Customs turnaround in the Regina Leader Post [includes the Leader Post's accompanying video report]. Thank you to the many pro-family advocates from the United States, Canada and other countries who wrote to Canadian government officials to urge that the spurious "hate" ban on my entry be overturned. – Peter LaBarbera, AFTAH
_________________________
Anti-gay advocate LaBarbera says he seeks civil debate
By Ashley Martin and Pamela Cowan, THE LEADER-POST, April 11, 2014
REGINA — Anti-gay activist Peter LaBarbera will be speaking at a pro-life conference in Weyburn Saturday after being cleared by Canada Border Services Agency in a hearing Friday afternoon.
The head of Americans For Truth About Homosexuality (AFTAH) also plans on visiting the universities in Regina and Saskatoon during his time in Canada.
He was initially denied entry into Canada by customs officials in Regina after his Thursday night flight from Chicago. He said his passport was confiscated on grounds he would violate the Criminal Code of Canada by publicly inciting hatred at a Saskatchewan Pro-Life Association (SPLA) conference in Weyburn.
He appealed the decision, and won, during a hearing at noon on Friday, accompanied by SPLA representative Bill Whatcott, a well-known anti-gay activist.
"(The guards) said quite simply and immediately that the person in charge did not feel they had grounds to apply the hate propaganda law to my appearance," said LaBarbera following the brief hearing. "That's gratifying, as always."
In efforts to bar the speech, a petition by Intolerance Free Weyburn has more than 1,300 signatures.
LaBarbera said he was questioned by customs agents regarding his ideologies, and that his luggage, laptop and cellphone were searched Thursday night. He said it felt like being in North Korea, not Canada.
April 11th, 2014
[UPDATE FROM PETER LaBARBERA: Yesterday I wrote the reply below to Regina, Saskatchewan Archbishop Daniel Bohan's statement about my scheduled presentation at a pro-life conference in Canada. That evening, I flew from Chicago to Regina. Upon deplaning, as I passed through Customs, I was delayed for further questioning by an official with the Canada Border Services Agency. Obviously, I had been flagged as a result of a campaign by the leftist group "Intolerance Free Weyburn," which is specifically lobbying the Canadian government to deny my entry into Canada as the alleged purveyor of "hate'" [See this AFTAH report on their lobby effort to deny me entry into Canada, and this previous report on the group's attempt to have me removed as a speaker at the Saskatchewan Pro-Life Association (SPLA) conference April 11-12.]
After questioning me about the purpose of my scheduled presentation at the SPLA event; rifling through my luggage, which contained numerous books and literature related to homosexuality (pro and con); examining the contents of my laptop and my cell phone; playing a DVD of my speech Wednesday at Sinclair Community College in Dayton, Ohio; and critically viewing AFTAH's website–a preliminary decision was made to deny my entrance into Canada on the basis that my speech at the SPLA would violate Canada's "Hate Propaganda" law (essentially the potential for "public incitement of hatred" against a group of people based on their "sexual orientation"). The Orwellian experience at Customs dragged on for more than three hours as a formal document was issued outlining my denial of entry under Canada's Immigration and Refugee Protection Act (citing the Hate Propaganda code). Finally, after 1:00 A.M., I was released pending my appeal of the decision today (Friday). My passport was seized until I arrive back at Customs today at noon for my appeal before a "Minister's Delegate Review."– Peter LaBarbera, AFTAH] 
NOTE: We have posted letters supportive of LaBarbera speaking at the pro-life conference in Saskatchewan by American pro-life/pro-family advocates Joe Scheidler of the Pro-Life Action League [click HERE] and Mary Anne Hackett of Catholic Citizens of Illinois [click HERE]. We will try to post some of the other letters of support–including one from a homosexual man in the U.K.–as soon as possible.]
_________________________________
The following is the April 10 reply by Peter LaBarbera, President of Americans For Truth About Homosexuality (AFTAH), to a letter to Catholics by Archbishop Daniel Bohan, Archdiocese of Regina:
I believe that Archbishop Bohan felt the need to issue a letter that specifically mentions me due to the local controversy that has been instigated by a liberal group that, ironically, has spread much false and derogatory information about me. Many Catholic leaders in the United States, including pro-life hero Joe Scheidler of Pro-Life Action League, have come to my defense–and are deeply opposed to Intolerance Free Weyburn's (intolerant) efforts to "ban" me from speaking in Canada. I have great respect for the full array of Catholic instuction on the issue of homosexuality, and quote from Catholic teachings all the time. I wish more Catholics knew and honored these teachings–including that no faithful Catholic can support same-sex "marriage" or laws and policies putting adoption by homosexual-led households on a par with adoption by mother-father households.

As an evangelical Christian, I believe that all people, including homosexuals, must be treated with respect and the grace of Christ. As a sinner myself, I am no "better" than the man or woman engaged in homosexual sin. We all need the forgiveness of Jesus Christ. I adhere to the universal philosophy shared by so many who follow Christ: "Love the sinner. Hate the sin," In fact, if I truly lacked compassion and hated homosexuals as my detractors falsely and maliciously claim, I would not have been invited to speak by the leaders of the Saskatchewan Pro-Life Association. Lastly, it has become clear in recent years that OPPONENTS of the homosexual activist agenda have become frequent victims of "unjust discrimination." In fact, in the lead up to the SPLA convention, one of Archbishop Bohan's own parishioners, Bill Whatcott, was turned away from service by the owner of Southeastern Computer Solutions in Weyburn–because Whatcott adheres to the historic Judeo-Christian moral understanding of homosexual acts as sinful. Such anti-Christian bigotry and discrimination will be one of the topics of my talk Saturday.

Sincerely in Christ

Peter LaBarbera

President,

Americans For Truth About Homosexuality (AFTAH.org)
__________________________________________
The following is the letter sent out by Archbishop Daniel Bohan, Archdiocese of Regina:


Read the rest of this article »
April 9th, 2014
Crude effort to block pro-family speech in Canada not unlike GLAAD/SPLC crusade to censor pro-family voices opposed to homosexuality in media
"I would like for him to be turned away from our border….Peter LaBarbera should not be allowed to enter our country. His sole purpose of entering Canada is to spread his message of hate and intolerance."–Bailey Ashton Brookes, Intolerance Free Weyburn, in a public letter to Canada's Minister of Public Safety, Steven Blaney
By Peter LaBarbera, AFTAH
Folks, below is the verbatim copy of a Facebook letter by "Intolerance Free Weyburn" [Saskatchewan] activist Bailey Ashton Brookes. She is urging others to write Steven Blaney, Canada's Minister of Public Safety and Emergency Preparedness, to bar my entry into Canada, where I am scheduled as a speaker at the Saskatchewan Pro-Life Association (SPLA) conference in Weyburn, October 11-12. [see original AFTAH story HERE; see letters by Joe Scheidler and Mary Anne Hackett defending me as a speaker].
"I would like for him to be turned away from our border," Brookes writes.
Despite the Left's history of censorship and totalitarianism, I am a bit taken aback to be the target of such an outrageous attempt to intimidate SPLA's leaders into jettisoning me as a speaker–and then lobbying the State to ban me as a supposed purveyor of "hate."
It's one thing to write and poke fun at the "pro-Gay Thought Police," and quite another to be in its crosshairs.
Here we have an object lesson on the inevitable end-result of political correctness–in the form of leftist "thought control" fused with State power. For years now, the far-left-biased Southern Poverty Law Center (SPLC) has maliciously smeared my group, AFTAH, as well as dozens of other pro-family organizations like American Family Association and Family Research Council as "hate groups." Then fellow travelers on the Left, led by LGBT activists, circulate the SPLC's lie as if it is some kind of authoritative evidence that AFTAH and this writer are truly "hateful."
In Canada, bereft of a First Amendment, mischievous "progressives" can cause more trouble faster than in the U.S., by citing legal bans on "hate speech" that have been upheld by the country's highest court. Canadian Bill Whatcott, a brave pro-life and pro-family activist who will be speaking at the conference  next week, has been victimized by such "hate speech" prosecutions. So have many good Canadians like Stephen Boissoin, who have been dragged through preposterous "human rights tribunals" merely because they voiced opposition to the Sin of Sodom.
SPLC smears go worldwide
The SPLC's corruption and radical pro-homosexual bias is illustrated by the fact that it has never designated an LGBT organization as a "hate group." In fact, the Chicago-based Gay Liberation Network (GLN), which took great pride in "reporting" AFTAH to the SPLC as a potential "hate group," later publicly refused to condemn a brick attack against the school, Christian Liberty Academy, that hosted our 2011 banquet! [See AFTAH original story on the pro-homosexual brick attack.]
That's real hate as opposed to ideologically-defined "hate." Yet the SPLC has yet to designate GLN as a "hate group." The good news is that many Americans and pundits finally are seeing through the SPLC's "hate" scam.
Most activists on the Left are not as brazen as Ms. Brookes and her husband in pressing the censor card, but these two "morality-phobic" individuals are merely applying a more extreme and crass version of the pro-LGBT Left's hardball tactics. Homosexual activist groups like GLAAD (formerly the Gay & Lesbian Alliance Against Defamation)–working with others like the SPLC–continually and falsely equate opposition to homosexuality with "hate." They also throw around the ominous-sounding charge of "homophobia"–implying that their opponents are filled with irrational fear as opposed to disagreeing with immoral and unhealthy sexual behavior.
Then this Coalition on the Left pressures the media not to give a voice to the haters, homophobes and bigots. In recent years, they have expanded their crusade to include the enemy of "religious-based bigotry." In their pride, they possess little regard for the sincerity and motives of Christians and others who genuinely seek to defend God's moral order ("righteousness" in the Bible)–while holding out the hope of healthy change as personified by the many men and women who have left homosexuality ("gayness") behind.
Since these illogical arguments and self-serving tactics can easily be defeated by pro-family advocates, pro-LGBT militants would rather just shut groups like AFTAH down in the Public Square. Endlessly playing their "anti-hate" card, they plead with the media to stop including the "other side" in their stories–stoking the ridiculous notion that no legitimate opposition to homosexualism ("gay rights") exists. I'm afraid this is how countless cowed and ill-informed Western journalists think about homosexuality today. The arrogance and injustice of deciding for everyone what supposedly constitutes "hate," "intolerance" and appropriate arguments in this Culture War debate apparently is lost on these liberal Speech Police and their media accomplices.
April 7th, 2014
This video was just released by Alliance Defending Freedom., on the Supreme Court's refusal to hear the case of the New Mexican Christian photographers Jon and Elaine Huguenin, who were were sued because they declined to take a job shooting photos at a lesbian "commitment ceremony." ADF has a Fact Page on the case HERE, and also a press page on the case HERE. The decision lets stand a New Mexico Supreme Court ruling that effectively neutered Jon and Elaine Huguenin. Go HERE to read AFTAH President Peter LaBarbera's in-depth report, "Gay Power vs. Religious Liberty," for WND.com on other victims of the escalating pro-homosexual tyranny: