February 27th, 2015
LGBTQ Task Force gave "Leather Leadership" award to owner of Dallas homosexual bar that hosts monthly gathering for men who play-act as "dogs" in bizarre BDSM "puppy" fetish
TAKE ACTION:

Contact Southwest Airlines: Dallas HQ (CEO Gary Kelly): 214-792-4000 (hit '0' and make your opinion known to the operator before you get routed to Customer Relations). 

Email SWA:

SWACustomerRelations@wnco.com

SWA is proud to sponsor THIS?! View the extreme "Creating Change" program: [click here]

__________________________
"We will not support Southwest or any sponsor of this conference until they apologize to all Christians and change their stance on this situation.  Southwest and other corporate businesses chose to support a segment of the U.S. population that comprises less than 2% while managing to offend no less than 20% of the population." – Kim Eith, AFTAH Reader
Folks, we have heard back from a few of you who have contacted Southwest (and other major corporations) that sponsored a radical LGBTQ conference in Denver February 4-8. The "Creating Change" conference for homosexual, transgender and other sexual activists screened the documentary, "Corpus Christi: Playing with Redemption," celebrating a play in which the Jesus Christ character is cast as a homosexual who once committed sodomy with Judas and who performs a homosexual "marriage" between two of his male "disciples" [see AFTAH story HERE].
Apparently, Southwest representatives are telling people that AFTAH gave out false information and that SWA did not (directly) sponsor the "Gay Jesus" documentary, only the larger "Creating Change" conference. This is a classic dodge, although it is also a tacit admission by SWA that the "Corpus Christi" documentary is highly offensive to people of faith.
Of course, as AFTAH wrote earlier, the blasphemous film was just one item in a conference filled with the celebration of extreme behaviors—ranging from "polyamory" (multiple-partner sexual unions); to "kink" (sadomasochism); to extreme gender confusion; to the "queering" of Christianity (including a talk on the "biblical case for same-sex marriage"). You can read for yourself the full "Creating Change 2015" program HERE.
AFTAH reader Kim Eith (read her excellent correspondence with SWA below) has it exactly right: "sponsorship of that conference equates to sponsorship of all activities occurring at that conference." Southwest needs to own their role in the "Creating Change" event in all its perverseness–including "Creating Change's" honoring of a sadomasochist (Mark Frazier), who owns a "gay leather bar" in Dallas that caters to a perversion known as "puppy play" (see graphic above). Below is one of those weird, nonjudgmental descriptions in left-biased Wikipedia of "Puppy Play"–a perversion which, by the way, I witnessed firsthand last year at the San Francisco "Dore Alley" street fair:
In puppy play, or dog play, at least one of the participants acts out canine mannerisms and behaviors, which is sometimes associated with leather culture. If there is a dominant role it can be taken by a "handler", "trainer", "master", or in the case of someone who still identifies as canine, an "alpha". If there is a submissive this may be considered by a "pup" or a "dog". …Other elements rooted in BDSM play involve bondage and restriction with collars, leashes, cages, and hoods, the pups hands are often covered in mitts, both sexual and non-sexual services are requested, and "training" may take place in order to teach commands. [Wikipedia entry on "Animal Roleplay"]
Sick stuff, to be sure–and glorified by the same National LGBTQ Task Force that proudly screened the "homosexual Jesus" documentary. Sadly, Southwest Airlines, based in Dallas, has not even come close to apologizing for its role in this uber-perverse, Christianity-bashing conference. Do the execs at SWA think we're stupid, that we can't read? Do they even know what sort of radical "Change" is advocated at the Task Force conferences? We must keep up the pressure on Southwest, Comcast/NBC, Wells Fargo and the other sponsors [contact info HERE].
We are indebted to Kim Eith for her smart advocacy below. Please read this correspondence and contact Southwest Airlines yourself using the contact info above. Thank you. – Peter LaBarbera, AFTAH; americansfortruth@gmail.com.
_______________________________________
Kim Eith's Letter of AFTAH Describing her Complaint to Southwest Airlines [SWA online contact form HERE]:
To whom it may concern,
My husband and I sent separate emails to Southwest today. We also cancelled an upcoming flight with this airline today. I called Southwest on this date and received this response from the lady I spoke to:  " There has been a misunderstanding. A Southwest corporate officer informed us today that there has been false accusations about Southwest and the LGBTQ conference. Southwest did not sponsor the documentary or film shown at the conference."  My reply; "Southwest is a corporate sponsor, which is clearly indicated on the Create Change LGBTQ conference materials and therefore, any sponsorship of that conference equates to sponsorship of all activities occurring at that conference."
As we stated in our email, we will not support Southwest or any sponsor of this conference until they apologize to all Christians and change their stance on this situation.  Southwest and other corporate businesses chose to support a segment of the U.S. population that comprises less than 2% while managing to offend no less than 20% of the population. People's sexual preferences are personal and while my love of my fellow citizens, family and friends is not based upon personal views and practices, I will not stand by and watch others attempt to obliterate my Christian values, and especially my Lord and Savior, Jesus Christ. This was absolutely vile and despicable.
Kim Eith
________________________________________
February 26th, 2015
WARNING: OFFENSIVE CONTENT IN VIDEO
"Grindr is for, basically, gay guys not pretending it's for anything other than meeting up to have sex." — Billy Eichner
_______________________
By Peter LaBarbera
One of the unwritten codes among popular culture elites is that they can make fun of homosexuality, sort of, as long as they are outwardly pro-"gay rights"–which is now practically a universal value in Hollywood and the media. The rest of us can't even joke about homosexuality–although many aspects of the same-sex world, e.g., Grindr, deserve ridicule–as most people endeavor to toe the line set forth by the Gay Thought Police (GTP) with its modern, deviance-celebrating "morality."
Nevertheless, in poking fun at homosexuality (sort of) comedians–walking on politically correct eggshells–still manage to get out truth about the perverse "gay" world and even acknowledge verboten dissent–think Seinfeld and the "not that there's anything wrong with that" episode. Smart media consumers can read between the laugh lines to discover subversive realities, just like in the old Soviet Union, where citizens read through Pravda's propaganda to find out what was really going on in the socialist "People's Republic."
And so, in our own People's Republic–in which bold Truth-tellers are fast becoming like dissidents in the USSR–we get a lesson in "Homo-Promiscuity" from this bawdy video produced by light-night host Conan O'Brien. Conan's openly homosexual sidekick, Billy Eichner, clues us in (wink, wink) to the libidinous ways of Grindr–a tool and "lifestyle" that simply has no parallel in straight society (much as "gay" radicals like Dan "Monogamish" Savage would love for straights to sink to their sleazy standards).
I believe this is AFTAH's first post on Grindr; think of it as a digital bathhouse that facilitates men hooking up for sodomitic encounters–literally telling them how many feet they are from potential sodomy partners. This is AFTAH, so you are free to say what your really think about that–it's weird, gross and twisted, I know. But it's happening–and it has real life repercussions that are no laughing matter –e.g., Grindr hook-up murders like the one last year that led to the tragic death of a young Philly man, Dino Dizdarević.
Be forewarned: this video is edgy and subversive in a PC way, in the sense that when we're all laughing at perversion it becomes less threatening–this indeed is how homosexuality began being mainstreamed in America through entertainment, beginning with the 70s TV sitcom Soap, the first with an "openly gay" character (played by Billy Crystal). Note Eichner's revealing comment about condoms at 7:29 and the look on Conan's face shortly after 7:40 when he is told what sodomy is. Of course, we'll have more on Grindr and homo-promiscuity in future articles:
February 24th, 2015
Folks, if we've learned anything from Barack Obama, it's that there are no limits to his pandering to the homosexual and transgender activist movement. This latest development described by my Brazilian friend Julio Severo is an insult to the majority of nations around the world that choose not to celebrate the Sin of Sodom like so many liberal Americans–note I did not say all Americans–do.
Where is the Special U.S. Envoy for Adultery? Fornication? Pornography? Abortion?  I'd better be careful: I don't want to give the Obama bureaucracy any ideas. This is neo-imperialism at its worst–rather than being a force for good in the world, America is now using its money and power to advocate for sexual immorality and gender rebellion across the globe–as we re-define "human rights" to accommodate destructive yet changeable behaviors.
If the Democrats are defeated in 2016, I would hope that the next administration will reverse actions like this, but that is far from certain to happen given the Republicans' craven timidity on this issue. The Shining City on a Hill which Reagan invoked has turned into a Smog-covered Slum spreading moral pollution under Obama. And his shame becomes our shame until we, the citizens of this once-great nation, right the wrongs that are being carried out abroad in our name. — Peter LaBarbera, AFTAH.org; Twitter: @PeterLaBarbera
_____________________________
US Names First Global Envoy for Homosexual Agenda
By Julio Severo
The United States is naming its first international envoy for homosexual rights. This is a historic event, because no nation, even the United Nations, has ever appointed a homosexual ambassador for global homosexual rights.
Every single major news outlet in the U.S. is covering this historic event.
In a press release, the U.S. State Department said Randy Berry, an openly homosexual diplomat, will be its special envoy to promote homosexual rights. State Department Secretary John Kerry said, "We're working to overturn laws that criminalize consensual same-sex conduct in countries around the world."
The U.S. government's concern is not only the more than 75 countries that criminalize homosexual activity, but also to target nations trying to resist the onslaught of homosexual groups from United States and Europe, especially because of several pro-family laws that have taken effect around the world in recent years. The
Washington Post
gave
 some examples, "Russian President Vladimir Putin signed legislation in 2013 banning 'homosexual propaganda,' and Nigeria banned same-sex marriage and restricted homosexual behavior, including public displays of affection between gays."
Kerry says Randy Berry will help the Obama administration in its global efforts to press foreign countries to eliminate laws that criminalize homosexual activity.
According to "The Advocate," the idea of appointing a special envoy for LGBT issues was championed by several groups, including the American Jewish World Service (AJWS) and the Human Rights Campaign (HRC), the largest homosexualist group in the U.S., whose co-founder, Terrance Patrick Bean, was arrested for a pederastic homosexual assault on a child last year.
In a press release, left-wing AJWS applauded the historic State Department appointment of Randy Berry as America's first special global envoy for LGBT issues around the world.
According to its own website, AJWS is the fourth largest funder of the gay agenda worldwide. Since 2005, AJWS has invested nearly $9.5 million in global LGBT rights. Last year, AJWS provided $2.97 million to 47 organizations promoting the gay agenda in 14 countries.
If you wonder how a leftist group promoting the gay agenda is Jewish, remember that the leftist U.S. president promoting the same agenda is allegedly Protestant.
According to the homosexual newspaper Washington Blade, HRC president Chad Griffin applauded the State Department.
"At a moment when many LGBT people around the world are facing persecution and daily violence, this unprecedented appointment shows a historic commitment to the principle that LGBT rights are human rights," he said. "President Obama and Secretary Kerry have shown tremendous leadership in championing the rights of LGBT people abroad. Now, working closely with this new envoy, we've got to work harder than ever to create new allies, push back on human rights violators, and support the brave leaders and organizations that fight for LGBT rights around the world."
The appointment of an openly homosexual diplomat as a LGBT envoy sends a message that the United States will remain on the forefront and leadership of promoting the gay agenda around the world. It shows also its determination of pushing back Russia, Nigeria and other nations.
Now the United States will make the world freer to adherents of homosexual acts and ideology and less free for Christians and others who do not accept homosexual depravity, including Russia and Nigeria that are trying to protect their children from homosexual propaganda.
Every single homosexual activist around the world is benefited by the U.S. move.
Every single practicing Christian is threatened by it.
I wonder what will happen to Christians like me. My book "O Movimento Homossexual" (The Homosexual Movement), published originally by the Brazilian branch of Bethany House Publishers in 1998, made Brazilian gay groups furious because I exposed that they were bringing to Brazil the gay ideology from America. In fact, many of their militants had been trained and funded in America. My exposé brought threats against me. But now, with the U.S. government strongly siding with international homosexual activists, they will receive more training and funding to advance and threaten, and Christians like me run the risk of being labeled "human rights violator" and "criminals."
February 19th, 2015
Folks, if this video doesn't touch your soul, then you have no soul. All of these men were cut down in the prime of their life. They got on the wrong road–making homosexual pornography–and I'm afraid that barring repentence for some, it took them to perdition. The Bible says:
"There is a way that seems right to a man, and its end is the way to death." (Proverbs 14:12; ESV)
I had forgotten the passing of one of the men in this video–"sex positive" homosexual writer Scott O'Hara. I remember back when I was a newbie at monitoring the "gay" agenda–having launched "Lambda Report" in 1993–being shocked by O'Hara's magazine, "STEAM." Its libidinous purpose was to "help" homosexual men cruise for sex in parks and public restrooms. Read his Wikipedia bio here: it is one of the saddest I've ever read: O'Hara's short life–he died at 36 in 1998–was devoted to pursuing and promoting deviant sex.
I take no delight in passing this along to you. It is not another mere "talking point" against homosexuality. It is much more than that. God surely wanted more for these men than than to be a cog in the wheel of an evil industry that glorifies sexual sin–one that used them up and then moved on to the next batch of young men to exploit for the almighty dollar–pornography is a very big business in the the male homosexual world; indeed in the entire fallen world.
And now the flip side: this video was created by Joseph Sciambra, who was once a "gay" porn actor himself before fleeing his homosexual "deathstyle" through the grace of God. See Joseph's website HERE; I look forward to meeting him and helping get out his heartwarming story.
This modern age, including much of "Christendom," seems to celebrate ambiguity, but do not doubt that we are in a battle of Good versus Evil. Sexual sin of all stripes is running rampant in our nation. The Left champions "sex workers," as if it is just another occupation or special interest group. But the Christian knows that souls are in the balance here. The Lord rescued Joseph Sciambra; we pray that He rescues many more people caught up in pornography and the lies of homosexuality and gender confusion. Because we do not want anyone to die without knowing Christ. Can you see Satan's work in the curtailed lives memorialized in this video? – Peter LaBarbera, AFTAH; Twitter: @PeterLaBarbera; AFTAH FaceBook Page HERE
Joseph Sciabra writes:
Published on Aug 22, 2013
A tribute to the men who lost their lives in the porn industry. There are many more names besides those I listed here; but these actors all had a cause of death that could be traced directly back to their time in pornography. Do not let their deaths be in vain: Don't watch porn! For more information go to: www.josephsciambra.com
February 18th, 2015
Obama was "chomping at the bit" to support homosexuality-based "marriage," says key adviser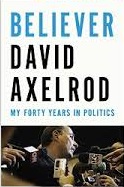 By Peter LaBarbera
Obama adviser and powerful Chicago Democratic political strategist David Axelrod confirms in his new book "Believer" what many Americans have long suspected: Barack Obama "bulsh*tted" America on "gay marriage" to help win his bid for the White House in 2008. [See the 2013 AFTAH piece, "Was Obama Lying When He Piously Professed His Belief in Natural Marriage?"]
Axelrod reveals in Believer: My 40 Years in Politics that:
"I had no doubt that this [a 1996 campaign pledge by Obama to support same-sex "marriage" legislation while running for Illinois state senator] was his heartfelt belief."
Candidate and then-Sen. Obama "grudgingly accepted the cousel of more pragmatic folks like me, and modified his position to support civil unions rather than [homosexual 'marriage']."
Obama "never felt comfortable with the compromise, and told Axelrod after  one "awkward" public exchange defending his calculated compromise position: "I'm just not very good at [bullsh*tting]."
In 2010, "the president was chomping at the bit to support the right of gays and lesbians to wed–and having watched him struggle with this issue for years, I was ready, too."
I heartily agree with Boyce College Professor of Biblical Studies Denny Burk's take on this:
"If Axelrod's report is accurate, this is the worst kind of hypocrisy and cynicism. It would mean this: Not only did President Obama lie in order to get elected, but he also used his Christian faith as a pretense. He pretended to believe Christian teaching in order to make the lie credible."
Obama himself is pushing back against Axelrod's claim–see this Politico story: "Obama: I didn't lie about same-sex marriage." "I think David is mixing up my personal feelings with my position on the issue," Obama told Buzzfeed.
But like so much of what the president has said over the years, his denial is not very plausible–just watch again the video below of Obama's infamous "God is in the mix" pledge to 2008 debate moderator Pastor Rick Warren in support of natural marriage. (One could argue that as much as Obama may have "hated BS'ing" the country on sodomy-based "marriage," he was pretty darned good at it–maybe a career in Hollywood awaits him after he leaves the Oval Office.)
Below are photos of the pages 446-7 from Axelrod's book containing the key revelation that candidate Obama knew all along that he was "bullsh*tting" the public on this critical moral issue, followed by the 2008 Saddleback presidential debate footage (note Obama's feigned piety). Oh, and one more thing: NEVER should Rick Warren moderate another presidential debate–he blew a big opportunity to call out Obama on his charade, which should have been evident to everyone since then-candidate Obama gave rhetorical sustenance to the very aggressive LGBT push for same-sex "marriage"–e.g., condemning state amendments to preserve the traditional definition of marriage–even as he formally opposed legalizing it: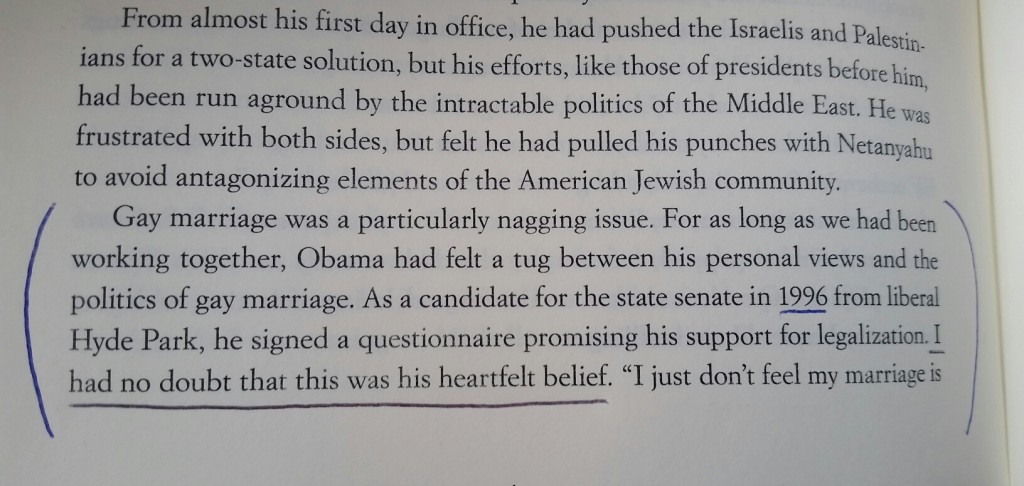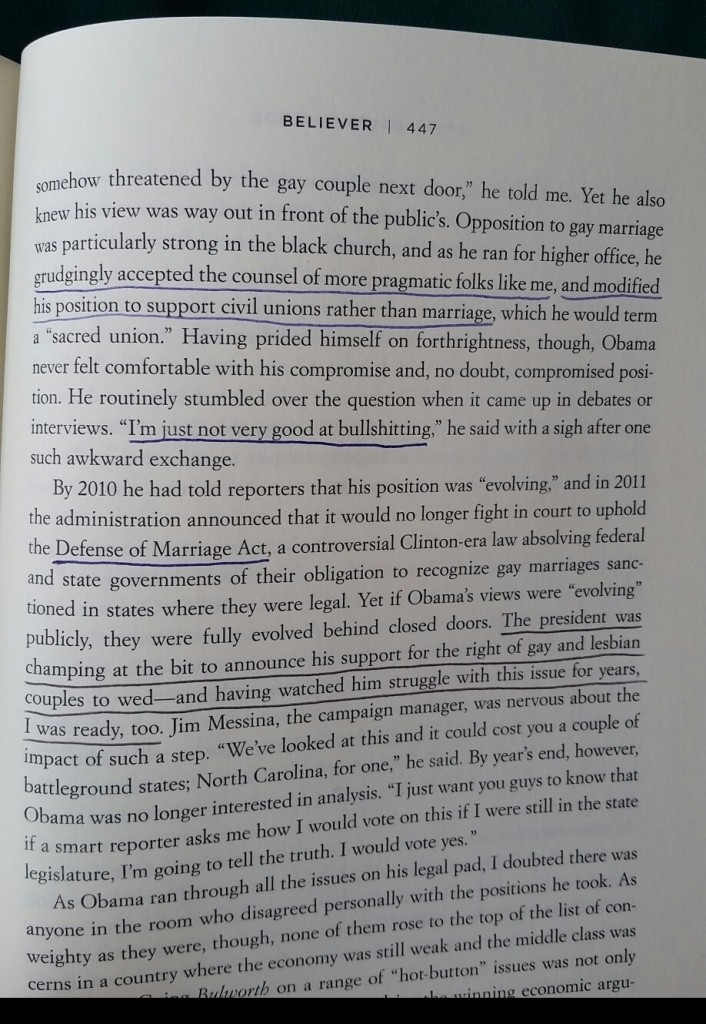 Here is then-candidate Obama's profession of support for natural marriage (one-man, one-woman) at the Rick Warren's Saddleback Church debate in 2008:
February 17th, 2015
It's bad enough that homosexual activists are "Playing with Redemption"; must major corporations join them by funding this evil enterprise?
TAKE ACTION: Please ask for a reply in writing from Southwest Airlines and other major corporate sponsors of the radical "Creating Change" conference that celebrated a blasphemous documentary portraying "Jesus Christ" as a homosexual who conducts a "gay marriage" between two of his disciples, and has a sexual history with Judas. If you get a reply, please pass it on to AFTAH at: americansfortruth@gmail.com.
Note: so far every time I have called a corporation to complain about its sponsorship of "Creating Change," the person on the other end of the line was shocked that such funding went to such an extreme event. Act Now: Please take a few minutes out of your day to hold these corporations accountable! See previous AFTAH story on Creating Change 2015 HERE, and other related stories from past CC conferences at bottom. –Peter LaBarbera, AFTAH
P.S. Good News!:  Chili's dropped off as a "National Corporate Partner" of the "Gay Task Force" after AFTAH exposed their association with this evil organization — your letters and phone calls worked! Don't lose heart!]
Scan the 148-page Creating Change 2015 Program PDF celebrating sexual perversions of all stripes and extreme gender confusion: [click here]. See AFTAH's other articles on this uber-radical National LGBTQ Task Force event over the years at bottom.
CONTACT Southwest Airlines:  Dallas HQ (CEO Gary Kelly): 214-792-4000 (hit '0' and make your opinion known to the operator before you get routed to Customer Relations). 
Online Southwest Contact Page: [Here]. 

Southwest Airlines (SWA) is a "National Corporate Partner" of the (far left) National LGBTQ Task Force.

 
SWA proudly served as the "Official Airline" of Creating Change; 
Twitter: @SouthwestAir
Some other major corporate sponsors of LGBTQ Task Force and Creating Change:
Office Depot: ("National Corporate Partner" of the National LGBTQ Task Force)
Call Boca Raton-based Office Depot HQ

(CEO Roland Smith): 561-438-4800; contact form [Here]
Rich Leland, Office Depot Investor Relations: 561-438-2895 [Note: Office Depot, which purchased Office Max, is in the process of being bought out by Staples]
______________________
Comcast/NBC: 1 (800) 934-6489; online contact form to senior VP Tom Kerinshak: [here]; Twitter: @Comcast
______________________
Wells Fargo ("National Corporate Partner" of the National LGBTQ Task Force):
Wells Fargo: 1 (800) 869-3557: [

Note:

San Francisco-based Wells Fargo is one of the most committed major corporations to the overall "gay" agenda]
Online Wells Fargo online email form: [Here]
Kathryn Ellis, Wells Fargo Media: 415-222-3767; Kathryn.d.ellis@wellsfargo.com 
Twitter: @WellsFargo
International Callers: [Here]
______________________
Hilton Worldwide: HQ: McLean, VA: (703)883-1000; Memphis Operation Center: (901)374-5000 [online contact page HERE]
______________________
Letter to Southwest Airlines from AFTAH President Peter LaBarbera:
Dear Southwest Airlines,
I'm writing to express my deep opposition to Southwest Airlines' funding of and involvement with the homosexual "Creating Change" conference in Denver Feb 4-8–and your role of as a "National Partner" of the event's sponsoring organization, the National LGBTQ Task Force.
As you can readily see from the Creating Change program [PDF HERE], this debauched event includes a screening of a documentary celebrating a play ("Corpus Christi") that portrays Jesus Christ as a homosexual–who "marries" two of his male disciples. I have read the play and to call it blasphemous would be an understatement. Making "Jesus"–the Son of God and Savior of the world–a sexual sinner who performs a homosexuality-based "marriage" is an incredible affront to Christian believers everywhere–and decent people of other religions (or no religion) who reject hateful and twisted attacks on Christianity and the Bible.
As a longtime Southwest customer, I am stunned that SWA continues to fund the LGBTQ Task Force despite its record of celebrating–not just anti-Christian bigotry like this film screening–but fringe perversions such as sadomasochism ("kink") and "multiple-partner unions." There are also many offensive panels like "Queering Education" that would shock many of your customers. Did you know that the Creating Change conference gives an award every year to its favorite sadomasochist (the "Leather Leadership Award")? Why is SWA associating itself with such extreme activities and even financing them with major corporate grants?
Did you vet this event? Do you think most SWA customers would support the Task Force's radical agenda (which includes sessions dedicated to undermining the historic biblical understanding that homosexual acts are sinful)? Did you know that this year's CC event includes a film celebrating a grotesquely distorted portrayal of Jesus Christ Himself as a homosexual who has "gay" sex, gets drunk and conducts "gay marriages"?
I believe Southwest owes an apology to faithful Christians everywhere for helping to make this event happen. At the very minimum you should adopt a NEUTRAL approach toward giving on the issues of homosexuality, transgenderism and "gay marriage"–rather than fund only PRO-"gay" and PRO-"transgender" organizations and events. Thank you for considering this letter.
Peter LaBarbera,
Chicago, IL
February 9, 2015
 _____________________________
Passage in "Corpus Christi" play in which the "Jesus" character (Joshua) conducts a homosexual "marriage" between two of his disciples:
February 13th, 2015
AFTAH republishes this column by our friend Bryan Fischer from the outstanding website Renew America; to learn more about R.A., click HERE.  Americans are indebted to Judge Roy Moore for attempting to stop arrogant judicial supremacists from imposing homosexual so-called "marriage" on the citizens of Alabama and those in so many other states who have been disenfranchised on this critical issue. – Peter LaBarbera, AFTAH
____________________
February 9, 2015
Follow me on Twitter: @BryanJFischer, on Facebook at "Focal Point"
A federal judge's ruling is not a "law." It is a "ruling." So, for example, when people refer to Roe v. Wade as "the law of the land," they are simply mistaken.
A "law" is something enacted by the elected representatives of the people (or by the people directly through referendum) and signed by the chief executive. A judge's "ruling" is not therefore a "law." Judges have no authority whatsoever to make law. They can issue rulings, but the power to make law is flatly prohibited to them.
This is clear from the first words in the the first article of the Constitution. "All legislative powers herein granted shall be vested in a Congress of the United States, which shall consist of a Senate and House of Representatives."
That is "all," as in "every last little single bit," of the power to make law has been vested in Congress. That means no legislative power whatsoever has been granted to the judiciary. That is "no" legislative power as in zip, zilch, nada.
The New York Times makes a typical and constitutionally illiterate gaffe in today's edition, on a piece on Alabama Chief Justice Roy Moore's directive to probate judges in Alabama to refuse to issue wedding licenses based on what Alabama state law still refers to as "deviate sexual intercouse."
In Alabama, United States District Court Judge Callie V. S. Granade issued a ruling – not a "law" you will note – overturning the state's marriage amendment, which was passed with 81% of the vote in 2006. Thus this tyrannical judge in one fell swoop pulverized the voting rights of 697,591 Alabamians.
This judge, acting like a black-robed despot, has ordered Alabama to begin issuing same-sex licenses as of today (February 9). Judge Moore is rightly and constitutionally saying not so fast.
February 13th, 2015
The following is an excerpt from an article on the excellent website The Public Discourse:
New Research on Same-Sex Households Reveals Kids Do Best With Mom and Dad
Published research employing the New Family Structures Study (NFSS), the ECLS (Early Childhood Longitudinal Study), the US Census (ACS), the Canadian Census, and now the NHIS all reveal a comparable basic narrative, namely, that children who grow up with a married mother and father fare best.
A new study published in the February 2015 issue of the British Journal of Education, Society, and Behavioural Science appears to be the largest yet on the matter of same-sex households and children's emotional outcomes. It analyzed 512 children of same-sex parents, drawn from a pool of over 207,000 respondents who participated in the (US) National Health Interview Survey(NHIS) at some point between 1997 and 2013.
Results reveal that, on eight out of twelve psychometric measures, the risk of clinical emotional problems, developmental problems, or use of mental health treatment services is nearly double among those with same-sex parents when contrasted with children of opposite-sex parents. The estimate of serious child emotional problems in children with same-sex parents is 17 percent, compared with 7 percent among opposite-sex parents, after adjusting for age, race, gender, and parent's education and income. Rates of ADHD were higher as well—15.5 compared to 7.1 percent. The same is true for learning disabilities: 14.1 vs. 8 percent.
The study's author, sociologist Paul Sullins, assessed a variety of different hypotheses about the differences, including comparative residential stability, experience of stigma or bullying, parental emotional problems (6.1 percent among same-sex parents vs. 3.4 percent among opposite-sex ones), and biological attachment. Each of these factors predictably aggravated children's emotional health, but only the last of these—biological parentage—accounted for nearly all of the variation in emotional problems. While adopted children are at higher risk of emotional problems overall, being adopted did not account for the differences between children in same-sex and opposite-sex households. It's also worth noting that while being bullied clearly aggravates emotional health, there was no difference in self-reported experience of having been bullied between the children of same-sex and opposite-sex parents….
Continued on Public Discourse [HERE]