June 25th, 2019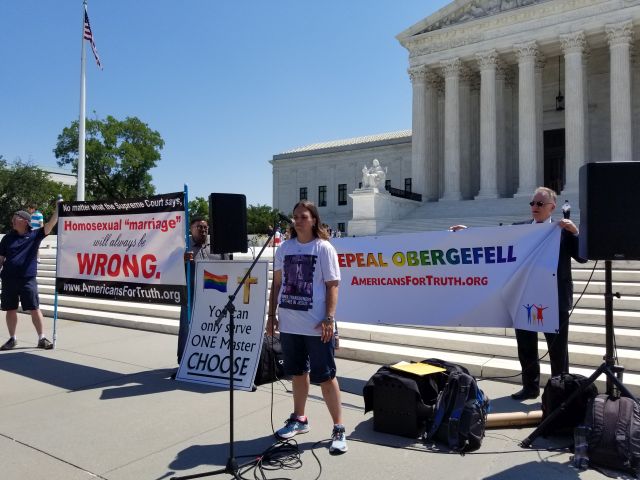 _________________________________
Folks, on the eve of the celebration of our Declaration of Independence, I can still say that our United States of America is the greatest country on earth. Where but in the USA could citizens have the freedom to go right up to the steps of the highest Court in the Land and speak Truth–the most politically incorrect, biblical truth utterable these days–with the full protection of liberty guaranteed by our Founders' ingenious First Amendment?!
That's exactly what we did June 26–blacks and whites, men and women, young and old. We gathered in D.C. to mark the fourth anniversary of the immoral and unconstitutional Obergefell v. Hodges ruling by which the Supreme Court effectively imposed homosexual "marriage" on the nation. That infamous and arrogant decision claimed that "sexual orientation" was "immutable," and yet in our small group there were four people who testified to having come OUT of homosexuality and/or gender rebellion (transgenderism) through the power of Jesus Christ.
Most Americans don't know it but state-sanctioned "gay marriage" in America was built on a lie–perhaps the biggest Big Lie emanating from the cunningly deceitful LGBTQ movement: that "being gay" (or trans, or bisexual, or "pansexual" or [INSERT YOUR DEVIANCE HERE] is "who you are," innate and unchangeable, like race. It must be true because retired Justice and Obergefell author Anthony Kennedy said so, right? But Kennedy was dead wrong and espousing a politically convenient fiction, as transformed lives like Stephen Black, Laura Perry, Grace Harley and Doug Mainwairing testified at our event.
Please take the time to watch our rally below. God willing, we will be back in front of the Court next year. Below is the Livestream video of the entire rally; it starts just after the 5:00 mark; some timed highlights of the speakers are found below the video and after the jump.–Peter LaBarbera, Americans For Truth; Twitter: @PeterLaBarbera
June 13th, 2019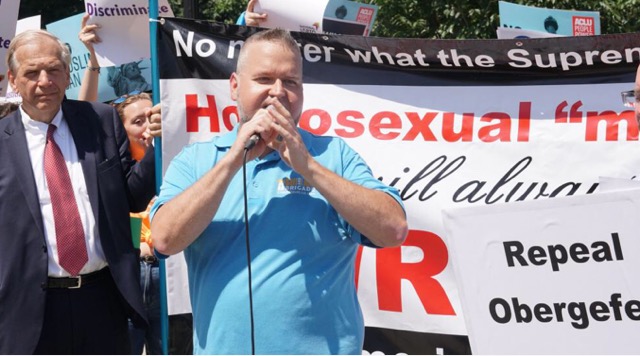 _________________________
They Have the Media.
They Have the Power.
They Have the Money.
But We Have the Truth.
What: Media Event and Rally Against Obergefell and Fake Gay 'Marriage' & to Stop Freedom-Crushing LGBTQ "Equality Act"
When: Wednesday, June 26, 2019, 10:30 AM – the 4th anniversary of the Supreme Court's unconstitutional, immoral and tyrannical Obergefell v Hodges ruling imposing same-sex "marriage" on America.
Where: Directly in front of the U.S. Supreme Court, 1 First Street NE, Washington, D.C.
For More Info: Contact Americans For Truth at [email protected] or 312-324-3787. Or contact Brad Wallace at [email protected]
Four years ago, on June 26, 2015, the Supreme Court arrogantly imposed homosexual "marriage" on the nation – overriding amendments and laws in more than 30 states protecting marriage as between a man and a woman. Join concerned citizens testifying to the tragedy of this evil ruling by 5 unelected Justices. Some of our speakers once considered themselves "gay" or "transgender"—and will discuss how Obergefell was based on a lie: that homosexuality, like race, is unchangeable. Come hear their powerful testimonies! 2019 is also the 50-year anniversary of the anti-cop "Stonewall Riots" in Greenwich Village, New York that launched the destructive, in-your-face "gay" revolution in the USA.
We will also be speaking out against the so-called LGBTQ "Equality Act" (HR 5)—which would enshrine immoral homosexual lifestyles and gender confusion (transgenderism) in America's landmark Civil Rights Act. The "Equality Act," if ever signed into law, would be used by leftist activists as a legal bludgeon to sue and bully Americans and people of faith for not supporting the LGBTQ agenda, including "gay marriage." It would also codify "transgenderism" into federal civil rights law—thus enforcing the "trans-insanity" of biological men using female locker rooms and restrooms, and biological males being allowed to compete (and win) in female sports events, merely because they identity as trans "women."
Speakers (as of 6/22):
Stephen Black, former homosexual, First Stone Ministries
Laura Perry, former "Female to Male" transgender; see Laura's powerful testimony HERE.
Pastor Stephen Broden, Gone2Far.org; Fair Park Bible Fellowship, Christian activist
Peter LaBarbera, Americans For Truth About Homosexuality (AFTAH.org); founder, Center For Morality
David Arthur, former homosexual prostitute, founder, I Belong Amen Ministries
Bruce Johnson, Metropolitan Marriage Association
William Olson, constitutional law expert, Conservative Legal Defense and Education Fund;
Don Blake, Virginia Christian Alliance
Doug Mainwairing, ex-"gay" advocate; writer, LifeSiteNews
Jonathan Alexander, senior counsel for governmental affairs, Liberty Counsel
Greg Quinlan, former "gay" activist; Garden State Families
Diane Gramley, American Family Association of Pennsylvania
Grace Harley, former female-to-male "transgender"
Dr. Scott Lively, author, Christian pastor and activist;
Guyla Mills, Christian advocate; led fight for Nebraska DOMA (Defense of Marriage Amendment);
Eric Holmberg, Christian filmmaker, The Apologetics Group
Mike Heath, Helping Hands Ministries
Shannon Martinez, former prostitute saved by Jesus Christ; human trafficking survivor, founder, Shame Eaters, ShannonSpeaks.org
Rich Penkowski, Warriors For Christ
Pastor Dale Walker, Tennessee Pastors Network
Sponsored by Americans For Truth, Center For Morality, Conservative Legal Defense and Education Fund, First Stone Ministries, AFA of Pennsylvania and the Repeal Obergefell Coalition.
June 12th, 2019
Folks, I don't think the average American thinks that much about "gay [homosexual] pride," much less has any pertinent knowledge about its historical development in the USA. The history is telling, though, as it is a window into the soul of our nation and our collective moral decline, indeed, the decline of a great civilization.
A Sin Movement prospers only when righteousness (the Church) falters. On Monday I was interviewed by my friend Jim Schneider at Christian VCY America radio, for his show "Crosstalk" [click HERE to listen; order a CD of it HERE]. We raced through decades of post-Stonewall homosexual/transgender activism–how it advanced using cunning lies (e.g., the "10 Percent" and "Born that Way" myths), and how it was abetted every step of the way by the sycophantic "mainstream" media. In recent years that same media have become a mere arm of the LGBTQueer Lobby, pursuing quite effectively their shared goal of "mainstreaming" sex and gender deviance in the culture.
Always remember that despite the flood of LGBTQ perversion on display, especially during this "Pride Month" (June), biblical Truth is not subjective nor is it swayed by cultural trends and politics: "Jesus Christ is the same yesterday and today and forever" (Hebrews 13:8). And sin is always something to be repented of, not proud of: "For the wages of sin is death, but the free gift of God is eternal life in Christ Jesus our Lord" (Romans 6:23). I thank God that Jesus Christ continues to save men and women OUT of homosexuality and transgenderism amidst all the rebellion, confusion and suffocating political correctness. — Peter LaBarbera, Americans For Truth; Twitter: @PeterLaBarbera
Below is VCY America's description of the Crosstalk show:
___________________________________
Crosstalk 6-10-19: Stonewall 50 Years Later
Date: June 10, 2019
Host: Jim Schneider
​Guest: Peter LaBarbara
Listen on MP3 ​​​| Order a CD
It was 50 years ago, June 28, 1969, when police raided the Stonewall Inn, an underground venue for homosexuals who fought back and rioted; perhaps the catalyst for the rampant advancement we are seeing today of the LGBTQIA+ movement and the accompanying political agenda.
What was once shameful is now considered pride. What once was considered a mental disorder alongside pedophilia and zoophilia is now considered 'normal.' What was once done in the closet is now paraded on the streets.
Here to discuss 'Stonewall: 50 Years Later' and what we are witnessing today was Peter LaBarbera. Peter is the founder and president of Americans for Truth, a non-partisan, educational group dedicated to exposing the homosexual-bisexual-transgender activist agendas.
Peter began by noting that while there was homosexual advocacy going on prior to Stonewall, he feels that what took place in June of 1969 was the beginning of the 'in your face' gay revolution that we've become used to.
According to Peter, Stonewall was a very seedy, mafia-run bar. There were police payoffs that allowed it to operate in Greenwich Village, New York. It was raided on that late June day with bricks being thrown at police.
Ironically, the homosexual community tries to use this incident to create equivalency with the Black civil rights movement. Stonewall preceded and launched the 'in your face' activism that's taken place over the years and which the media and corporate America has capitulated to.
Gay activism pressured and prodded to the point that eventually the American Psychological Association (APA) normalized homosexuality. As Jim noted, in 1973, the APA removed homosexuality from the DSM-2 (The Diagnostic and Statistical Manual of Mental Disorders).
Jim continued with the historical gay timeline. Below are just some of the dates and Peter described what took place:
–November 27th, 1978 in San Francisco. Mayor George Moscone and Supervisor Harvey Milk were shot and killed by a former supervisor. Milk is now an icon for homosexuals.
–On October 14th of 1979, the first national march on Washington for lesbian and gay rights took place.
–June 5th, 1982, was the date of the first official documentation of AIDS.
–June 28th, 1993, President Bill Clinton's 'Don't Ask, Don't Tell' policy goes into effect.
–March 15th, 2000, The State of Vermont passed the first law allowing for civil unions and registered partnerships.
–May of 2004—For the first time, same-sex marriage laws were passed in Massachusetts.
–June 28th, 2015, the Supreme Court issued their decision in the case of Obergefell v. Hodges, stating that so-called, same-sex marriage is a constitutional right.
–World Pride is taking place this summer in New York City.
There's much more to learn including the latest on the Equality Act, controversy about pride flags possibly being flown on U.S. embassy flagpoles, as well as Wisconsin Governor Tony Evers and the order he issued to hoist the homosexual pride flag above the state capitol.
More Information:
To let your voice be heard on the embassy pride flag issue, you can call the White House Comment Line at 202-456-1111.
To comment concerning the Equality Act call:
Lindsey Graham—202-224-5972
Mitch McConnell–202-224-2541
To comment on the raising of the pride flag at the Wisconsin capitol, call 608-266-1212.
Americans for Truth
www.americansfortruth.org
April 9th, 2019
April 9, 2019
CONTACT: Peter LaBarbera: [email protected]; 312-324-3787, or via Americans For Truth website HERE; Twitter: @PeterLaBarbera_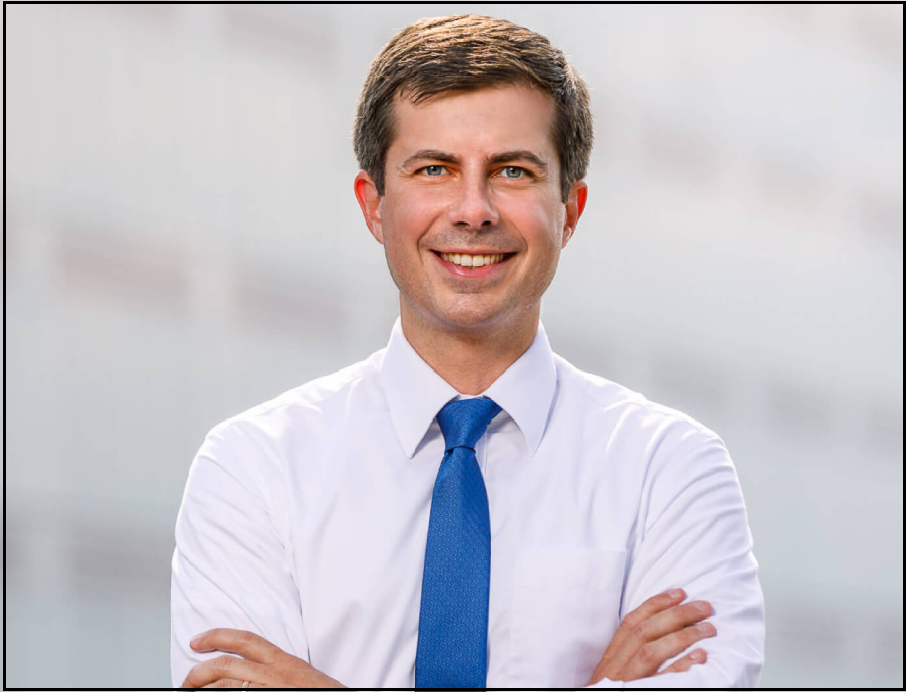 CHICAGO — Peter LaBarbera, president of Americans For Truth About Homosexuality (AFTAH.org), issued the following statement today about potential Democratic presidential candidate and former South Bend Mayor Pete Buttigieg's recent comments about God, homosexuality and Vice President Pence:
Mayor Pete Buttigieg is a living, walking and breathing example of the politicized sham that is religious-left "Christianity" today. He claims that God created him as a homosexual—a self-serving blasphemy as audacious as it is biblically nonsensical. (And science has refuted his "born gay" crutch.)

Buttigieg quotes Scripture even as he defies it with his very public, and very fake, "marriage" to another man (See in the Bible: Matthew 19:4-6; Romans 1: 24-27; Jude 7; 1 Timothy 1:8-10; Leviticus 18:22). (Redefining marriage to accommodate sexual perversion is beyond the Supreme Court's pay grade.)

Predictably, "Mayor Pete" has quickly become the darling of a media who incessantly promote all things "gay" and "trans"—and who loathe socially conservative Christians who actually believe the Bible in humility, and fear God in reverence.

The simple truth is that homosexual behaviors are wrong, unnatural, and often unhealthy—yet can be overcome through the grace and power of Jesus Christ (1 Corinthians 6), as testified by countless ex-"gays" and former "transgenders." No faithful Christian proudly identifies by his or her besetting sins, nor seeks to justify them before a holy God.

Vice President Mike Pence—a favorite target of Buttigieg and self-righteous LGBTQ political bullies—has been intimidated into silence, but he would do well to respond to the absurdities that flow out of Mayor Pete's lips on a daily basis. Buttigieg claims that Pence has a "quarrel … with my Creator" because he opposes the aggressively anti-freedom, anti-Christian LGBTQ agenda. But it is Buttigieg himself who is defiantly living out his own quarrel with God every time he proudly celebrates his sexual sin and, worse, uses God to justify it—man's ultimate folly.

Christians should pray that Pete Buttigieg repents of his proud homosexuality and dedicates himself to serving Christ in Truth—rather than mocking Him for political gain.