May 26th, 2018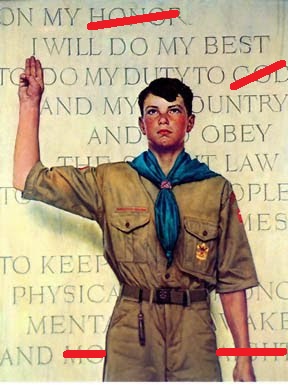 Folks, the institutional collapse of the Boy Scouts of America is one of the more stunning indicators of our nation' moral and spiritual decline. (See my comments to AFA's One News Now regarding the Mormon Church pulling out of the Scouts.) John Stemberger, founder and chairman of the board of Trail Life USA, deserves great credit for creating this Christian alternative to the corrupt–Trump would say "failing"–"Scouts BSA." You cannot mix sexual perversion (proud homosexuality) with wholesomeness, wrong with right, and sin with "reverence" toward God–and still preserve the trust of parents and churches. We'll be on the lookout for the Scouts to introduce "Safer Sodomy" ("safer sex") merit badges anytime now. (I hope that's a joke.) — Peter LaBarbera, AFTAH; Twitter: @PeterLaBarbera
_______________________________
Florida Family Policy Council
BREAKING NEWS:
May 21, 2018
"Boy Scout" Policy Requires Condoms to be "Readily and Easily Accessible to All Participants" and Makes Exceptions for Alcohol Consumption at World Jamboree Scouting Event 
ORLANDO, Florida–The World Organization of the Scout Movement (WOSM) released its health and safety guidelines for the World Jamboree to be held at the Summit Bechtel Reserve in West Virginia July 22 through August 2, 2019.
The guidelines require that host organizations, who in this case include the former Boy Scouts of America (now Scouts BSA),
"… ensure that condoms are readily and easily accessible for all participants and IST [staff] at a number of locations on the site. Heads of Contingent must be informed in advance and made aware of their responsibility in communicating this policy to their Participants, Unit Leaders, Contingent Staff, and IST in an appropriate way." (See Guideline 7.3 on page 10 of the document.) 
Stunningly, the World Jamboree Guideline 7.3 also has "exceptions," allowances and instructions for the consumption of alcohol in "confined areas" at the 12-day camping event. (It appears the Jamboree guidelines were drafted after the 2015 World Jamboree in Japan in preparation for the 2019 event and were just recently released in an email.)
The 2019 World Jamboree will be hosted by three national Scout organizations: Scouts Canada, Asociación de Scouts de México, and the Boy Scouts of America (now Scouts BSA). The theme for the 24th Jamboree will be to "Unlock a New World" and promotional materials claim the event will be "a celebration of cultural exchange, mutual understanding, peace, and friendship."
Read the rest of this article »
May 2nd, 2018
Folks, here is a first-rate video (about 6 minutes) by our friend, author and "In the Line of Fire" radio host Dr. Michael Brown, who received AFTAH's American Truth-Teller Award in 2014. Please support his outstanding ministry and share this video far and wide! — Peter LaBarbera, AFTAH; Twitter: @PeterLaBarbera
Video description:
Can you be gay and Christian? What does the Bible actually say? Did the biblical writers address loving, committed, same-sex relationships? In this "Consider This" episode Dr. Brown tackles this controversial issue.
Donate here: https://askdrbrown.org/considerthis/
April 30th, 2018
Don't be misled into thinking that this bill bans only professional counselors from trying to alter same-sex attractions. It goes well beyond that.
By Robert A. J. Gagnon, reprinted from the Catholic World Report, April 15, 2018
The biggest effort at book-banning, the banning of counseling services and church conferences, the banning of academic courses, and a general banning of free speech in the history of the United States is well underway in California. This is reminiscent of when Southern states in the pre-Civil War era banned any literature suggesting that slavery might not be a good thing; what we are fighting now is slavery to same-sex attractions and gender dysphoria.
The bill in question is California Assembly Bill 2943. It would treat as a criminal violation of the state's consumer fraud act "the sale or lease of goods or services to any consumer" that consists of "advertising, offering to engage in, or engaging in sexual orientation change efforts with an individual." Don't be misled into thinking that this bill bans only professional counselors from trying to alter same-sex attractions. It goes well beyond that.
"Orientation change" can be as innocuous as stating at a paid conference that homosexual and transgender desire can be overcome (not necessarily eliminated) by the Spirit of Jesus. Or even complying with an attendee's request for prayer that the Spirit of God empower the attendee not to succumb to the power of same-sex attractions.
That's not all. More than "orientation change" is at issue, for the bill expressly states:
'Sexual orientation change efforts' means any practices that seek to change an individual's sexual orientation. This includes efforts to change behaviors or gender expressions, or to eliminate or reduce sexual or romantic attractions or feelings toward individuals of the same sex.
Did you catch the part that says: "This includes efforts to change behaviors or gender expressions," not just orientation change? You cannot treat homosexual expression or transgenderism as the product of disordered desires.
Read the rest of this article »
April 24th, 2018
WARNING: Extremely graphic subject matter; homosexual deviant acts described
Folks, this is one of the most compelling media interviews I have ever been a part of–and not because of anything I said. This is the April 20, 2018 edition of Coach Dave Daubenmire's (Pass the Salt Ministries) daily morning show; it covers the upcoming "CLAW" homosexual perversion-fest at the Westin and Hampton Inn downtown hotels in Cleveland. (CLAW stands for the Cleveland Leather Awareness Weekend, scheduled for April 26-29; see AFTAH story HERE.) Ex-"transgender" David Arthur, whom the Lord rescued from such depravity, speaks from his heart about how men go deeper and deeper into sexual perversion. On the screen David Arthur is shown over the words "Alphabet Man"; I ask him what goes through the minds of men engaged in unfathomable perversions. Start watching at the 38:00 mark. –Peter LaBarbera, AFTAH; Twitter: @PeterLaBarbera
April 19th, 2018
Pornographic "leather" perversion-fest features "educational" meetings on "fisting," "scat," "mummification." Critics cite public health hazards, urge host hotels Westin, Hampton Inn to cancel event
Article in progress
— Part 1 — This situation is in flux as CLAW organizers apparently are already responding to critics and health complaints: 
WARNING: This and future articles on CLAW exposes vile, horrific and extremely unhealthy sexual perversions practiced by a segment of homosexual men (and some heterosexuals) known as the "leather community." It contains graphic, verbatim descriptions of seminars and is not meant for children.
___________________________
By Peter LaBarbera, AFTAH  Exclusive
Thousands of homosexual "leathermen" (sadomasochists) plan to gather in Cleveland, Ohio for the annual CLAW (Cleveland Leather Awareness Weekend) BDSM (Bondage/Discipline, Dominant/Submissive, Sadism/Masochism) conference next week. AFTAH has acquired documents from CLAW's organizers that describe a potpourri of perversions so extreme and depraved that they are surely unimaginable to the average person. Those workshop descriptions are reprinted below.
TAKE ACTION: Contact Info:
Concerned citizens are contacting the following to complain about the CLAW perversion-fest:
[Call/Email Here First:]

Commissioner of Health, Cleveland Department of Public Health (Ms. Persis Sosiak): 216-664-7414; email: psosiak@city.cleveland.oh.us;
The Westin Cleveland Downtown: 216-771-7700.

Special instructions:

 Westin is owned by Starwood Hotels, which was bought out by Marriott International Hotels; call 301-380-3000 and ask for a Supervisor to make a formal complaint about Westin Cleveland Downtown hosting CLAW. 
National Westin Hotels Corporate Office: 888-201-4482
Hampton Inn Downtown Cleveland: 216-241-6600
Hampton Inn Hotels Corporate Office (hit "5," then ask for "Guest Assistance"): 800-426-7866
Cuyahoga County Board of Health: 216-201-2000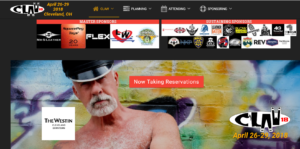 Summary:
CLAW is an annual homosexual sadomasochistic "conference"/orgy in Cleveland April 26-29–hosted this year by The Westin Cleveland Downtown and the Hampton Inn Downtown Cleveland. It will draw up to 3,000 "leatherman" from across the world, organizers say. See AFTAH's article on the über-perverse 2016 CLAW event HERE.
CLAW is one of dozens of predominately "gay" male leather gatherings held annually in various cities worldwide that celebrate the most heinous perversions invented by mankind. See past AFTAH exposés on International Mr. Leather (Chicago: 2016; 2008); the Folsom and the Dore Alley Street Fairs in San Francisco (2009; 2014); and "Folsom Street East" (New York CIty).
CLAW features more than 100 "educational seminars" on such topics as: "An Intro to Fisting" (a perversion in which a man inserts his hand and forearm into the rectum and lower colon of his  sex partner); mummification; "Adult Baby Diaper Lover (ABDL) 101″ (an "infantalism" fetish in which adults wear diapers like babies); "cock and ball torment"; "Erotic Humiliation"; and "Scat: Beyond Brown"; "scat" is a perversion eroticizing feces in which men defecate on one another for sexual pleasure.
Some of these events apparently will feature actual demonstrations of the "kinky" activities–or at least originally planned to–and are being held [or were scheduled to be] in conference rooms in the two hotels (as well as outside venues where presumably the larger orgies and most extreme activities will take place). For example, at press time, the planned "Scat" "educational seminar" was to be held in the "Second Floor Ontario Room of the Hampton Inn."
CLAW, a 501c3 organization, considers itself a "charity." The annual deviant sex-fest raises funds for  mostly "gay"-oriented, organizations. In 2017, CLAW reportedly gave $3,000 to the Northeast Ohio chapter of GLSEN, the Gay, Lesbian, Straight Education Network, the leading LGBTQ pressure group promoting homosexuality and transgenderism in schools.
CLAW Sessions: Sexualizing Feces
Read the rest of this article »
April 13th, 2018
The following is an Americans For Truth press release on AFTAH president Peter LaBarbera joining the pro-family group MassResistance:
AFTAH's Peter LaBarbera Joins MassResistance, Leading Grassroots Pro-Family Group Fighting LGBTQ Agenda
Contact: Peter LaBarbera at AFTAH: 312-324-3787; americansfortruth@gmail.com
April 13, 2018
Peter LaBarbera, founder and president of Americans For Truth About Homosexuality (AFTAH.org), issued the following statement today on joining the Boston-based pro-family organization MassResistance (MR) as assistant director. AFTAH, based in Chicago, will continue to exist as an independent organization producing no-holds-barred exposés on the homosexual-bisexual-transgender agenda. See the MassResistance article on LaBarbera coming on board HERE.
Statement by LaBarbera:
I am thrilled to be joining the MassResistance team with Brian Camenker and Amy Contrada. MR is the leading national grassroots organization opposing the LGBTQ (Lesbian, Gay, Bisexual, Transgender, Queer) movement.
I have worked with Brian, Amy and the MR staff for more than two decades and my admiration for them has steadily grown over the years. In a world darkened by suffocating political correctness, they stand out as principled truth-tellers, supremely dedicated to fighting the lies of the powerful "gay" and "trans" lobbies. Moreover, like the fanatical LGBTQ activists they oppose, they will never quit.
Camenker understands that merely exposing LGBTQ cultural aggression is not enough: we must build and organize a worldwide resistance to this sin/deviance movement before it engulfs America and other nations with its perverse ideology–which corrupts everything it touches, including marriage and Christianity. He also understands that the endless defensiveness of conservatives on LGBTQ issues inevitably leads to further defeats.
Contrada is a first-rate researcher who, leading up to the presidential election of 2012, had the guts to expose then-GOP presidential candidate Mitt Romney's long record of capitulation to homosexual activists. See her book "Mitt Romney's Deception." Like AFTAH, MassResistance never caters to the "Republican gay agenda."
In 2017, MassResistance published a 600-page book on the "Health Hazards of Homosexuality" – meticulously loaded with research and CDC (Centers for Disease Control and Prevention) reports laying out the massive, disproportionate health risks linked to sodomy and other LGBTQ behaviors. "Gay" activists immediately lambasted the book as "hateful" without reading its contents.
Camenker and MR operate from the truthful presumption that the powerful, proud LGBTQ activist movement is evil. For decades, "gay" ideologues have aggressively targeted young people—even toddlers and elementary school students—with their nefarious propaganda promoting homosexuality and gender rebellion as "normal and natural."
He also understands that the other side never backs down—so why should we? Homosexual activists and their liberal enablers routinely mock and vilify anyone who publicly opposes homosexualism and transgenderism. Worse, they push for oppressive laws that trample over citizens' constitutional rights to pursue wholesome, pro-heterosexual change and freely live out their beliefs about natural marriage and sensible, Judeo-Christian morality.
The sad reality is that Christians and other conservative moral advocates have been outhustled, outmaneuvered and outlasted time and again by the "Gay" Lobby—whether it's in the courts, in corporations or in schools. That must end if we are to preserve not only our liberty in the freest nation on earth, but the innocence and well-being of future generations of children.
April 3rd, 2018
The following press release was issued by my friend and Christian pro-family leader Stephen Black, Board Chairman of Restored Hope Ministries and executive director of First Stone Ministries in Oklahoma City. Black was the keynote speaker at AFTAH's 2017 banquet, and gave several wonderful talks. It's clear that the LGBTQ movement is in the vanguard of attacking Christian speech in the Public Square–to the point of directly attacking transformative ministries at Christian churches. This is why I'm proud and excited to be traveling to Oklahoma City this Friday to stand in support of Stephen and the life-changing Gospel of Jesus Christ. — Peter LaBarbera, AFTAH; Twitter: @PeterLaBarbera
Tranzformed Documentary info: For more information on David Kyle Foster's documentary "Tranzformed: Finding Peace with your God-given Gender" (produced by Pure Passion Ministries) go HERE. For info on Stephen Black's public showing of the film in Oklahoma City this Friday, April 6, go HERE.
________________________________
LGBT Activists Vow to Shut Down Christian Ministry, 'Your Faith be Damned'
No longer content with widespread acceptance, activists are fighting to eliminate any program aimed at helping those struggling with same-sex attraction or gender identity
Contact: Don Otis, 719-275-7775
OKLAHOMA CITY, April 3, 2018 /Christian Newswire/ — "The level of hatred and bullying is not like anything we've seen," says Stephen Black, who lived as a gay man for 8 years, over 35 years ago, and now Executive Director of First Stone Ministries is in the crosshairs of gay activists.
Black is the author of a ground-breaking book that reveals that 70-percent of people who want freedom from a destructive same-sex lifestyle find it. In Freedom Realized, Black and his colleagues examined 25 years of case files and found incontrovertible evidence that people can and do change.
On April 6, First Stone Ministries (firststone.org) is hosting a public screening of the documentary film, Tranzformed: Finding Peace with Your God-Given Gender (tranzformed.org/). "This documentary is about 15 people who were unhappy as homosexuals and transgendered and wanted more in their relationship with Jesus Christ," says Black. Gay activists have already sent death threats to a Michigan pastor and his family and are now setting their sights on Black.
Gay advocate and protestor, Sara Cunningham, vowed to close First Stone Ministries (she appealed for a $25,000 grant from Starbucks for her mission). Her goal is to mobilize and eliminate any mention of the possibility of change, even if people want it and even if it means a transformed life. "To agree to disagree on this issue and this type of ministry is no longer acceptable," says Cunningham. But Black sees it differently, "In the last ten years, there has been an increasing attack on the gospel-centered message of freedom from homosexuality." Activists are intent on shutting down any counseling that leads to new life in Christ and freedom from homosexuality.
Read the rest of this article »
March 30th, 2018
Learn the hard truth, help AFTAH: Americans For Truth About Homosexuality is offering a copy of the MassResistance book, "The Health Hazards of Homosexuality: What the Medical and Psychological Research Reveals," for your gift to AFTAH of $100 or more.
This is not a book for the faint of heart, nor for those who seek to deny the politically incorrect reality about destructive homosexual behaviors. (That includes most "progressives" and the LGBTQ Cheerleading Squad otherwise known as "the media.") Its nearly 600 pages are loaded with CDC data and medical reports about the dangers of homosexual practices–i.e., the disturbing, unmentionable facts that lie beneath the "gay"-affirming veneer used to sell homosexuality to youth and the larger culture. That's why sexual perversion activists HATE this book and don't want you to read it. We need to get it into every library in the world.
Yours with $100 donation: Give safely online HERE (request "Health Hazards" book in Comments section on form) or send your check for $100 or more to: Americans For Truth (AFTAH), P.O. Box 5522, Naperville, IL 60567-5522, and we will send you a copy of "Health Hazards of Homosexuality." 
I challenge you to do what I'm doing: read this well-researched book by the end of the year. Then you will be better armed as a truthful change agent in our deceived culture. If you have further questions, ask for Brad Wallace by calling AFTAH at 312-324-3787 or write him at connops@yahoo.com. — Peter LaBarbera, AFTAH; Twitter: @PeterLaBarbera; americansfortruth@gmail.com.