Excerpted from 'Gay Journalist' Leader Attacks 'Marketing of Evil', published Sept 29, 2006, by WorldNet Daily:
The president of the National Lesbian & Gay Journalists Association has come out swinging at "The Marketing of Evil" author David Kupelian, comparing those who oppose homosexuality on religious grounds with "white supremacists and other hate groups."
In his latest "Message from the national president," NLGJA's national president Eric Hegedus discussed "homophobia" in news coverage – and in the process confirmed one of the many controversial assertions Kupelian made in "The Marketing of Evil."
"In Chapter 1 of my book," Kupelian said, "I reported how professional broadcast news journalists at a NLGJA event advocated that, when reporting on homosexual issues, journalists shouldn't even bother to interview people holding to the traditional Judeo-Christian viewpoint. That is, rather than dignify the biblical viewpoint as worthy of inclusion by the press, it should be treated the same way the media treat the Ku Klux Klan."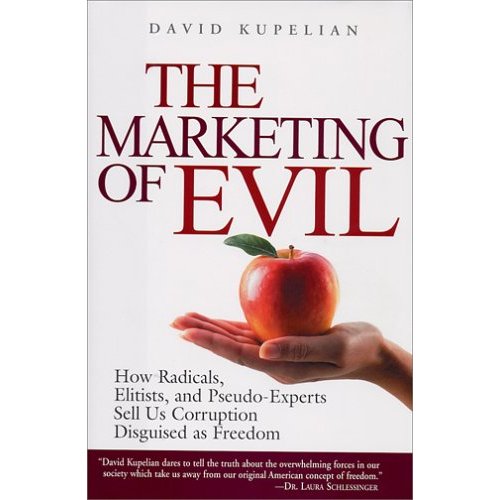 "Some people thought I was exaggerating," said Kupelian. "Well, now the president of the organization is coming out and making it official: According to 'gay' members of the establishment press, when reporting on homosexuality journalists should just stop interviewing people like James Dobson or D. James Kennedy or any other traditionalist espousing a biblical perspective."
Here's what Hegedus wrote to NLGJA's membership:
Continue reading at WorldNet Daily…
And in April, Kupelian's book was at the center of a national controversy when a Christian librarian at Ohio State University was formally investigated for "sexual harassment" just because he recommended the freshmen class be required to read "The Marketing of Evil." The charges, instigated by two openly homosexual English professors, were dropped under threat of a lawsuit from the Alliance Defense Fund.
This Sunday, Kupelian will talk about "the marketing of homosexuality" on D. James Kennedy's nationally broadcast television show, "The Coral Ridge Hour." Kennedy, the world's most-listened-to Presbyterian minister, is featuring Kupelian and "The Marketing of Evil" throughout September on the Sunday morning show. This week's will be the last of four shows promoting the controversial best seller.