One gay activist reportedly declared that he is not concerned about winning the battle in the courts because he is confident that indoctrinating the present generation of children will result in societal acceptance of homosexuality in 10-15 years.
Excerpted from New Children's Book: Does God Love Michael's Two Daddies? by Brad Harrub and Dave Miller, published Sept 2006 by Apologetics Press:
…The books appearing in various school libraries around the country are legion, including:
[NOTE: At several of the Amazon links above, you can read a portion of the respective books.]
Imagine what America is going to be like 10-15 years from now when the children nurtured by such books are adults.
The ongoing, historic commitment of Apologetics Press has been to offer competent Christian responses to the most critical moral issues confronting our culture. For 27 years, A.P. has sought to provide the church and the nation with effective tools for counteracting the anti-Christian forces threatening our way of life. In that tradition, we are delighted to announce the release of a timely, incredibly relevant children's book:
Does God Love Michael's Two Daddies?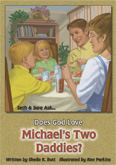 This tremendous volume is a cogent contribution to the effort by parents and grandparents to insulate and prepare their children and grandchildren to cope with the sinister forces seeking to captivate their youthful spirits. Brilliantly and professionally illustrated, this landmark book beautifully balances the Bible's forthright condemnation of same-sex marriage with the compassion and love of God. Indeed, this book is cutting-edge, unique, and unprecedented. It deserves to be distributed across the nation—and we predict that it will be. It is that good and that deserving. Look for a review of the book in the September issue of the American Family Association's Journal.
Continue reading at Apologetics Press…