Excerpted from Teenager Admits to Schoolboy Murder, by Nigel Bunyan, published Oct 16, 2006, in Telegraph:
A teenager who stabbed an 11-year-old boy to death in his bedroom after he rebuffed his sexual advances was jailed for life today.
Michael Hamer, 15, lured Joe Geeling to his home before making a clumsy pass at him. When the younger boy called him "gay" and threatened to tell others about the incident, he beat him over the head with a frying pan and stabbed him 16 times with two kitchen knives.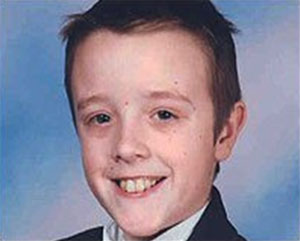 Joe, a pale, slight boy who suffered from cystic fibrosis, had died from massive loss of blood by the time he had been dragged downstairs.
His killer then loaded his body into a wheelie bin and dragged him half a mile to a remote gully within Whitehead Park, Bury, Greater Manchester.
Afterwards he finished the homework he had been set on the Ten Commandments and went to school the following morning as normal.
Continue reading at Telegraph…