Excerpted from Bishop Tobin Says Same-Sex Marriage Is 'Spiritually Harmful', published Oct 18, 2006, by Catholic News Agency: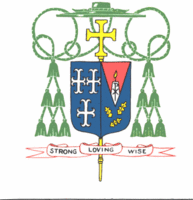 Same-sex marriage is not an issue of civil rights, said Bishop Thomas Tobin of Providence in a recent letter to the editor.
"There's never a right to do something wrong," he said. "Human freedom is not unbridled license; it must be grounded in truth."
The bishop's letter was published Oct. 14 in the Providence Journal, Rhode Island's largest daily newspaper, after a Rhode Island lesbian couple — Wendy Becker and Mary Norton — was legally married in Massachusetts on Oct. 8, reported NBC 10.
In the letter, the bishop said same-sex marriage is "spiritually harmful to individuals and families and erodes the foundation of society".
"Homosexual acts are contrary to the law of nature and gravely immoral," the bishop wrote. "The state has no business encouraging immoral behavior or ratifying illicit unions."