I think you will agree that there is a huge double-standard in the way the media covers victims, "hate crimes" and news in general. Some victims are Politically Correct; others are not. The liberal media sensationalized the murder of homosexual Matthew Shepard, which was shamelessly exploited by "gay" groups to promote national "hate crimes" legislation. Meanwhile, when a deranged homosexual man murders a Chicago Catholic and mother of four, Mary Stachowicz, it goes largely uncovered. Shepard is a household name, but try asking a friend or co-worker if they've ever heard of Mary Stachowicz and you'll likely get a "Mary who?" in response. (Or do a Google search comparing the two victims' names and see how many stories come up.)
Now the public defender for Mary's murderer, Nicholas Gutierrez, is arguing that Mary was the aggressor, saying she became enraged to the point of violence over his homosexual lifestyle. I trust that this appeal to ugly anti-Christian bigotry – the legal equivalent of spitting on Mary's grave – will not sway the jury. Think of what Mary's husband Jerry, four kids and extended family and friends went through yesterday having to listen to this slander from her murderer's Public Defender. I was at the trial and saw the stocky, roughly six-foot-tall Gutierrez in the courtroom: how ridiculous to think he was threatened by a 51-year-old woman who was known for her religious devotion!
Now imagine how differently this would have been reported had it been a 51-year-old Chicago lesbian, respected in her community, who was stabbed and beaten and raped, then stuffed in a crawl space by a crazed straight man. It's simply unthinkable that the media would not lavish coverage on such a case.
Today's online Chicago Sun-Times headline about the Gutierrez murder trial was, "Defense: Killing Payback for Gay Taunts." It should have been: "Prosecutor Calls Gay Killer of Catholic Mother of Four a "Monster," Cites DNA Evidence of Rape." But at least the Sun-Times covered the case (I saw nothing on the Tribune's website). – Peter LaBarbera

TAKE ACTION – Call or write your local media and ask them to cover the murder trial of Nicholas Gutierrez, who killed Mary Stachowicz, with the same interest that they covered the trial of the Matthew Shepard's murderers. Here is the contact info for the Chicago Tribune and Sun-Times:
AN AMERICANS FOR TRUTH PRESS RELEASE
Sun-Times leads story with outrageous "anti-homophobe" defense as most media ignore trial
CHICAGO—Cook Co. Assistant State's Attorney Jim McKay yesterday described (homosexual) Chicago man Nicholas Gutierrez's "ferocious" 2002 murder of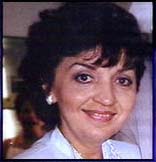 a pious, 51-year-old Catholic mother of four, Mary Stachowicz—saying he also raped Mary in addition to stabbing, strangling and beating her, then stuffed her bloody body in a crawl space under the floor of his apartment.
"There is a monster in the courtroom today," McKay said, describing how Gutierrez stabbed Stachowicz so many times that he bent the tip of his hunting knife. Gutierrez then allegedly wrapped her body in sheets and covered her head in a plastic bag before hiding her, as Mary's family and friends searched frantically for her for three days.
After McKay laid out the state's case, including finding Gutierrez's DNA in Stachowicz's vagina and anus, Gutierrez's public defender, Crystal Marchigiani, claimed that it was Stachowicz who attacked Gutierrez: "It happened because she could not leave him alone in his [homosexual] lifestyle."
Marchigiani said that on the day of her death, November 13, 2002, Stachowicz confronted Gutierrez at the Sikorsky Funeral Home where Mary worked and where Gutierrez once was employed. (He lived in an apartment above the funeral home with his male friend, Ray.) She said Mary angrily pressed Gutierrez with the question, "Why do you sleep with boys?" and then followed Gutierrez upstairs to his room before physically attacking him.

All the while, the stocky Gutierrez, who appeared to be about six feet tall, sat in the courtroom. One of Mary Stachowicz's sisters left the room in disgust after hearing Marchigiani launch her shocking defense.
Americans For Truth President Peter LaBarbera responded: "The Gutierrez defense team's Politically Correct courtroom ploy ought to be called the 'Anti-Homophobe Panic Defense.' Marchigiani's is an ugly attempt to exploit the liberal caricature of Christians who oppose homosexuality as crazed haters with a penchant for aggression.
"So here we see a new defense tactic: stoking the flames of anti-Christian bigotry to save a 'gay' murderer from the punishment he deserves," LaBarbera said.
The Gutierrez trial continues today at 11:00 AM in Room 700 of the Criminal Court Building, 2600 S. California Ave., in Chicago.
In its small story about the Gutierrez murder trial, the Chicago Sun-Times ran with this headline: "Defense: Killing Payback for Gay Taunts."