How much is this lengthy debate costing Alaska taxpayers?
Excerpted from Same-Sex Benefits Dispute, by Andrea Gusty, published Nov 1, 2006, by KTVA:
Same-sex benefits for state and municipal employees: it's been a seven-year debate in Alaska. The governor's even called a third special session about it. The debate over same-sex benefits has been raging for the last seven years.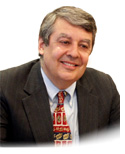 This summer the Alaska Supreme Court ordered the State of Alaska and the Municipality of Anchorage to provide health and retirement benefits for same-sex partners of state employees and retirees by the first of the year. What is being debated now is what the eligibility requirements for those benefits will be…
Earlier this week, the Anchorage Superior Court ordered the state commissioner to rewrite state regulations to include same sex couples–a move the Alaska attorney general [David Marquez, pictured left] says is, "inappropriate."