Excerpted from My New Job at Missouri State University, by Dr. Mike Adams, published Nov 7, 2006, by Townhall: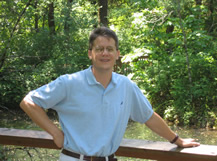 …I wouldn't have expected it either – not until I heard about the case of MSU Social Work student Emily Brooker. Emily's trouble began when she was forced by Social Work Professor Frank G. Kauffman to write a letter to the Missouri State legislature urging representatives to pass legislation that would allow gays to serve as foster parents and even to adopt children.
When Emily refused to do the assignment – because of her religious objections to homosexuality – she was punished. Her complaint about the assignment led to a formal disciplinary hearing.
The hearing was typical of those at most universities. Emily was given no lawyer nor was there any written record of what happened. But she reports that she was asked very personal questions about whether she believed that homosexuals are sinners. And then she was written up for openly confessing her religious objections concerning homosexuality.
Even though the Alliance Defense Fund has decided to represent Emily in a First Amendment lawsuit, I've decided to take the job at MSU. This decision is the result of my opinion that MSU is going to stand firm and defend Professor Kauffman.
Accordingly, during my first week at MSU, I plan to assign students to the following projects with assignments depending on important demographic variables: