Excerpted from Preschoolers and Penquins: Propaganda Pawns, by Michael Medved, published Nov 28, 2006, by USA Today: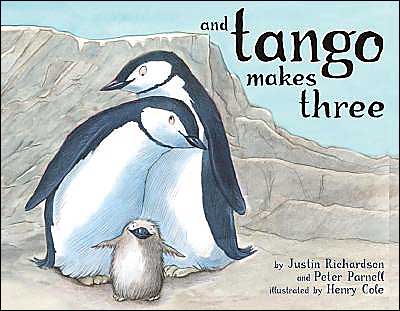 …A few families of students in Shiloh, a town of 11,000 people 20 miles east of St. Louis, object to the general availability of And Tango Makes Three, an illustrated storybook that loosely follows the real-life story of two male penguins at New York City's Central Park Zoo who adopted a fertilized egg and raised the chick as their own. With its enthusiastic celebration of little Tango's good fortune at possessing "two fathers," and with the narrative's fanciful suggestion that the zoo keeper "thought to himself … they must be in love," the book clearly took a position in the ongoing arguments about same-sex coupling and homosexual families. In fact, the story concludes with the observation that Silo and Roy "discovered each other in 1996 and have been a couple ever since."
International news stories reported, however, that their partnership proved short-lived: As soon as Scrappy, a sultry, seductive female from San Diego's Sea World, arrived in their enclosure, Silo instantly took notice, straightened up and mated with the irresistible gal — leaving his guy pal behind (an outcome never described, of course, in the propagandistic story book for kids).
Despite parental requests that school librarians remove the controversial volume from the open shelves for young readers ( it's designed for ages 4 to 8 ) and relocate it to a special section for "mature issues," school superintendent Jennifer Filyaw declared that And Tango Makes Three would stay put as an "adorable" and "age appropriate" offering.
Grown-up arguments
Regardless of the aesthetic virtues (or shortcomings) of either Happy Feet or And Tango Makes Three, it's easy to see why even non-partisan parents would object to their targeting of very young children. In school and elsewhere, it makes sense to introduce preteens to ongoing debates about global warming, environmental degradation or the redefinition of marriage and family, but most mothers and fathers would prefer to spare preschoolers from such grown-up arguments.
Some adults may choose to expose the youngsters in their lives to Al Gore's powerful and skillfully crafted documentary, An Inconvenient Truth, but they will know before they go that they're taking the kids to an occasionally frightening message movie. In Happy Feet, on the other hand, you'd have no reason to expect so much unhappy and worrisome content — nor would you expect a sweet, gorgeously drawn picture book about cuddling penguins to include potentially explosive hints about ["gay"] marriage and fatherhood. With the celebrated (and controversial) book Heather Has Two Mommies, parents — if not kids — know what to expect. With And Tango Makes Three, many readers (including Lilly Del Pinto, one of the concerned parents in the fight against the book) found themselves unhappily surprised.
As children grow and develop, their natural curiosity and ongoing media exposure will lead them inevitably into divisive issues, which all conscientious parents should prepare to help explain. In the earliest stages of life, however, it makes sense to keep them protected from such conflicts and to avoid using preschoolers — and penguins — as the pawns of propaganda.
Continue reading in USA Today…