Excerpted from German Police Hunt Paedophile After Boy Killed, by Hannah Cleaver, published Feb 28, 2007, by Telegraph:Police in Germany used dogs, helicopters and heat-seeking equipment yesterday in their hunt for a convicted paedophile who they are certain sexually abused and killed a nine-year-old boy.
Authorities in the eastern city of Leipzig released chilling photographs of the last sighting of Mitja Hofmann. Captured by CCTV as he sat on a tram, the boy was smiling broadly as he made what was supposed to be his first ever journey home from school unaccompanied by his mother.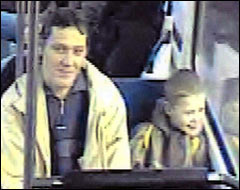 But the man sitting next to him was named by police as Uwe Kolbig, 43, a man known to police after serving two years in prison for sexually abusing children in 1998.
In an unusual step by police, they stated that they are certain that later that day, last Thursday, Kolbig sexually abused and murdered Mitja.
The boy's body was found on Saturday evening in Kolbig's allotment.
Police said that he had died after being strangled. Kolbig himself could not be found.
Continue reading in Telegraph…