News Release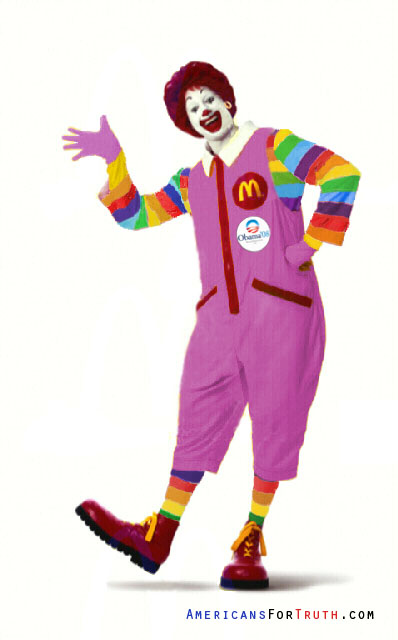 Americans For Truth
www.americansfortruth.org
Contact: Peter LaBarbera: 630-717-7631
NAPERVILLE, Illinois — Americans For Truth has called a press conference tomorrow with other family groups from across the country at the world headquarters of McDonald's – to support the national boycott of the fast-food giant and highlight its record of promoting homosexual activism.
The press conference will be held at Wednesday, July 16 at 10:00 AM at the McDonald's restaurant adjacent to McDonald's world headquarters – at the corner of 22nd and Spring Streets in Oak Brook, Illinois. Participating groups joining Americans for Truth include:
• American Family Association (AFA), which launched the McDonald's boycott
• Liberty Counsel
• Illinois Family Institute
• AFA of Pennsylvania
• Family Taxpayers Foundation
"AFA has focused its boycott on McDonald's $20,000 grant to a homosexual businessman's association –– calling for the company to return to neutrality in the culture wars," said Peter LaBarbera, president of Americans For Truth about Homosexuality (AFTAH). "We agree, but AFTAH will also be highlighting McDonald's daily promotion of unhealthy homosexual and transsexual lifestyles through corporate policies like funding unmarried 'domestic partner' (DP) benefits."
McDonald's scored an 85 percent rating on the homosexual lobby Human Rights Campaign's corporate scorecard –– indicating its support for DP benefits, policies that reward transsexual behavior, donations to homosexual activist groups, and failure to support pro-family groups (e.g., those defending traditional marriage).
"McDonald's has wisely chosen to alter its menu to promote healthy eating habits. Now it needs to examine its fiscal priorities and stop rewarding unhealthy lifestyles –– starting with an end to corporate subsidies for homosexual and transsexual behavior," LaBarbera said. "Homosexuality is unhealthy, especially for men: 71 percent of male HIV cases in 2005 involved men who have sex with men, according to the CDC. And syphilis and other STD's continue to afflict men practicing homosexuality at rates astronomically disproportionate to the rest of society."
Noting that a McDonald's recently suggested that pro-family critics of the corporation's homosexuality-friendly policies are guilty of "hate," LaBarbera said:
"Christians and religious people – and moral-minded Americans who are irreligious – cannot sit back while Corporate America turns them into second-class citizens by equating their traditional beliefs with 'hate.' Sadly, 'diversity' is becoming a corporate code-word for anti-Christian bigotry – forcing people of faith to imbibe politically correct ideologies that violate their beliefs."