News Release
Americans For Truth About Homosexuality
August 4, 2010; Contact: Peter LaBarbera: 630-546-4439; americansfortruth@gmail.com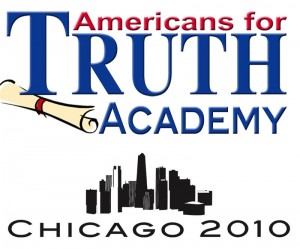 CHICAGO — Americans For Truth About Homosexuality (AFTAH) tomorrow launches its debut "Truth Academy" – bringing together pro-family experts from across the nation for a three-day seminar that will be one of the most comprehensive conservative conferences on homosexuality ever held in the United States.
The Truth Academy will be held at the Christian Liberty Academy Aug. 5-7, at 502 W. Euclid Ave. in Arlington Heights, Illinois, outside Chicago. A full schedule of the 21 lectures and two panel discussions is available HERE. Featured instructors include: Robert Knight, Prof. Rob Gagnon, Matt Barber, Prof. Rena Lindevaldsen, Arthur Goldberg, Cliff Kincaid, Greg Quinlan and Laurie Higgins.
Press availability: Several Truth Academy speakers will appear at a press conference at Christian Liberty Academy on Thursday, Aug. 5, at 6:45 PM – to respond to the hateful and bigoted accusations of 'Gay Liberation Network' protesters.
On Thursday evening, our speaker is Greg Quinlan, a former homosexual activist turned Christian pro-family leader. As Greg shares his uplifting testimony of healthy change, protesters led by the Marxist homosexual hate group, Gay Liberation Network (GLN), will be protesting outside with their malicious charge that the Truth Academy is about "teaching hate."
Said AFTAH President Peter LaBarbera: "We are simply teaching people young and old how to answer the manipulative talking points of pro-homosexual activists. How ironic that GLN is accusing us of 'teaching hate' when their leader, Bob Schwartz, recently applauded University of Illinois' firing of Catholic professor Ken Howell.
"Thankfully, Howell was reinstated, but if the GLN had its way, people of faith would lose their jobs in the name of 'gay tolerance,' LaBarbera said. "Defending historic Judeo-Christian morality is not bigotry, but maligning Christians and moral-minded Americans as 'haters' and 'homophobes' just because they disagree with homosexuality is itself an act of hateful prejudice."  
"This debut Truth Academy – which will be the first of many across the nation – seeks to 'de-brainwash' young people of the many myths advanced by homosexual activists," he said. "Our students will learn about how 'gay rights' laws are incompatible with religious liberty – and how they can effectively respond to a movement that seeks to turn a human wrong — changeable, immoral and unnatural sexual behavior — into a 'civil right.'"
This article was posted on Wednesday, August 4th, 2010 at 12:56 pm and is filed under
"Civil Unions" & "Gay Marriage"
,
"Civil Unions" & "Gay Marriage"
,
"Sexual Orientation"/"Gender Identity" and the Law
,
A - What does the Bible say about homosexuality?
,
B - Ex-Homosexual Testimonies
,
Biblical Truth
,
News
,
The Bible, Churches, & Homosexuality
,
Truth Academy
. You can follow any updates to this article through the
RSS 2.0
feed.