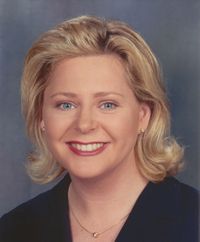 TAKE ACTION: Call your Congressman and Senators at 202-224-3121 and tell them to actively oppose "hate crimes" legislation (H.R. 1592: the Local Law Enforcement Hate Crimes Protection Act). And help Janet Folger and Faith2Action's StopHateCrimesNow.com campaign run national ads to educate Americans on the dangerous specter of federal "Hate Crimes" legislation.
Take a minute to watch both online ads about two grandmothers who were arrested under Pennsylvania's pro-homosexual "Hate Crimes" law for sharing the Gospel at a Philadelphia "gay pride" event. Please help buy more airtime for these ads. Janet Folger is doing her part to preserve our freedom: are you doing yours? — Peter LaBarbera
                                                   ——————————————————
Rep. Conyers' 'Hate Grandma' Bill Introduced in House 
By Janet Folger 
t's all about hate. And judging by the introduction of H.R. 1592, Rep. John Conyers, D-Mich., must hate free speech. He must hate equality. And he must hate…grandma. And I think it's a crime. You see, the chairman of the House Judiciary Committee just introduced the "Local Law Enforcement Hate Crimes Prevention Act" which would not only restrict our speech and remove equal justice, but it would give senior citizens (and the rest of us) less protection than homosexual activists.
So, if you're going to mug someone, better make sure it's grandma (unless she's become a lesbian) – because if the guy whose money you steal happens to be a homosexual, you're looking at a triple sentence. Go after grandma, and it's one-third off! Hey, why don't we save everyone a lot of time and just hand out "Conyers' Coupons for Criminals!"
Besides it's way cheaper than the blank check ("such sums as are necessary") that's included to "increase the number of personnel to prevent and respond to alleged violations." Here come the thought police. HR 1592 mandates that the Department of Justice "shall award grants" to "state and local programs designed to combat hate crimes committed by juveniles, including programs to train local law enforcement officers in identifying, investigating, prosecuting, and preventing hate crimes." Here come the re-education camps….
Read the rest of Folger's article in WorldNetDaily by clicking HERE