Obama was "chomping at the bit" to support homosexuality-based "marriage," says key adviser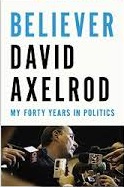 By Peter LaBarbera
Obama adviser and powerful Chicago Democratic political strategist David Axelrod confirms in his new book "Believer" what many Americans have long suspected: Barack Obama "bulsh*tted" America on "gay marriage" to help win his bid for the White House in 2008. [See the 2013 AFTAH piece, "Was Obama Lying When He Piously Professed His Belief in Natural Marriage?"]
Axelrod reveals in Believer: My 40 Years in Politics that:
"I had no doubt that this [a 1996 campaign pledge by Obama to support same-sex "marriage" legislation while running for Illinois state senator] was his heartfelt belief."
Candidate and then-Sen. Obama "grudgingly accepted the cousel of more pragmatic folks like me, and modified his position to support civil unions rather than [homosexual 'marriage']."
Obama "never felt comfortable with the compromise, and told Axelrod after  one "awkward" public exchange defending his calculated compromise position: "I'm just not very good at [bullsh*tting]."
In 2010, "the president was chomping at the bit to support the right of gays and lesbians to wed–and having watched him struggle with this issue for years, I was ready, too."
I heartily agree with Boyce College Professor of Biblical Studies Denny Burk's take on this:
"If Axelrod's report is accurate, this is the worst kind of hypocrisy and cynicism. It would mean this: Not only did President Obama lie in order to get elected, but he also used his Christian faith as a pretense. He pretended to believe Christian teaching in order to make the lie credible."
Obama himself is pushing back against Axelrod's claim–see this Politico story: "Obama: I didn't lie about same-sex marriage." "I think David is mixing up my personal feelings with my position on the issue," Obama told Buzzfeed.
But like so much of what the president has said over the years, his denial is not very plausible–just watch again the video below of Obama's infamous "God is in the mix" pledge to 2008 debate moderator Pastor Rick Warren in support of natural marriage. (One could argue that as much as Obama may have "hated BS'ing" the country on sodomy-based "marriage," he was pretty darned good at it–maybe a career in Hollywood awaits him after he leaves the Oval Office.)
Below are photos of the pages 446-7 from Axelrod's book containing the key revelation that candidate Obama knew all along that he was "bullsh*tting" the public on this critical moral issue, followed by the 2008 Saddleback presidential debate footage (note Obama's feigned piety). Oh, and one more thing: NEVER should Rick Warren moderate another presidential debate–he blew a big opportunity to call out Obama on his charade, which should have been evident to everyone since then-candidate Obama gave rhetorical sustenance to the very aggressive LGBT push for same-sex "marriage"–e.g., condemning state amendments to preserve the traditional definition of marriage–even as he formally opposed legalizing it: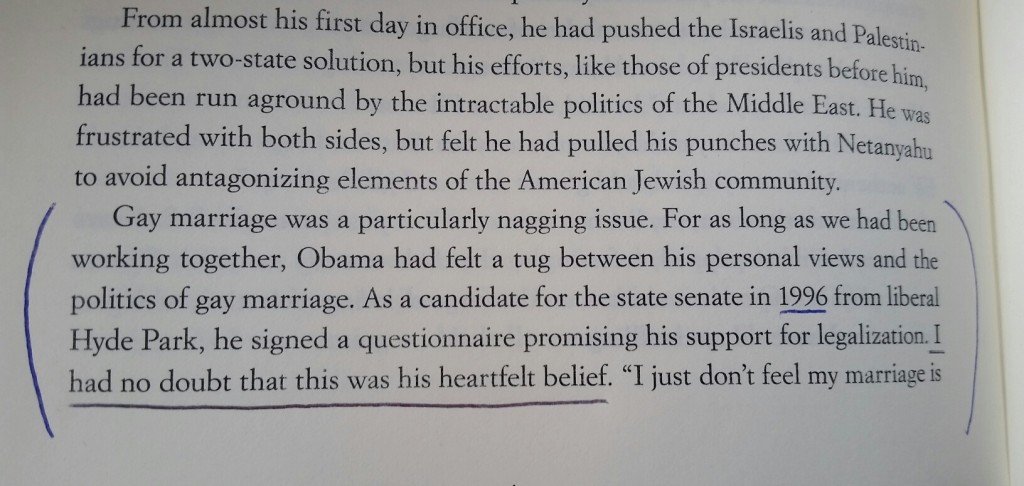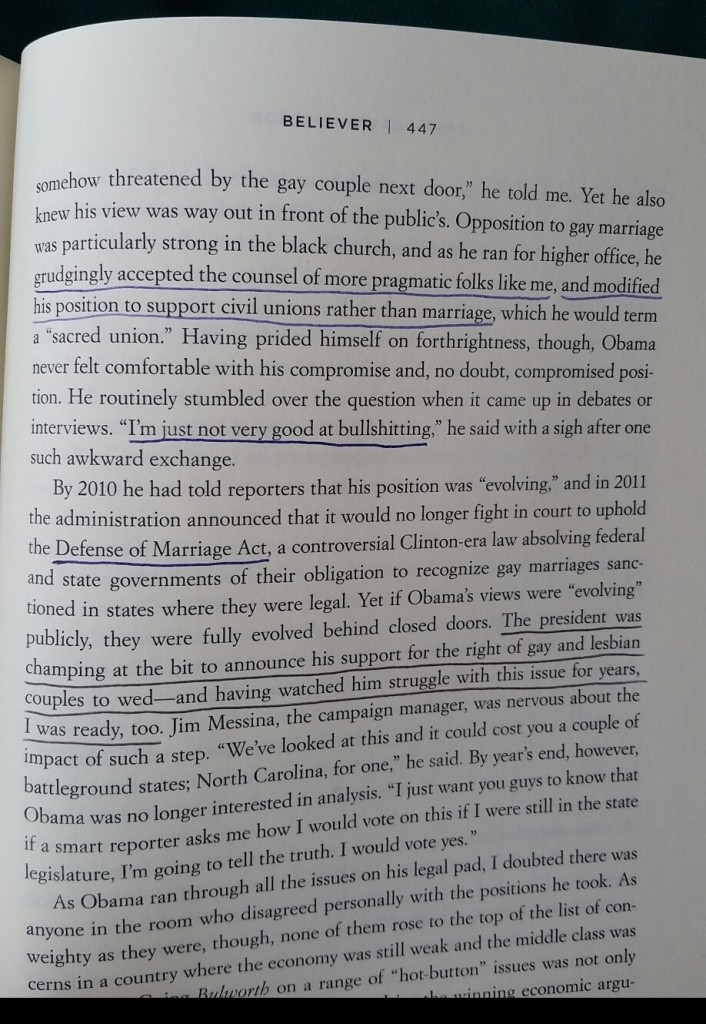 Here is then-candidate Obama's profession of support for natural marriage (one-man, one-woman) at the Rick Warren's Saddleback Church debate in 2008: