AFTAH Exclusive: NYC parade belies SCOTUS claim that homosexual marriage "safeguards children";

 

homo-fascist tells AFTAH president that freedom doesn't apply to him because 'you're anti-gay"
PART ONE: WARNING: Offensive images, expletives and graphic descriptions
TAKE ACTION:

Call Walmart's Corporate Offices: 
Call Walmart's headquarters in Bentonville, Ark., at 479-273-4000 and choose ext. 3, then ask for the office of CEO Doug McMillon. Or call 1-800-WALMART (925-6278). Write Walmart online HERE (click the "Community and Giving" option). When I called the first number I was routed to Customer Relations. Send the CEO a fax: fax CEO McMillon directly at 479-204-0798. Urge Walmart to STOP financing the celebration of sexual immorality and extreme gender confusion like New York City "Pride." Tell them that you are offended as a customer that Walmart would sign on as a top-level funder of a New York City's debauched homosexual "pride" parade that featured nudity, perversion, vulgarity, gender rebellion and even an S&M float being flaunted in front of young children. See also this past AFTAH article on Walmart's capitulation to the LGBTQ agenda. 
_____________________________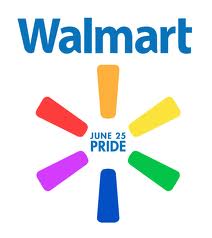 By Peter LaBarbera; Twitter: @PeterLaBarbera
Americans For Truth Exclusive
New York City's annual homosexual "Pride" parade–sponsored Sunday (June 28, 2015) for the first time at the highest "Platinum" level by Walmart Corporation–featured nudity, lewdness, vulgarity and even a sadomasochism float–subjecting the many young children who either marched in or viewed the parade to behaviors and messages that are highly inappropriate for their age and emotional immaturity. [See photos below.]
This AFTAH writer observed most of the parade, which was dominated by major corporate sponsors. One of the bases for the Supreme Court's stunningly radical June 26 ruling creating a "constitutional right" for homosexual "marriage" is that it "safeguards children and families." But in truth homosexual parenting harms kids in a variety of ways. It was precisely homosexual (and pro-"gay") parents who brought impressionable children to observe this highly-sexualized parade glorifying immorality and gender confusion. This is just one example, but a very troubling one, of how "gay parenting" harms children.
I asked a woman who was hostile to me being there about the propriety of exposing kids to lewd behaviors and vulgarity. She said she didn't agree with everything that goes on at the "pride" parade but that nobody was forcing people to attend it. However, that right to choose does not extend to minor children, who are taken to such bawdy events by their parents and subjected to the perverseness and homo-eroticism that naturally flow from a parade celebrating deviant sex and gender. One such child was a girl standing next to me who appeared to be about 10 or 11; she was evidently dropped off by her father (I saw a man check on her once), who left her alone for hours to view the "pride" parade.
"Gay" Bully Exercises Special Rights
At one point half-way through the parade, as I stood near the corner of Fifth Avenue and 10th  Street (near the homosexual "pride"-celebrating Church of the Ascension), two homosexual activists, a man and a woman–started verbally challenging me, escalating to outright harassment. They had figured out that I was not a homosexual enthusiast and were upset that a moral critic was taking photos at "their" parade, even though it was a very public event.
Read the rest of this article »