Folks, the good people at Ligonier Ministries "buried the lede" in reporting their own poll, as editors say. The good news NOT highlighted in this Ligonier release is that evangelical Christian support for radical "gender" ideology is falling fast.
Below is a graphic on the key "State of Theology" poll question  (Statement No. 29) that bears this out: from 2016 to 2020, the percentage of respondents who "strongly disagreed" with the statement, "Gender identity is a matter of choice" rose from 54 percent to 67 percent. The percentage who "strongly agreed" fell from 24 percent to 15 percent in the same period.
Things are very bad culturally and so many who call themselves "Christian" are succumbing to worldly, LGBTQueer activist propaganda, but at least things are moving in the right direction on the God- and nature-defying "transgender" agenda. — Peter LaBarbera, AFTAH; @PeterLaBarbera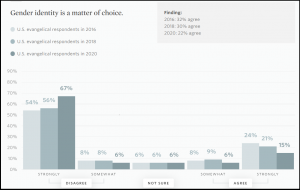 Here is Ligonier's analysis of that section of the poll:
The unbiblical concept of relative truth has influenced every sphere of life in the United States, including the ethical issues that continue to be at the forefront of public debate. In 2020, a large percentage of U.S. evangelicals reject the arguments of "gender fluidity," and this has been trending in a positive direction. Yet it remains concerning that one in five evangelicals still appears to reject the Bible's teaching that our gender as male or female is given by God our Creator (Gen 1:27).
Here is Ligonier's press release (after the jump):
Read the rest of this article »