November 15th, 2013
By Peter LaBarbera
"I believe that marriage is the union between a man and a woman. [big audience applause] For me as a Christian it's also a sacred union, you know, God's in the mix….I am not somebody who promotes same-sex marriage." — Barack Obama, Saddleback Church debate moderated by Rick Warren, August 20, 2008 [see video below]
According to new polls, more Americans than ever believe that their President lied to them about Obama-care. That is, he engaged in a calculated deception, repeatedly and emphatically asserting that Americans could keep their health insurance plans, period. Rush Limbaugh and others state the obvious in explaining why Obama lied: to get his controversial health-care bill passed in Congress. (Then later we could start reading it to find out what's in it….)
Now it is time to think back to other Obama deceptions and crafty manipulations. Check out President Obama's recent tweet below celebrating Illinois' House vote in favor of legalizing homosexual "marriage":
2008: Obama's pensive, religious devotion to real marriage – yeah, right
To put Obama's radical metamorphosis on marriage in perspective, let's go back to his famous, pious-sounding answer to mega-church pastor Rick Warren's question, "What is marriage?" during his 2008 run for the presidency. It occurred at the August 16, 2008 debate with GOP candidate John McCain hosted by Warren's Saddleback Church in Lake Forest, California — the ideal setting to burnish his "religious" credentials. (I should emphasize here that Obama is hardly unique among politicians in playing to religious people — and fibbing and deceiving — to get votes.) Below is a YouTube video of Obama in the Saddleback debate (his anser is excerpted at the top of this article);
A little context: Obama's marriage contradiction
[Note: ever since this debate, this writer has faulted Warren for not following up on his question to Obama — who though professing loyalty to natural marriage was already actively undermining efforts to protect it in California. By letting Obama's smooth, faith-oriented response rest (after Obama voiced his opposition to a federal Marriage Amendment) and moving on to the next question, Warren left the impression — widely repeated thereafter by the media — that Obama and McCain essentially agreed on same-sex "marriage" (both were "against" it). Sure, it was occasionally noted by the press that Obama backed "civil unions" and opposed a federal marriage amendment, the opposite of Sen. McCain — but the typical, simplistic media soundbite in the election was that both Obama and McCain "opposed gay marriage."
November 13th, 2013
Vicious GLN exemplifies left-wing hatred; refused to condemn 2011 brick attack against AFTAH
Special Note from AFTAH President Peter LaBarbera:
Folks, as you can see from the graphic above, copied off the website of the Chicago group Gay Liberation Network (GLN), we just received word that radical homosexual activists are again planning to protest our annual banquet (this Saturday, Nov. 16th; see AFTAH banquet information page; get a printable PDF banquet flier HERE).  The GLN banquet protests have become sort of an annual tradition for AFTAH. But it appears that this year in their rush to publicize their protest, this motley crew of left-wing fanatics got their facts wrong. (Imagine that: the Left caught fibbing.) So I've taken the liberty to correct GLN's mistakes below:
1) YES, Americans For Truth is holding its fund-raising dinner banquet this coming Saturday evening at Christian Liberty Academy (CLA), 502 W. Euclid Ave., Arlington Heights, IL. Doors open at 5:30; dinner is served at 6:30 PM. Tickets are $25 at the door or just $20 if you buy them online by midnight Thursday (tomorrow). And you can still sponsor a Table of 10 for $200.  AFTAH banquets are wonderful, informative celebrations of truth, so please come and support us, and bring your friends and family!
(Interesting fact: AFTAH holds our annual event at CLA because several years ago, when we used to hold banquets in hotels, the petty homo-fascists at GLN would harangue the hotel about hosting a "hate group." Twice we were booted out of hotels based on these malicious misinformation campaigns. Now we hold our banquet at CLA – and even there we were targeted with a glass-shattering brick attack by homosexual militants in the early morning of our banquet in October 2011 [more on this below]. Nobody is more "intolerant" than homosexual activists.)
2) NO, this is NOT a joint fund-raiser between AFTAH and Illinois Family Institute. As much as we love our good friends at IFI and applaud them for all the great work they do throughout the state, they just had a fund-raiser last month! But we understand: all "homophobes" look alike to "progressives" like the GLN. (Of course, I jest: "homophobe" is the smear-term of choice for "gay" activists and their elitist fellow travelers on the Left – meant to deride and demonize their (mostly Christian) opponents as irrational, fearful bigots. The jaundiced term homophobe itself is so discredited that even the liberal-leaning Associated Press has largely given up using it in AP news stories.)
3) YES, our keynote speaker, Sandy Rios, claimed that the (media-hyped) Matthew Shepard "story was a fraud," but she did so only after interviewing this writer on her AFR Talk program, "Sandy Rios in the Morning." We discussed the findings of an amazing book by openly homosexual author Stephen Jimenez, The Book of Matt: Hidden Truths about the Murder of Matthew Shepard. In the book Jimenez reveals that, YES, pretty much the entire, convenient "Matthew-Shepard-was-murdered-just-because-he-was-gay" story was fraudulent. And what a coincidence: this "hate crime" tale was cynically exploited to demonize religious conservatives and link defenders of traditional sexual morality with "hate" and even violence toward homosexuals.
The bogus Matt-Shepard-hate-crime story was also repackaged as a tendentious play (The Laramie Project) that has been used to propagandize hundreds of thousands of schoolchildren and young adults in the same false "gay"-activist narrative. In fact, exploiting the false Matthew Shepard story has become big business on the Left.
4) So, indeed, YES, Sandy and I have publicized Jimenez's well-researched findings that Shepard's tragic 1998 death was very much "drug-related" – and hence was not a "hate crime." Jimenez reveals the following about Shepard and his killers, fellow Laramie, Wyoming residents Aaron McKinney and Russell Henderson, and the circumstances of the case:
McKinney and Shepard knew each other (as opposed to McKinney meeting Matthew for the first time on the night of the murder);
McKinney and Shepard were both involved in using and dealing drugs, especially methamphetamines (meth);
The two had partied with each other and possibly even had sex with each other as part of the same Laramie drug and social scene; and
Neither McKinney nor his accomplice and friend, Henderson (both are in jail for life for murdering Shepard), were known for hating homosexuals. (In fact, Henderson's girlfriend's mother was in a lesbian relationship and Russell lived with her for months and "there was no evidence whatsoever of Aaron or Russell expressing anti-gay feelings," Aaron's father, Bill McKinney, told Jimenez [p. 48].) Compare that to the liberal media/LGBT-promoted story line that McKinney and Henderson – somehow fueled by Religious Right homophobia, which fostered a "climate of anti-gay hate" – murdered Shepard "just because he was gay," after the latter made a sexual pass at McKinney. [To order Jimenez's fascinating book on Amazon, go HERE.]
5) Lastly, NO, Sandy Rios never asserted that there was some kind of "pro-gay" conspiracy – a "plan by liberals to kill Matt to use him as 'propaganda' for LGBT acceptance." This is sheer GLN nuttiness. Nobody in his right mind (pardon the pun) would suggest that liberal activists are so diabolical that they would plot to kill the young homosexual Shepard to create a "gay" martyr and thus advance the LGBT agenda!  But within hours of the bloody assault, as the Wyoming college student was fighting for his life in a hospital bed, the crime was quickly seized upon – first by close friends of Shepard, then by homosexual advocates, then by the media – as an alleged crime of "anti-gay hate." Thus it became a pivotal "moment" in America for the Left to advance the LGBT agenda while stigmatizing moral-minded Americans as dangerous bigots.  (Jimenez also reveals that even some Laramie police officials joined in promoting the "anti-gay hate crime" theme, perhaps as opportunists caught up in the gay-liberal media spin, or maybe to draw attention away from Laramie's criminal drug culture.)
November 12th, 2013
By Matt Barber            
The religious liberty death spiral continues.
One of the most dangerous and discriminatory pieces of legislation in modern times – the ironically tagged "Employment Non-Discrimination Act," or ENDA – passed the U.S. Senate on Thursday by a vote of 64-32. Ten Republicans disgracefully joined liberal Democrats in this effort to ultimately outlaw the Judeo-Christian sexual ethic.
According to its leftist proponents, ENDA would merely insulate people who choose to engage in homosexual conduct (sexual orientation) or those who suffer from gender confusion (gender identity) against employment intolerance. In truth, however, this legislation effectively would codify the very thing it purports to combat: workplace discrimination.
Writing in the Huffington Post, popular homosexual radio personality Michelangelo Signorile confessed that, of any potential ENDA legislation that might reach President Obama's desk for his pledged signature, "none should include any religious exemptions" whatsoever.
If Signorile and other "LGBT" activists get their way, this would mean that churches, mosques, synagogues, religious schools, Bible bookstores, as well as any and every other business in America with 15 or more employees, would be forced, under penalty of law, to abandon the biblical and traditional-values viewpoint on human sexuality, and hire (and otherwise not offend) those who openly flaunt expressly sinful and demonstrably self-destructive sexual behaviors.
Though in its current form ENDA contains an extremely weak religious exemption that might – and I mean might – partially protect some churches and religious organizations (until they're sued by "gay" activists), this so-called exemption would leave most others – such as the aforementioned Bible bookstores and many Christian schools and para-church organizations – entirely unprotected. It would additionally crush individual business owners' guaranteed First Amendment rights.
November 11th, 2013
Ten Republicans vote Yes on ENDA; no Democrats vote No
The following is the Roll Call for the U.S. Senate's passage of the Employment Non-Discrimination Act (ENDA), on November 7, 2013. But first, here are the 10 Republicans who voted FOR ENDA. (Note that no Democrats voted against ENDA.) To reach your Senator, call 202-224-3121; to reach your U.S. Representative (including House Speaker John Boehner, who has pledged not to bring the ENDA bill up for a vote), call 202-225-3121.
Ayotte (NH)
Collins (ME)
Flake (AZ)
Hatch (UT)
Heller (NV)
Kirk (IL)
McCain (AZ)
Murkowski (AK)
Portman (OH)
Toomey (PA)
Note: Independents Angus King (ME) and Bernie Sanders (VT) both voted FOR the ENDA bill. Three Republicans — Barrasso (WY), Coburn (OK), and Sessions (AL) — and one Democrat (Casey – Ohio),  did not vote on the bill.
_______________________
Complete Senate vote tally on ENDA:
Alexander (R-TN), Nay
Ayotte (R-NH), Yea
Baldwin (D-WI), Yea
Barrasso (R-WY), Not Voting
Baucus (D-MT), Yea
Begich (D-AK), Yea
Bennet (D-CO), Yea
Blumenthal (D-CT), Yea
Blunt (R-MO), Nay
Booker (D-NJ), Yea
Boozman (R-AR), Nay
Boxer (D-CA), Yea
Brown (D-OH), Yea
Burr (R-NC), Nay
Cantwell (D-WA), Yea
Cardin (D-MD), Yea
Carper (D-DE), Yea
Casey (D-PA), Not Voting
Chambliss (R-GA), Nay
Coats (R-IN), Nay
Coburn (R-OK), Not Voting
Cochran (R-MS), Nay
Collins (R-ME), Yea
Coons (D-DE), Yea
Corker (R-TN), Nay
Cornyn (R-TX), Nay
Crapo (R-ID), Nay
Cruz (R-TX), Nay
Donnelly (D-IN), Yea
Durbin (D-IL), Yea
Enzi (R-WY), Nay
Feinstein (D-CA), Yea
Fischer (R-NE), Nay
Flake (R-AZ), Yea
Franken (D-MN), Yea
Gillibrand (D-NY), Yea
Graham (R-SC), Nay
Grassley (R-IA), Nay
Hagan (D-NC), Yea
Harkin (D-IA), Yea
Hatch (R-UT), Yea
Heinrich (D-NM), Yea
Heitkamp (D-ND), Yea
Heller (R-NV), Yea
Hirono (D-HI), Yea
Hoeven (R-ND), Nay
Inhofe (R-OK), Nay
Isakson (R-GA), Nay
Johanns (R-NE), Nay
Johnson (D-SD), Yea
Johnson (R-WI), Nay
Kaine (D-VA), Yea
King (I-ME), Yea
Kirk (R-IL), Yea
Klobuchar (D-MN), Yea
Landrieu (D-LA), Yea
Leahy (D-VT), Yea
Lee (R-UT), Nay
Levin (D-MI), Yea
Manchin (D-WV), Yea
Markey (D-MA), Yea
McCain (R-AZ), Yea
McCaskill (D-MO), Yea
McConnell (R-KY), Nay
Menendez (D-NJ), Yea
Merkley (D-OR), Yea
Mikulski (D-MD), Yea
Moran (R-KS), Nay
Murkowski (R-AK), Yea
Murphy (D-CT), Yea
Murray (D-WA), Yea
Nelson (D-FL), Yea
Paul (R-KY), Nay
Portman (R-OH), Yea
Pryor (D-AR), Yea
Reed (D-RI), Yea
Reid (D-NV), Yea
Risch (R-ID), Nay
Roberts (R-KS), Nay
Rockefeller (D-WV), Yea
Rubio (R-FL), Nay
Sanders (I-VT), Yea
Schatz (D-HI), Yea
Schumer (D-NY), Yea
Scott (R-SC), Nay
Sessions (R-AL), Not Voting
Shaheen (D-NH), Yea
Shelby (R-AL), Nay
Stabenow (D-MI), Yea
Tester (D-MT), Yea
Thune (R-SD), Nay
Toomey (R-PA), Yea
Udall (D-CO), Yea
Udall (D-NM), Yea
Vitter (R-LA), Nay
Warner (D-VA), Yea
Warren (D-MA), Yea
Whitehouse (D-RI), Yea
Wicker (R-MS), Nay
Wyden (D-OR), Yea
November 6th, 2013
The Illinois House of Representatives voted 61-54 yesterday (Nov. 5, 2012) to approve SB 10, a bill to legalize homosexual "marriage."  The bill was previously approved by the State Senate, and now will go to be signed by Gov. Pat Quinn (D), a strong supporter of homosexual "marriage." The vote tally and some breakdowns for SB 10 are below. The vote went roughly along party lines, with  all but three of the "Yes" votes from Democrats. Ten Democrats voted AGAINST SB 10 (with two voting "Present"), and three Republicans voted FOR it (with one GOP member absent from the vote).
Party affiliation in Illinois House of Representatives: 71 Democrats; 47 Republicans
Republicans (3) voting YES on SB 10 (homosexual "marriage"): Tom Cross (outgoing House Republican Leader; see his statement on SB 10 vote HERE; Cross is running for Illinois State Treasurer in 2014); Ron Sandak; Ed Sullivan, Jr.
Democrats (10) voting NO on SB 10: Beiser; Bradley; Cloonen; Costello; Monique Davis; Flowers; Jackson; Jefferson; Mautino; Scherer.
More voting breakdowns are beneath the graphic: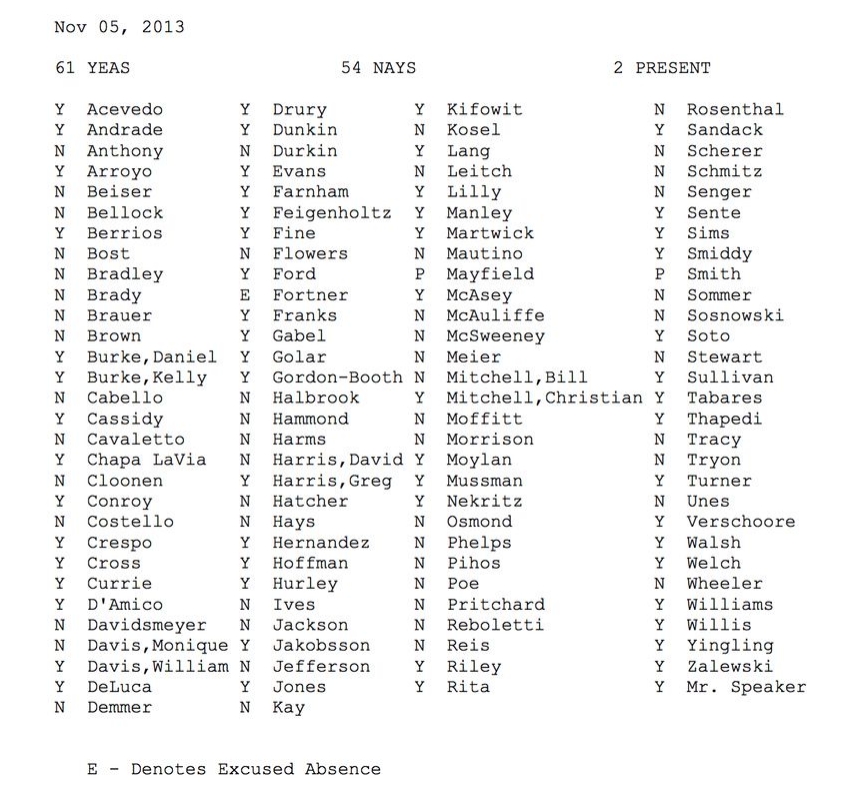 More voting breakdowns on SB 10:
Members of House Black Caucus (14) voting FOR SB 10 (FOR legalizing "gay marriage"): William Davis; Dunkin; Evans; Ford; Golar; Gordon; Jones; Lilly; Christian Mitchell; Riley; Sims; Thapedi; Turner; Chris Welch;
House Black Caucus members (4) voting AGAINST SB 10: Monique Davis; Flowers; Jackson; Jefferson
Black Caucus members (2) voting "Present" on SB 10: Mayfield; Derrick Smith (both Democrats; all Black Caucus members are Democrats)
House Member with "Excused Absence" from vote: Mike Fortner (Republican)
Homosexual legislators: Kelly Cassidy; Greg Harris (SB 10 Chief Sponsor); Sam Yingling (all Democrats);
November 5th, 2013
"ENDA would be a devastating, unconstitutional blow to American liberty," says writer
The Employment Non-Discrimination Act (ENDA) crossed a major hurdle yesterday with the U.S. Senate voting 61-30 to end cloture and proceed towards a vote (with seven Republicans voting in favor). This vote indicates that ENDA will likely pass in the Senate, so the House could quickly become the battleground to stop this bill that effectively creates a new employment "right" based on homosexuality and extreme gender confusion. Politico reports that a vote in the Senate is likely by the end of the week; see their story HERE, which discusses efforts by some Republicans to strengthen ENDA's religious exemptions.
My Senator, Mark Kirk (R-IL), in his first floor speech in two years after suffering a stroke, compared ENDA to past civil rights victories and, by implication, the effort to ban slavery. Though I wish Mr. Kirk a thorough recovery, his analogy is preposterous and, in fact, quite revolting: creating federal "rights" based on sexual perversion and anti-biological "gender identity" (think men in high heels and dresses)  – through an intrusive law that will undermine Americans' freedoms of religion, association and conscience — has absolutely nothing to do with the noble civil rights struggle against racism and slavery. Perhaps that is why the Senate's only African American, Sen. Tim Scott (R-SC), cast a "No" vote against ENDA yesterday — and why Blacks are leading the fight against homosexuality-based "marriage." Much more on ENDA will be posted on AFTAH. – Peter LaBarbera, Americans For Truth
______________________________________
Night of the Living ENDA
By Gina Miller
This column first appeared Nov. 4, 2013 in Renew America, a "Must Read" daily news and commentary source for Reagan conservatives.
Just like the flesh-eating zombies in Romero's classic 1968 horror picture 
Night of the Living Dead
, the sinister
"Employment Non-Discrimination Act" (ENDA)
won't stay in the grave. Although attempts to add "sexual orientation" to the list of federally protected people date back to the early 1970s, ENDA was first spawned in 1994 and repeatedly re-introduced and killed in subsequent Congresses. Back in April, it again became undead in the Senate, as 
S. 815
, by pro-homosexual Democrat Senator Jeff Merkley of Oregon and 55 cosponsors, two of whom are Republican:
Susan Collins
(ME) and
Mark Kirk
(IL). In the House, we can "thank" openly homosexual Congressman
Jared Polis
(founder of ProFlowers) for its latest incarnation as 
H.R. 1755
. A vote in the Senate is now imminent.
ENDA's requirements and prohibitions for employers are "justified" under the umbrella of previous civil rights legislation, creating a bogus equality between innate characteristics like race and sex and the perverse behavior of homosexuals and other sexual deviants. This proposed legislation equates homosexual behavior with skin color in an apples-and-oranges "civil rights" fiasco. Why a fiasco? Because this horrible legislation will strip fundamental, God-given, constitutionally-protected rights from many American citizens while it conflates unnatural, unhealthy, immoral homosexual behavior with "civil rights."
ENDA would be a devastating, unconstitutional blow to American liberty, essentially killing our God-given rights and freedoms of religion, speech and association. It is anti-business. It would require employers, under penalty of federal law for violations, to accept open homosexuals, cross-dressers, "transgenders" and whatever other sexual degeneracy they can come up with to "federally protect." ENDA prohibits discrimination "on the basis of actual or perceived sexual orientation or gender identity."
October 31st, 2013
Radical quotations and LGBT writings reflect a revolutionary and destructive sexual/gender movement
Americans For Truth renews its Halloween tradition of delivering some very scary – or at least highly disturbing — quotes from LGBT (Lesbian, Gay, Bisexual, Transgender) activists and publications. (There is also a frighteningly evil quotation from LGBT "straight ally" Eve Ensler.) Whether it's promoting pedophilia, sullying Christianity, telling the awful truth about the realities of homosexual sodomies – or one of the biggest Heroes of Homosexuality saying that bestiality is OK (as long as the animals don't mind, of course) – the following quotations and writings testify to the perverse nature of modern homosexualism. Needless to say, they are not likely to find their way into the liberal media or politically-correct history books taught to schoolchildren.
Most of what homosexual activists and their liberal, straight cheerleaders say about "homophobia" is tendentious nonsense, designed to demonize people like you and me. But Americans and moral-minded folks the world over certainly should fear the real-life ramifications of normalizing sexual perversion and gender confusion in the culture. To quote pro-family advocate Gary Morella, "A civilized society must justly 'discriminate' in favor of health over disease, right over wrong, moral over immoral, and discriminate use of sexuality over indiscriminate sexual expression." People suffer and societies crumble when immoral, unhealthy behaviors are not just tolerated, but fostered and even celebrated by the State and corporate/cultural elites.
So be scared. Be very scared. And please pass around these decidedly "queer quotes" to educate others. – Peter LaBarbera, AFTAH.org
[Warning: A few of quotations below contain explicit descriptions of homosexual acts]
________________________________________
One Lesbian's 'Better Two-Thirds'
"Lucky that on this national coming out day I can safely be a proud queer woman blessed with two awesome partners."
– Olga Tomchin, taken from testimony in Transgender Law Center post on "Coming Out," October 11, 2013 (Oct. 11 is deemed "National Coming Out Day" by LGBT activists); http://transgenderlawcenter.org/archives/9257
Bad News for Straight Soldiers
"It is ridiculous to assert that gay men are interested only in other gay men and would never ogle straight men in barracks showers. When I heard this on TV, I burst out laughing. Anyone who belongs to a health club knows better. Sexual tension and appraisal are constants, above all among gay men, who never stop cruising everything in sight. Seduction of straight studs is a highly erotic motif in gay porn."
–Camille Paglia, Vamps & Tramps, pp. 87-88. (Vintage Books: 1994). "Cruising" is a popular "gay" term for searching for sex partners. Paglia's assessment is confirmed by the popularity of homosexual pornography with military themes.
They're Here, They're Queer, They're Reporters with a Clear Conflict of Interest
"We Here! We're Queer! We're on Deadline."
– Slogan of the National Lesbian and Gay Journalists Association (NLGJA). See author's report for America's Survival, Inc.: "Unfair, Unbalanced and Afraid: Fox News' Growing Pro-Homosexual Bias and the National Lesbian & Gay Journalists Association." Perhaps appropriately, the NLGJA slogan plays of the old "Queer Nation" street activists' chant: "We're here! We're queer! Get used to it!"
Agenda-driven Homosexual Journalists Tout 'Born Gay' Myth as Fact
"Sexual orientation: Innate sexual attraction. Use this term instead of 'sexual preference.' See lifestyle….
"Sexual preference: Avoid. Politically charged term implying that sexuality is the result of a conscious choice. See sexual orientation."
–NLGJA "Stylebook" entries, showing the organization's politicized application of the unproven "born gay" theory. The homosexual journalists' group uses the Stylebook to guide (pressure) "mainstream" journalists on how to write (and think about) homosexuality. Obviously, this biased definition – beyond being an opinion and not factual — encourages the notion that homosexuals have no responsibility for their same-sex behavior, thus negating the idea that homosexuality itself is a moral issue. Studies show that people who think "gays" are "born that way" are less likely to resist the LGBT activist agenda. For the best refutation of "born gay" ideology and pro-"gay"-politicized science, see the website of Dr. Neil and Briar Whitehead, co-authors of My Genes Made Me Do It: www.mygenes.co.nz. See also author's "Unfair, Unbalanced and Afraid" report.
Black Women, Beware: 'Down Low' Men Hate Condoms
"Women involved with DL men ['Down Low' denoting men who act straight in public but secretly practice homosexuality] are being infected with HIV because these men do not believe in wearing condoms and they don't know their HIV status. Condoms take away from the very thing they are seeking—the thrill of spontaneity. Condoms take away that feeling when having man-to-man sex….
"But for the most part, a man on the DL isn't even thinking about all that. He's not thinking about a condom or diseases. DL men look at themselves as invincible, strong black men. They ain't catching that 'gay disease.'"
–J.L. King with Karen Hunter, On the Down Low: A Journey into the Lives of 'Straight' Black Men who Sleep with Men," pp. 25-26; (Broadway Books: New York: 2004).
October 28th, 2013
"Gay" activist icon Harvey Milk was a lot of things, including the first openly homosexual elected official in the United States. But he was also a sexual predator, as my friend and AFTAH Board Member Matt Barber writes below. Somehow I doubt that schoolchildren will be learning about Milk's sexual interest in underage boys in their "Gay History Month" or "Harvey Milk Day" lessons. Credit also goes to another AFTAH friend, Randy Thomasson, founder of SaveCalifornia.com, who more than any other pro-family advocate has worked to get out this and other politically incorrect truths about Milk. – Peter LaBarbera, AFTAH
______________________
Sexual Predator Honored With U.S. Postage Stamp
By Matt Barber
Benjamin Franklin famously quipped, "In this world nothing can be said to be certain, except death and taxes."
Franklin evidently failed to envisage today's postmodern left. For the conservative, there exists at least one other certainty, and it is this: The degree to which "progressives" attack you corresponds precisely to the degree with which you challenge any among their assorted, distorted and sordid sacred cows.
What would you call a 33-year-old man who both had and axiomatically acted upon a deviant sexual appetite for underage, drug-addicted, runaway boys? (No, not Jerry Sandusky.)
What would you call a man of whom, as regards sexual preference, his own friend and biographer confessed, "Harvey always had a penchant for young waifs with substance abuse problems"?
In a recent interview with OneNewsNow.com, I called this man "demonstrably, categorically an evil man based on his [statutory] rape of teenage boys."
But you can call him Harvey Milk.
Harvey Milk's only claim to fame is that he was the first openly homosexual candidate to be elected to public office (San Francisco city commissioner). His chief cause was to do away with the Judeo-Christian sexual ethic. In 1978 Milk was murdered over a non-related political dispute by fellow Democrat Dan White.
And a "progressive" martyr was born.
Merriam Webster defines "pederast" as "one who practices anal intercourse especially with a boy." It defines "statutory rape" as "the crime of having sex with someone who is younger than an age that is specified by law."
Harvey Milk was both a pederast and, by extension, a statutory rapist. After I publicly addressed this objective reality in the above-mentioned interview, the liberal blogosphere reacted in, shall we say, an informatively defensive manner.