Call the State Dept. main switchboard at 202-647-4000 and ask to be connected to Condoleeza Rice's office to leave your comments about her pro-homosexual remarks during the swearing-in of openly homosexual Mark Dybul as global AIDS ambassador.
The following is excerpted from Rice's Approving 'Gay' Remarks Rankle GOP Base, published Oct 16, 2006, by WorldNet Daily:
…Rice and first lady Laura Bush spoke for the administration at the Oct. 10 swearing-in at the State Department where Dybul was accompanied by his male partner, Jason Claire. Rice, during her comments, referred to the presence of Claire's mother and called her Dybul's "mother-in-law."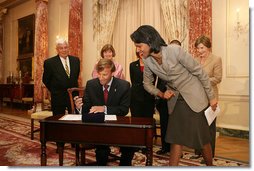 According to the State Department transcript, Rice said:
Thank you. Thank you very much. I am truly honored and delighted to have the opportunity to swear in Mark Dybul as our next Global AIDS Coordinator. I am pleased to do that in the presence of Mark's parents, Claire and Richard; his partner, Jason; and his mother-in-law, Marilyn. You have wonderful family to support you, Mark, and I know that's always important to us. Welcome.
The use of a term normally reserved for legally married heterosexual families rankled Peter Sprigg, vice president for policy at the Family Research Council, who called Rice's comments "profoundly offensive," according to Agape Press.
The secretary's remarks, he said, fly in the face of the Bush administration's endorsement of a federal marriage protection amendment.
Continue reading at WorldNet Daily…