We agree with Christopher Leighton, rector at St. Paul's Church in Darien, who called Smith a "perpetrator of false teaching" and said his decision defies "Scripture and worldwide Christianity."
Excerpted from Episcopal Bishop in Connecticut OK's Same-sex Blessings, published Oct 24, 2006, in the pro-homosexuality newspaper The Advocate: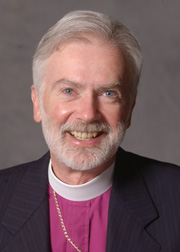 Episcopal parishes in Connecticut may bless same-sex couples, the state's bishop announced over the weekend in Hartford. Bishop Andrew Smith's decision does not create an official prayer service for the blessings and does not allow Episcopal clergy to officiate at civil unions. But it allows parishes to acknowledge gay and lesbian couples who have had a civil union granted by the state.
"What I have permitted is a pastoral ministry of blessing, which does not mimic a wedding ceremony," Smith said Saturday after the diocese's two-day annual convention ended.
…At the heart of the matter is whether the church will "bless persons who are homosexual and partnered as cherished and fully accepted members of the body of Christ," Smith told the convention.
Continue reading in The Advocate…