Excerpted from Youth Summit Promotes Gay-Straight School Clubs, by Tracy Dell'Angela, published October 22, 2006, in Chicago Tribune: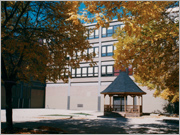 …[High school senior Leroy] Kirk, 17, attended the Youth Leadership Summit on Saturday looking for advice on how to make a gay-tolerance club work at his South Lawndale neighborhood school [Farragut, pictured at right].
…The Summit, at the Youth Pride Center on 637 S. Dearborn St., was attended by more than 50 students from the Chicago area. It was sponsored by Creating Safe Schools for Illinois, a group formerly affiliated with the national Gay Lesbian and Straight Education Network.
The workshops offered ideas for students launching gay-tolerant school groups and trying to expand existing ones. These ideas included surveys about homophobia, movie nights, social networking Web sites and "queer dances and yearbooks."
The organizers say the summit is a chance for student advocates to share successes and struggles.
Acire Roche, youth program coordinator for Safe Schools, said her goal is to reach out to schools that have never considered forming a Gay Straight Alliance. In the past, the organization waited for students or teachers to initiate a club at a school, and the group would act as an advocate…
Roche said she hopes to expand the group's focus beyond Chicago. She e-mails and calls school administrators to ask how they address issues of diversity for gay and lesbian youth.
"Some schools would say, `We don't have any gay kids here,'" she said. `And I would say, `Why don't you have a support group, just in case you do?'"
Continue reading in Chicago Tribune…