From Homosexuality & Pedophilia, by Cliff Kincaid, published Nov 2, 2006, by Accuracy in Media: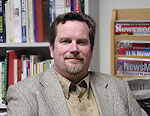 In connection with media coverage of the Mark Foley sex scandal, the pro-homosexual media enforcers have been attempting to refute the idea that there is any connection between homosexuality and pedophilia. Yet Foley targeted young boys. This is something you are not supposed to write or talk about because it undermines the cause of homosexual rights.
Peter LaBarbera of Americans for Truth says, "…isn't it telling most of the tiny number of homosexual male U.S. Congressmen have been caught in sex scandals-remember Barney Frank, who let his male lover, a hustler, run a prostitution ring out of his D.C. apartment? And Massachusetts Rep. Gerry Studds, who had sex with a 17-year-old boy and then turned his back on fellow House Members during the censure vote against him? And Bob Bauman, who in 1980 was charged with soliciting a 16-year-old boy for sex?"
Adding it up, LaBarbera says, "Let's see: three homosexual Congressmen involved in sexual seductions of minor boys-ages 16, 17, and 17 (Foley). And yet homosexual activists ridicule anyone who suggests there is a predatory or pedophilic component to male homosexuality…"
On October 2, when the supposed right-wing Fox News Channel aired a "debate" on the matter of the Foley scandal, the two sides were represented by liberal Democrat Bob Beckel, who got caught in a prostitution scandal, and lesbian Republican Tammy Bruce.
"Being homosexual has nothing to do with attraction to children," declared Bruce. "I agree. I agree," Beckel said.
But then she seemed to contradict herself, saying, "All I want frankly is a gay person in office who is not a sexual compulsive. I mean is that too much to ask for? I don't think it is."
Bruce has appeared at functions sponsored by the Log Cabin Republicans, the homosexual activist group whose executive director had defended Foley's refusal over the years to respond to questions about his homosexuality. Still, she recognized the "compulsive" nature of what has been happening on Capitol Hill.
On the O'Reilly Factor on October 9, homosexual activist Mike Rogers, a prominent advocate of "outing" secret gays, tried to deny the existence of any link between homosexuality and pedophilia. O'Reilly sounded dubious of that claim, at least in terms of what he said would be a public perception of the implications of the Foley case, but failed to cite any evidence to the contrary. However, Steven Baldwin wrote a scholarly piece for the Regent Law School review summarizing the evidence-mostly from the homosexual community-suggesting a strong link. Baldwin also tells me: "Proportionately, homosexual pedophiles are a far greater threat to society than are heterosexual pedophiles."
Yet the Washington Post, in an October 7 editorial, "Anti-Gay Ugliness," claimed that the "research on this topic, though small-scale and not recent, does not show that gay men are any more likely than heterosexual men to molest children." Significantly, it did not discuss or cite any research.
As bad as the Foley scandal is shaping up, it then turned out, according to the Washington Post itself, that homosexual Republican Rep. Jim Kolbe was close to several pages, and even opened his home to them (supposedly when he was away). This was reported in the process of disclosing that Kolbe knew of Foley's overtures to the pages six years ago. Kolbe's involvement with the pages was portrayed by the paper as entirely innocent, something that seems ridiculous on its face, considering the evidence already on the table.
The burden, it would seem, is on Kolbe to prove his hands are clean.