From Human Rights Campaign: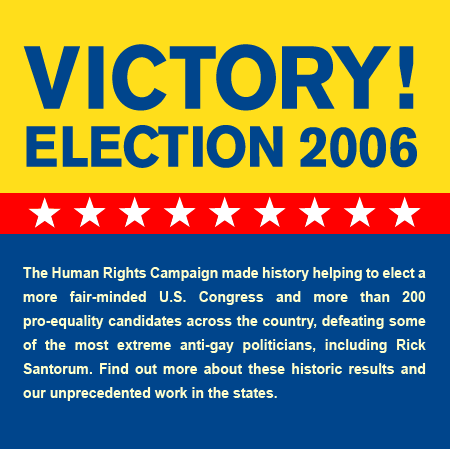 ANTI-GAY CANDIDATES SUFFER STINGING DEFEATS,
ARIZONA VOTERS REJECT ANTI-GAY INITIATIVE
Solmonese: 'End of an Era' for Gay-Bashing Politics
WASHINGTON — This year, the Human Rights Campaign flexed its political muscle in unprecedented and strategic ways that helped alter the political dynamic in key races across the country. With victories for strong pro-equality candidates like Florida's Ron Klein and Arizona's Gabrielle Giffords, the 110th Congress promises to be the most fair-minded in history. Voters in Arizona also made history last night, defeating that state's discriminatory domestic partnership ballot initiative.
Out of the 225 candidates that HRC endorsed, 208 proved triumphant, with several races still too close to call. HRC was involved in 18 Senate victories, 179 House wins and 11 successful governors' races. HRC also helped to defeat some of the most anti-gay voices in Congress such as John Hostettler and Rick Santorum, signaling that the era of gay-bashing for political gain is coming to an end.
"Last night we saw unprecedented victories for fair-minded candidates and for equality; we also witnessed a stinging rebuke of anti-gay elected officials in this country," said HRC President Joe Solmonese. "The historic rejection of the domestic partnership ban in Arizona is a symbolic turning point in the march toward marriage equality. We congratulate Arizona Together for their work in defeating the discriminatory, un-American measure."
HRC Helps Candidates Win in '06
Human Rights Campaign — the nation's largest gay, lesbian, bisexual, and transgender civil rights organization — aggressively targeted races and leveraged millions of dollars and extensive staff resources to ensure victories for pro-equality candidates. And those efforts paid off, with wins in some of the most closely watched campaigns this year.
"American voters sent a clear message yesterday that the era of gay-bashing to win elections is over, as voters flatly rejected anti-gay and divisive candidates," said HRC President Joe Solmonese.
Conservative extremists pulled a chapter out of their 2004 campaign playbook to exploit the gay community for political gain, but their efforts fell flat with an electorate angry and disillusioned by rampant corruption and the Iraq war quagmire. The failure of right-wing candidates to mobilize their base with anti-gay messages this year is a clear sign that scapegoating GLBT Americans for political points is a recipe for failure.
Although some races are still too close to call, including the Virginia Senate race, HRC's efforts successfully helped the following candidates make historic wins:
Key Senate HRC Endorsee Victories:

* Sherrod Brown (OH)
* Maria Cantwell (WA)
* Ben Cardin (MD)
* Bob Casey (PA)
* Amy Klobuchar (MN)
* Robert Menendez (NJ)
* Debbie Stabenow (MI)
Key House HRC Endorsee Victories:

* Michael Arcuri (NY)
* Melissa Bean (IL)
* Bruce Braley (IA)
* Gabrielle Giffords (AZ)
* John Hall (NY)
* Ron Klein (FL)
* Tim Mahoney (FL)
* Harry Mitchell (FL)
* Patrick Murphy (PA)
* Ed Perlmutter (CO)
* Joe Sestak (PA)
* Chris Shays (CT)
* Tim Walz (MN)
Statements by Some of the 2006 Election Winners:
Said Senator-Elect Bob Casey (Pennsylvania):
"HRC got behind my campaign early and has been a tremendous help. The energy and commitment they put behind our campaign was extraordinary. I look forward to working with HRC's incredible staff and membership, especially to advance hate crimes legislation in the Senate."
Said Senator-Elect Sherrod Brown (Ohio):
"HRC's presence throughout the state of Ohio during this election was nothing short of extraordinary. It demonstrated the best that we can achieve when we work together and stand up for what is right. I was proud of HRC's financial and grassroots support for my campaign, it made a difference in the larger fight for social and economic justice for every American."
Said Congresswoman-Elect Gabrielle Giffords (Arizona):
"I have stood up for equality in Arizona, and I am grateful that HRC and the GLBT community stood with our campaign during the primary and the general elections. We can accomplish so much for our families when we work together. Fairness is an essential American value, and when we champion fairness, we can win decisive victories in even the most competitive congressional districts."
The Human Rights Campaign is America's largest civil rights organization working to achieve gay, lesbian, bisexual and transgender equality. By inspiring and engaging all Americans, HRC strives to end discrimination against GLBT citizens and realize a nation that achieves fundamental fairness and equality for all.