Cook County judge is member of homosexual judges group, advocated for "gay" cause; pro-family attorneys say she should recuse herself from case
By Peter LaBarbera, AFTAH exclusive
CHICAGO—Cook County Circuit Court Judge Sophia Hall — who will rule on combined pro-homosexual lawsuits challenging Illinois' existing law defining marriage as one-man, one-woman — is an open lesbian and pro-homosexuality advocate, according to information widely available online but which has gone unreported by the media.
Judge Hall's homosexuality is not a secret, nor an "open secret" –as it was with  Vaughn Walker, the California judge who last year issued a decision overturning that state's Proposition 8 marriage amendment only to subsequently reveal his "gay" identity. In contrast, Hall is a "charter member" of a homosexual judges organization in Chicago, the Alliance of Illinois Judges, which marches in Chicago's annual "gay pride" parade. Last year, the AIJ sponsored — along with the "gay" activist organizations Lambda Legal and Equality Illinois — a public outdoor ceremony attended by city officials celebrating Illinois' new "civil unions" law; AIJ judges officiated the "civil unions" for homosexual couples.
In a perusal of recent media reports on the Chicago "gay marriage" lawsuit, Judge Hall's lesbianism and membership in a homosexual judges group that advocates for "gay rights" went unreported. Thus their implications for the case have not been publicly scrutinized, even by leading Illinois conservatives. Meanwhile, two pro-family attorneys contacted by AFTAH said Hall should recuse herself from the homosexual "marriage" case due to her personal conflict-of-interest. The pro-homosexual-"marriage" lawsuits were brought jointly by the ACLU and Lambda Legal, a homosexual legal group. Illinois' Attorney General, Lisa Madigan, is supporting the homosexual activist lawsuits rather than defending her state's marriage law.
Judge Hall herself has openly advocated for pro-homosexual causes, saying in a 2010 speech that she has "focused on efforts to combat the injustice of racism, gender bias, bias against gays and lesbians, and other stereotypes that belittle those who are stereotyped."
The graphic below is a modified version of what appears in the July 2007 newsletter of the Lesbian and Gay Bar Association Chicago (LAGBAC) — which hosted a reception honoring Judge Hall and 13 other openly homosexual judges in Cook County: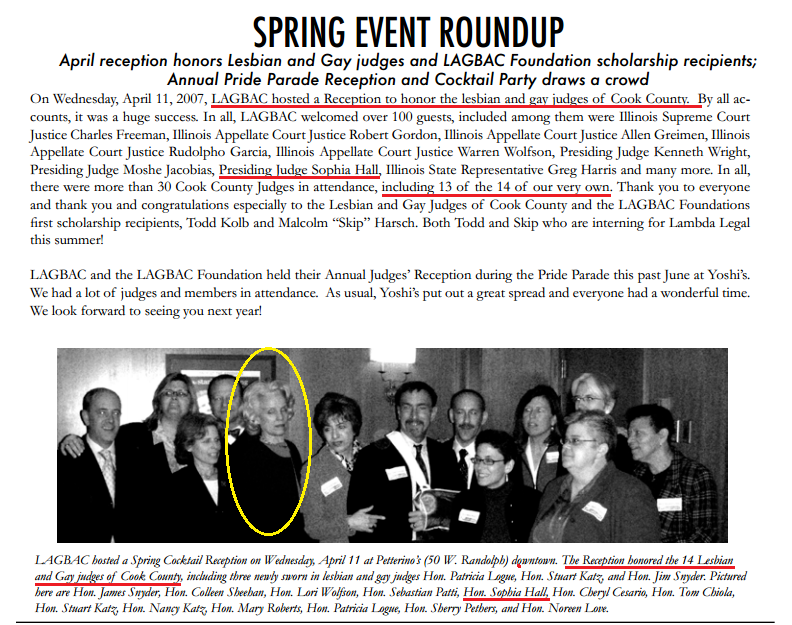 The same edition of the LAGBAC newsletter announced two $4,000 scholarships to law students interning at Lambda Legal, one of which was "doing a myriad of assignments surrounding the Iowa same-sex marriage case." Two years later, on April 3, 2009, homosexual "marriage" was legalized by the Iowa high court in a 7-0 decision.
Calls for Recusal
News of Judge Hall's membership in and association with Chicago homosexual advocacy groups brought calls for her to recuse herself from the case that could bring legal homosexual "marriage" to Cook County (if not all of Illinois, although her decision will almost certainly be appealed to the Illinois Supreme Court). Said Professor Rena Lindevaldsen, Associate Dean of the Liberty University School of Law:

Read the rest of this article »