Mike Heath, Executive Director of the Christian Civic League of Maine since 1994, is a bona fide hero in the fight against "gay" activism and the normalization of homosexuality in the United States. Working with pro-family leaders, Heath fought back not not but two statewide "gay rights" laws in Maine. (In 2005, "sexual orientation" became law in the state, and now, as the thinking goes, the granting of one counterfeit "right" — same-sex "marriage" — must follow another.) Heath is serving Americans For Truth as an advisor. — Peter LaBarbera.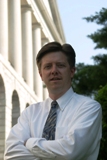 I've been doing this job too long. I can remember when leftist activists were screaming about how there was no agenda, and there was especially no effort underway to persuade society to accept sodomy-based "marriage." Those lies started to become muted when Vermont used their "sexual orientation" law to force a new concept on civilized society called "civil unions." That is another euphemism for sodomy-based "marriage." Massachusetts, of course, followed soon after by discovering that the puritan Christian John Adams actually wrote sodomy-based "marriage" into the Commonwealth's constitution. Imagine that. No … don't.
Nobody is surprised now when "gays" use euphemisms. I think people stopped being surprised by anything these folks say years ago. They are master manipulators, bobbing and weaving with their words and phrases. It's amazing to most of us that the Harvards and Yales have fallen for this tripe hook, line and sinker ….