Excerpted from Ex-Hub Councilor Nabbed in Bid to Have Sex with Minor (now archived), by Laura Crimaldi, published Oct 11, 2006, by Boston Herald: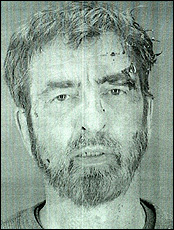 Former Boston City Councilor David Scondras (mugshot shown left) faces sex charges after he was busted in a Lawrence school parking lot with lubricant and booze while allegedly seeking a tryst in the woods with a 15-year-old boy he'd trolled for online.
Police say the "boy" that Scondras, 60, of Cambridge drove some 30 miles to meet for sex turned out to be a 20-year-old Lawrence General Hospital security guard.
The guard said he'd received a series of lurid instant messages and graphic pictures from the former five-term councilor, who used the screen name "Toppdadd," seeking sex with a minor, and approached a cop for help in dealing with the messages, court and police records indicate.
"You know a lot of people have prejudices against guys who like to have sex with children," Scondras allegedly told the security guard, identified in court papers as Michael W. Fornesi, during a cell phone conversation after the illicit underage rendezvous was set up.
…According to Shafer's police report, Scondras, Boston's first openly gay councilor, initially exchanged sexually explicit IM's with the guard, and after being told he was communicating with a willing 15-year-old, who used the screen name "Cubscout4mastr86," sent along his cell phone number and began soliciting sex.At Shafer's direction, the guard called Scondras to offer directions to the school lot. Scondras told the guard, who used the pseudonym Josh, that he wanted to have unprotected sex with him "in the woods" and would bring marijuana, a police report states.
After Scondras arrived at the lot and identified himself to "Josh," Shafer moved in for the arrest. In his report, he said Scondras resisted arrest and tried to flee.
…In Scondras' car, Shafer said, were four blue packages of "Wet" lubricant, an open bottle containing a "red alcohol substance" and a printout of the instant messages.Scondras lost his council seat in 1993 after details of a series of obscenity-laced and slurred calls he made to a 911-dispatch operator. In 1996, he was charged with groping a 16-year-old boy in a movie theater, but the case was dropped when the teen refused to testify.
Continue reading at Boston Herald…
Excerpted from Former City Councilor Is Arrested on Sex Charge (Charged with trying to entice a minor), by Brian R. Ballou and Michael Levenson, published Oct 11, 2006, by Boston Globe:
David Scondras swept onto the City Council in 1983, a Harvard-educated tenant activist from the Fenway who wanted to fight for the less fortunate. He was reelected five times, serving as the city's first openly gay councilor when few politicians spoke about their sexuality.
But a series of problems hastened Scondras's fall from office. He was caught making rambling calls to police and acknowledged that he was an alcoholic, had been taking pain medication, and that his partner had been diagnosed with AIDS. In 1993, he was voted out of office.
Yesterday, Scondras faced new allegations when he was charged in Lawrence District Court with trying to entice a minor into having sex.
Police alleged that Scondras, 60, used the screen name Topdadd to send pornographic images and messages to someone he thought was a 15-year-old boy. Police arrested Scondras at 1:15 a.m. in the parking lot of Day Charter School in Lawrence, where authorities say he had arranged to meet for sex. Scondras allegedly tussled with an officer and tried to run away, before being wrestled to the ground and handcuffed.
…Many recalled another episode in 1997, when Scondras was accused of trying to fondle a 16-year-old boy in a Back Bay movie theater. That charge was dropped when the youth refused to testify in court.