Posted on Log Cabin Republicans website as of Mar 6, 2007:
Republican Wyoming State Rep. Takes Courageous Stand for Basic Fairness
Republican Wyoming State Rep. Dan Zwonitzer (R-Cheyenne) urged his colleagues to vote against a discriminatory bill that would have banned recognition of marriages for same-sex couples performed in other states, saying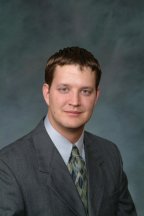 "I believe this is the civil rights struggle of my generation…If standing up for equal rights costs me my seat, so be it. I will let history be my judge—the overall theme is fairness, and you know it. I hope you will all let history be your judge with this vote."
Read the full text of Rep. Zwonitzer's remarks.