From our good friends at MassResistance on Mar 9, 2007: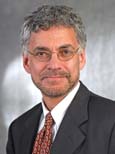 On March 5, Governor Deval Patrick appointed John Auerbach (pictured right), former Executive Director of the Boston Public Health Commission (BPH), to be commissioner of the Massachusetts Department of Public Health (DPH).
Auerbach is "married" to Boston Magazine restaurant critic Corby Kummer. While Auerbach was at the BPH, he created a "Lesbian-Gay-Bisexual-Transgendered Health Office." The BPH also helped produce "The Little Black Book," along with his new group, the DPH.
Note from AFTAH: Adults only, have a good look at the graphic and disgusting The Little Black Book, posted on the MassResistance website linked above, which was distributed with taxpayer money to public school children.