Thank God for a man with the courage to tell the Truth. Send General Pace a word of gratitude HERE, for as you can see, he will be the target of much opposition:

"General Pace's comments are outrageous, insensitive and disrespectful to the 65,000 lesbian and gay troops now serving in our armed forces… It is inappropriate for the Chairman to condemn those who serve our country because of his own personal bias. He should immediately apologize for his remarks." — C. Dixon Osburn, Executive Director of the pro-homosexuality Servicemembers Legal Defense Network
Excerpted from Top General Calls Homosexuality 'Immoral', by Aamer Madhani, published Mar 12, 2007, by Chicago Tribune: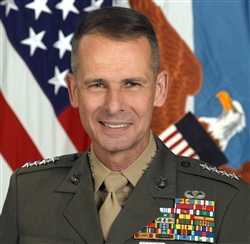 Gen. Peter Pace, chairman of the Joint Chiefs of Staff, said Monday that he supports the Pentagon's "don't ask, don't tell" ban on gays serving in the military because homosexual acts "are immoral," akin to a member of the armed forces conducting an adulterous affair with the spouse of another service member.
Responding to a question about a Clinton-era policy that is coming under renewed scrutiny amid fears of future U.S. troop shortages, Pace said the Pentagon should not "condone" immoral behavior by allowing gay soldiers to serve openly. He said his views were based on his personal "upbringing," in which he was taught that certain types of conduct are immoral.
"I believe homosexual acts between two individuals are immoral and that we should not condone immoral acts," Pace said in a wide-ranging discussion with Tribune editors and reporters in Chicago. "I do not believe the United States is well served by a policy that says it is OK to be immoral in any way.
"As an individual, I would not want [acceptance of gay behavior] to be our policy, just like I would not want it to be our policy that if we were to find out that so-and-so was sleeping with somebody else's wife, that we would just look the other way, which we do not. We prosecute that kind of immoral behavior," Pace said.
Continue reading in Chicago Tribune…