From Chairman of the U.S. Joint Chiefs of Staff Says He Depends on God Daily, by Richard Szczepanowski, published Feb 28, 2006, by Catholic News Service:
Marine Gen. Peter Pace, who was sworn in last September as chairman of the Joint Chiefs of Staff, told a Catholic group in Washington April 21 that there are times every day when he thinks about his dependence on God.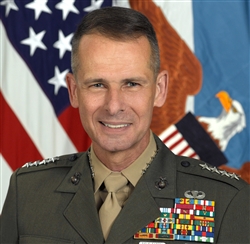 "My belief that there is a God and that he has a plan for me is a major, calming influence in my life," Pace, a Catholic, told members of the John Carroll Society, a lay Catholic organization based in Washington.
Pace received the group's John Carroll Medal at an annual dinner at the Four Seasons Hotel in Washington.
"I stand before you as someone who is appreciative… who truly does believe this award is in anticipation of future conduct," Pace said. The medals are presented annually to Catholics in recognition of their public service and commitment to their faith.
Other 2006 medal recipients included Archbishop Edwin F. O'Brien, head of the U.S. Archdiocese for the Military Services, and Judge John Facciola, a magistrate judge for the U.S. District Court of the District of Columbia and former John Carroll Society president.
"The remarkable thing about Gen. Pace is that he demonstrates his Catholic faith and how his faith influences his life, both personally and professionally," said Msgr. Peter Vaghi, pastor of the Church of the Little Flower in Bethesda, Md., and chaplain of the John Carroll Society. "He speaks about his faith from his heart."
Pace, the first Marine to serve as the nation's highest ranking military officer, said that when he talks about his faith "it touches at the Italian blood that runs in my heart."
He was born to Italian immigrants Nov. 5, 1945, in Brooklyn, N.Y., and raised in Bogota, N.J., where he attended public school and catechism classes led by the School Sisters of the Third Order of St. Francis.
"Growing up, we (children) didn't know we didn't have a lot of money," Pace said. "What I did know was that I was loved. My parents sacrificed for their four kids."
After high school, he attended the U.S. Naval Academy in Annapolis, Md., before joining the Marines. He was sent to Vietnam in 1968, serving in Hue City, the center of the Tet offensive, conducted by the North Vietnamese Army throughout South Vietnam.
Then-Lt. Pace was put in command of a rifle platoon that had experienced heavy casualties and many injuries. He was the third commander of his platoon in as many weeks — the previous two had been killed.
"There were 158 men in my company; 155 of them were wounded or killed," he added.
He said his own near-death experiences in Vietnam proved that God had a plan for him.
The general, who has a master's degree in business administration from George Washington University and attended Harvard University for senior executives in the National Security and International Security programs, has served the Marines in a variety of capacities, including recruiting officer, commanding officer and president of the Marine Corps University and commanding general of Marine Corps Schools in Quantico, Va.
He was assigned to the combined joint staff in Seoul, South Korea, and served as the chief of the ground forces branch. He also served in Somalia, first as deputy commander of Marine forces and then as deputy commander of the joint task force that was sent to Mogadishu in 1993. Eighteen soldiers were killed in that mission, which became the subject of the book and movie titled "Black Hawk Down."
Pace was assigned deputy commander and chief of staff for U.S. forces in Japan. He later served as commander of U.S. Marines Corps forces in the Atlantic and Europe.
He noted that he promised God he would stay in the Marine Corps until God gave him a sign to leave and he promised to serve "until I was no longer promoted."
He frequently remembers that his mother used to tell him as a young boy that "God would never give me more than I can handle." Remembering those words helps him in his current work, he said, knowing that with God's help "I can do whatever I'm supposed to do."