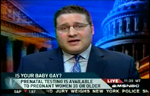 Matt Barber on MSNBC!
Matt Barber, CWA's Policy Director for Cultural Issues, recently appeared on MSNBC Live debating Harry Knox from Human Rights Campaign on comments made by Rev. Al Mohler that there is a biological basis for homosexuality. Click HERE to watch!
This article was posted on Wednesday, March 21st, 2007 at 10:35 am and is filed under
Baptist
,
Born that Way?
,
News
. You can follow any updates to this article through the
RSS 2.0
feed.