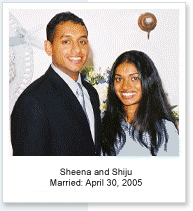 Doesn't e-Harmony.com and its Christian founder have a fundamental right to promote traditional marriages between a man and a woman — and not cater to unnatural "unions"? Will this and all private American companies be forced to promote the homosexual agenda? Above are happy normal couples brought together by e-Harmony's online dating service.
TAKE A MINUTE TO SUPPORT e-HARMONY.com and respectfully ask that they support real marriage by not leaving open the possibility of providing "matches" for homosexuals. Write them via their Contact page or call their corporate offices in Pasadena, California, at 626-795-4814 (hit #9 when you get the machine). Their snail-mail address is e-Harmony.com, P.O. Box 60157, Pasadena, CA 91116.
Also, call or write your U.S. Representative and Senators (202-224-3121; http://www.congress.org/) and urge them to oppose H.R. 2015, the "Employment Nondiscrimination Act (ENDA), the pro-homosexual/pro-trannsexual employment bill — which will only embolden "gay" harassment lawsuits against tradition-minded companies.
Below is a Reuters news story describing the homosexual activist lobby's latest attack on the freedom to be moral. There are plenty of places offering "match" services for homosexual couples — just try any (liberal) "City Paper," where all sorts of disordered unions can be arranged. But no, e-Harmony must bend to the tiny minority of homosexual militants who have no regard for others' liberties — including your freedom to live out your religious beliefs as you see fit.
We hope eHarmony.com, a private business run by a born-again Christian, Dr. Neil Clark Warren, does not cave in to this outrageous demand by lesbian Linda Carlson. (It appears that by keeping open the possibility of including "gay" matches, eHarmony is moving away from Warren's assertion to ex-homosexual Christian activist Steve Bennett that he would never consider such a thing; also, see Warren's 2005 NPR interview HERE.)
If eHarmony capitulates, it will only encourage other lawsuits. Who's next? Christian-owned day care centers? Summer camps run by orthodox Jews? The message coming from the liberal, pro-homosexual activists here is simple: you can have your beliefs in your church or synagogue or home (for now…) but don't you dare try to live them out in the public square.
They are telling us: retreat into your church closet. All of America — our schools, corporations, and our laws — must now affirm homosexuality.
It's become all too clear: no special interest group threatens our basic freedoms like the homosexual and gender confusion ("transgender") lobbies. They are the new legal bullies on the block, and can only be stopped if good people lose their apathy and their fear of being Politically Incorrect — and say "No" to this oppressive, unhealthy agenda. Call (626-795-4814) or write eHarmony today!
May 31, 2007
 
eHarmony sued in California for excluding gays
 
By Jill Serjeant
LOS ANGELES (Reuters) – The popular online dating service eHarmony was sued on Thursday for refusing to offer its services to gays, lesbians and bisexuals.
A lawsuit alleging discrimination based on sexual orientation was filed in Los Angeles Superior Court on behalf of Linda Carlson, who was denied access to eHarmony because she is gay.
Lawyers bringing the action said they believed it was the first lawsuit of its kind against eHarmony, which has long rankled the gay community with its failure to offer a "men seeking men" or "women seeking women" option.
They were seeking to make it a class action lawsuit on behalf of gays and lesbians excluded from the dating service.
eHarmony was founded in 2000 by evangelical Christian Dr. Neil Clark Warren and had strong early ties with the influential religious conservative group Focus on the Family.
It has more than 12 million registered users, and heavy television advertising has made it one of the nation's biggest Internet dating sites.
The company said the allegations of discrimination against gays were false and reckless.
"The research that eHarmony has developed, through years of research, to match couples has been based on traits and personality patterns of successful heterosexual marriages," it said in a statement.
"Nothing precludes us from providing same-sex matching in the future. It's just not a service we offer now based upon the research we have conducted," eHarmony added.
According to the lawsuit, Carlson, who lives in the San Francisco Bay area, tried to use the site's dating services in February 2007. When she was denied access, she wrote to eHarmony saying that its anti-gay policy was discriminatory under California law but the company refused to change it.
"Such outright discrimination is hurtful and disappointing for a business open to the public in this day and age," she said.
Carlson's lawyer Todd Schneider said the lawsuit was "about changing the landscape and making a statement out there that gay people, just like heterosexuals, have the right and desire to meet other people with whom they can fall in love."
Carlson's lawyers expect a significant number of gays and lesbians to join the class action, which seeks to force eHarmony to end its policy as well as unspecified damages for those denied eHarmony services based on their sexual orientation.