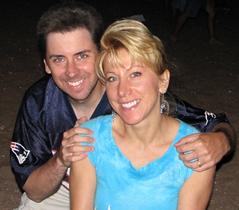 Steve and Irene Bennett
By Stephen Bennett of www.sbministries.org
_________________________
…so they say.
I want to wish my beautiful wife, Irene, a happy 14th Anniversary today, June 13th.
The last 14 years of my life have been the most precious and meaningful ones to me.
We are your average, traditional American family next door: a husband, a wife, two kids (a boy and a girl) and, well, a rabbit.
Life has never been better.
My 11 years involved in the homosexual lifestyle are a horrible nightmare. The immoral sex with numerous people, the bars, the drugs, the alcohol, the failed relationships, the pornography, playing "house" with my "gay" partners, friends and lovers dying from AIDS – a nightmare.
Today, I have peace. I have stability and responsibility. I'm a husband and a father, the provider, the one who pays the mortgage, the tuition, the bills and puts food on the table.
To read the whole article by Stephen Bennett, click HERE.
This article was posted on Thursday, June 14th, 2007 at 1:42 pm and is filed under
A - What does the Bible say about homosexuality?
,
B - Ex-Homosexual Testimonies
,
C - Heroes for Truth
,
Christian
,
E - Praying for the Lost
,
News
,
The Bible, Churches, & Homosexuality
. You can follow any updates to this article through the
RSS 2.0
feed.